777 Casino at the Holiday Inn Express Deadwood
Address: 665 Main Street, Deadwood, SD 57732
Phone Number: 1-605-578-3330
Website: www.deadwood.com/business/casinos/777-casino-at-the-holiday-inn-express/
Hours: 777 Casino at the Holiday Inn Express is open 24 hours a day, 7 days a week.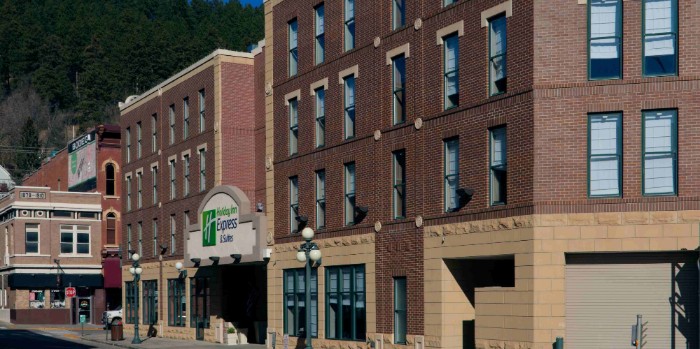 The 777 Casino at the Holiday Inn Express has been a part of Deadwood's gaming scene since it opened its doors. Since its opening, it has become a favorite spot for locals and visitors across the United States.
The casino offers several gaming machines, including slots and video poker. They also have blackjack and poker tables, plus they have multiple promotions and tournaments, including daily and monthly jackpots.
They also have a bar that serves drinks, snacks, and sandwiches. So even if you don't feel like gambling, you can hang out and enjoy the atmosphere.
The casino is a great place to come together with friends and family for a fun night out or to relax after a day of sightseeing in Deadwood. With its friendly staff, exciting gaming options, and fantastic drinks, this is a great spot for anyone looking to have fun in Deadwood.
On TripAdvisor, this casino has a 4.5/5 star rating from 4 reviews. One guest said, "This casino was a great surprise. It has modern machines, friendly staff, and plenty of fun."
Another guest said, "The 777 Casino at the Holiday Inn Express is a great place to relax after exploring Deadwood. The drinks are fantastic, the staff is friendly, and the games are fun. Definitely worth checking out."
(Related reading: South Dakota casinos)
Gaming
Their casino floor features multiple slot machines, plus dozens of video poker and blackjack tables. They also have a wide variety of promotions and tournaments available.
Table Games
At this casino, you can enjoy different popular table games. Poker and blackjack are some of the most exciting and engaging options. Whether you are a seasoned player or a newbie, these table games offer a unique challenge that will keep you on your toes.
Poker requires you to master the art of bluffing, while blackjack requires you to have quick reflexes and a sound strategy. Either way, their friendly and helpful staff will be on hand to guide you through the gameplay and make your experience one to remember.
At this casino in Deadwood, table game minimums vary and change according to the season. Generally speaking, you can expect to pay $5 for a blackjack or poker hand.
Slots
This casino has a wide selection of slot machines for you to choose from. Some of the most popular ones are:
Colossal Wizards
Wheel of Fortune
Li'l Red
Blazing 7s
Spartacus Gladiator of Rome
Forbidden Dragons
Double Diamond
Queen of the Wild II
Red Hot Jackpots
Lazer Lock Ice Sapphire
Unfortunately, this casino does not publicly share the RTP (return to player) or payback percentage of its slots. Generally speaking, slot machines in Deadwood have a minimum of 80% RTP.
Hotel/Resort
Looking to stay close to this casino during your upcoming trip? Look no further than the Holiday Inn Express, located right on site. While the casino itself doesn't have its own hotel, the Holiday Inn Express offers comfortable and convenient accommodations just steps away from the action.
With friendly staff and plenty of amenities to make your stay enjoyable, this hotel is the perfect option for those looking to maximize their time at this casino. So whether you are looking for a quick getaway or an extended stay, the Holiday Inn Express is the place to be.
Restaurants & Buffets
If you're heading to this casino, you might wonder about dining options. While there isn't a full-service restaurant or buffet, you'll be happy to know that the casino does have a bar onsite.
Whether you want to grab a quick drink and a snack between gaming sessions or enjoy a leisurely evening sipping cocktails with friends, the bar offers a cozy and inviting atmosphere. Plus, the friendly staff will be happy to make recommendations or answer any questions you may have.
So, while it may not be a full dining experience, this casino's bar is a great place to relax and refuel during your stay.
Pools
While there are no swimming pools onsite, there are plenty of exciting games and activities to keep you entertained at this casino. Take advantage of the 24-hour casino with various slot machines, table games, and poker tables.
Plus, guests can enjoy a drink or two at their bar or take a break and relax with live music on the weekends. With so much to explore, you'll never be bored at this casino.
777 Casino at the Holiday Inn Express, Deadwood, SD FAQ
Does 777 Casino at the Holiday Inn Express Have A Sportsbook?
No, they do not have a sportsbook. This casino is focused on providing various table games, slots, and other forms of gambling entertainment. Instead of placing bets on sporting events, guests can test their luck and skills at the casino's popular poker tables or slot machines.
Is Poker Available At 777 Casino at the Holiday Inn Express?
Yes, they have various poker tables available. These tables offer various games, including Texas Hold'em, Stud and more. Players of all levels can participate in the games with friendly staff to guide them through the gameplay.
What Are The Age Requirements For Gambling At 777 Casino at the Holiday Inn Express?
The age requirement for gambling at this casino is 21 years or older. All guests must provide valid government-issued photo identification, such as a driver's license or passport, to enter the casino.
Does 777 Casino at the Holiday Inn Express Have An Online Casino?
No, they do not have an online casino. All of the gaming experiences at this casino must be done in person. This ensures that guests are of the legal age limit and their identification can be verified before they enter the casino.
Is There An 777 Casino at the Holiday Inn Express App?
No, they do not have an app. However, you may follow their social media accounts for updates and promotions. Additionally, their website has a mobile-friendly version that you can use to access their services.
What Is The Dress Code At 777 Casino at the Holiday Inn Express?
The dress code for the casino is casual, but it's important for guests to avoid wearing anything too revealing or offensive. This means no tank tops, shorts, or flip-flops, and no hats or sunglasses are allowed while inside the casino.
Is An Airport Shuttle Available From 777 Casino at the Holiday Inn Express?
No, unfortunately, there is no airport shuttle service from this casino. However, guests can take advantage of the various taxi and ridesharing services available in Deadwood to reach their destination.
What Is The Smoking Policy At 777 Casino at the Holiday Inn Express?
Smoking is permitted in designated areas of the casino. These areas are clearly marked, and smoking is prohibited in all other areas of the property. Guests that smoke must also adhere to any local or state laws regarding smoking.
What Is The Pet Policy At 777 Casino at the Holiday Inn Express?
Unfortunately, pets are prohibited on the casino property. The only exception is service animals, which must be registered and approved by the hotel before arrival. Guests that bring a pet will be subject to additional charges and may be asked to leave.
Is Wifi Available At 777 Casino at the Holiday Inn Express?
Unfortunately, there is no free wifi available on the casino property. Guests may be able to purchase a wifi package from their respective cell phone providers or use their own mobile hotspot for internet access.
What Is The Cancellation Policy For 777 Casino at the Holiday Inn Express?
They do not have a hotel in their own right, so the cancellation policy is subject to the individual third-party booking service used. Guests should always check with their respective websites for any applicable fees and restrictions before reserving a room.
Conclusion
This casino is a great place for guests to enjoy a night out and test their luck in the many games available. The age limit of 21 years or older, casual dress code, smoking policy and pet policy should be considered when visiting this casino.
Check with the third-party booking service for cancellation policies before booking a room, and take advantage of available wifi packages if needed. Start planning your next trip to 777 Casino at the Holiday Inn Express today!