Dakota Sioux Casino & Hotel Watertown
Address: 16415 Sioux Conifer Rd, Watertown, SD 57201
Phone Number: +1 800-658-4717
Website: www.dakotasioux.com
Hours: Dakota Sioux Casino & Hotel is open 24 hours a day, 7 days a week.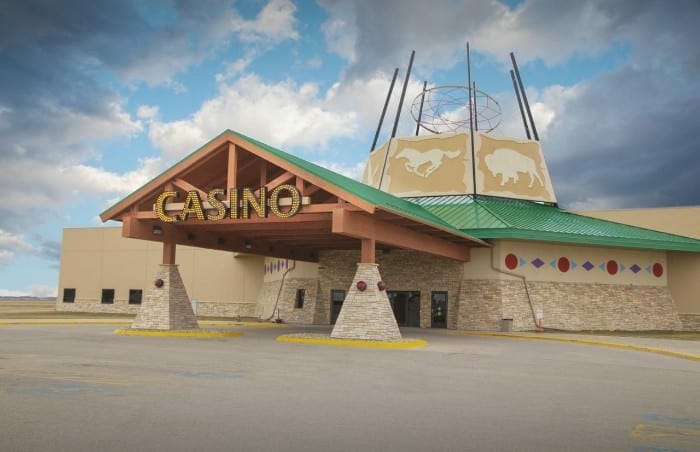 Dakota Sioux Casino & Hotel is located near the Missouri River in Watertown, South Dakota. It was originally established in 2006 and owned by the Sisseton Wahpeton Oyate. Since its opening, it has become a popular tourist destination and entertainment venue in the region.
The casino offers over 400 slots and table games ranging from blackjack to craps and poker. If you want to stay the night, they also offer luxurious accommodations featuring modern amenities and breathtaking views of the surrounding area.
Apart from gaming, this casino hotel also has several other entertainment options, including live music events and shows that take place in their theater space. And there is an onsite restaurant for those who want to grab a bite.
S whether you're interested in playing slots or table games, spending time with friends and family, or simply looking for a unique getaway, this casino hotel is the perfect place.
On websites like TripAdvisor, Google Reviews and Yelp, they have earned a 4.5-star rating. According to one review, "The hotel is beautiful and luxurious. We had an amazing stay here – very comfortable beds and a relaxing atmosphere."
Another guest commented, "Dakota Sioux Casino & Hotel is a great place for entertainment and relaxation. The staff is very friendly and accommodating. The casino floor has plenty of different games to play, as well as the theater area with live events."
(Related reading: South Dakota casinos)
Gaming
Their gaming space features over 400 slots and table games, including blackjack, craps and poker. You can also participate in promotions like tournaments and jackpot draws where you could win big prizes.
Table Games
This casino hotel offers a wide variety of entertaining table games for its guests. Whether you're an experienced card player or just starting out, you'll find something to keep you entertained.
Blackjack is the classic card table game with a goal of reaching 21 points or getting as close as possible without exceeding it. Poker is another popular option with progressive jackpots and multiple rounds for players of all levels.
Craps is a fast-paced dice game that provides plenty of chances to win large payouts from opportunities like Big 6/8, Hardways, and Field bets.
For most table games, the minimum bet is usually set at $5. However, depending on the game and time of day, there could be higher or lower minimums. It's best to check with a casino representative before playing any game, so you know what the minimum requirements are.
Slots
This casino hotel in South Dakota offers a variety of slot machines that will satisfy every type of player. From classic 3-reel slots and retro-themed games to the newest releases with bonus rounds, you will find it all. Choose from your favorite slots titles, including:
Emperor Penguin
Shadow Princess
Pixie Power
Sphinx
Breaking Bad
Timber Wolf
Unfortunately, this casino does not disclose its slot machine payback percentage on its website. However, the South Dakota Gaming Commission requires all casinos in the state to have at least an 80% payback percentage.
Hotel/Resort
The hotel at this hotel offers a luxurious and comfortable stay for its guests. It is perfectly designed with modern amenities and breathtaking views of the surrounding area. Each room has everything you need for an enjoyable stay, including Wi-Fi, cable television and a mini-fridge.
Room types include:
Standard King – features one king bed and a guest table with chairs good for two people
Standard Queen – features two queen beds and a guest table with chairs good for four people
King Jacuzzi Suite – features one king bed, a jacuzzi and a separate living room
Additionally, the casino hotel offers a variety of amenities for its guests. This includes:
Wifi access
Free parking
24-hour front desk
Meeting rooms
A gift shop
An RV park
Onsite restaurant
Live entertainment
An onsite sportsbook
Room rates vary depending on the type of room, size and amenities. However, you may book a room at their hotel for as low as $49 per night. For a more accurate estimate of the cost, you may call their hotel directly.
Check-in time at Dakota Sioux is 3:00 pm
Check-out time at Dakota Sioux is 11:00 am
Restaurants & Buffets
This casino hotel has some excellent restaurant options for guests to enjoy. Mustangs Bar & Grill is the perfect spot to get your mealtime fix – with breakfast, lunch and dinner served daily.
Customers can choose from tasty appetizers, luscious salads, mouth-watering burgers, and succulent steaks. Plus, there are often special buffets, like their signature Seafood Buffet at an unbeatable price of just $49.95.
So, whether you're in the mood for a casual bite or a high-end meal, this casino hotel has something to satisfy your palate. And don't forget to cool off with their wide selection of beer and cocktails too!
Pools
This casino hotel offers an exciting getaway for anyone looking to experience the vibrant energy of South Dakota. This hotel is on a prairie just outside the casino, providing a peaceful atmosphere and outstanding views.
However, they do not have a pool, so it may not be ideal for anyone looking to take a dip after a long day at the casino. But, the area is surrounded by outdoor activities like hiking and fishing, so you can explore the area without getting wet.
So no matter what gambler you are, this casino hotel has something for everyone. From slot machines and table games to fine dining experiences and gaming tournaments, you'll find it all here.
Dakota Sioux Casino & Hotel, Watertown, SD FAQ
Does Dakota Sioux Casino & Hotel Have A Sportsbook?
If you want to place a wager on your favorite sports teams while visiting this casino hotel in South Dakota, you'll be glad to know that they offer a sportsbook on-site.
The Dakota Nation Sportsbook allows authorized patrons to place bets on live and simulcast horse racing, as well as additional sports betting options. Plus, the location provides great deals such as sign-up bonuses and associated rewards for members.
Whether you're an experienced casino gambler or new to the game, there's something for everyone at their Dakota Nation Sportsbook.
Is Poker Available At Dakota Sioux Casino?
Yes, poker is available at this establishment. This casino offers weekly tournaments and other special events. Players can also find several daily cash games with various limits. And even if you're just starting out, there are plenty of options for you, too – including free lessons.
So if you're looking to test your luck or hone your poker skills, this casino hotel is the perfect place to do it. Plus, they also offer tournaments and other activities like blackjack and craps that can help keep your attention during down times.
What Are The Age Requirements For Gambling At Dakota Sioux Casino & Hotel?
The minimum age requirement for gambling at this casino is 21. If you are found to be under the legal age, you will not be allowed in the gaming area and may face criminal penalties if caught. So make sure to bring proper identification with you when visiting.
Does Dakota Sioux Have An Online Casino?
No, this casino does not currently offer an online version. You may only gamble at the physical casino in Watertown, South Dakota. With so much to do and see, there's no need to go online anyway.
Is There An Dakota Sioux Casino & Hotel App?
Unfortunately, no. Currently, there is no app available for this casino hotel. However, you can get updates and announcements on their website or Facebook page. This is a great way to stay updated with all the latest news and events at the casino and hotel.
Their official website also provides a detailed list of available games, special offers, entertainment options, and more.
What Is The Dress Code At Dakota Sioux Casino?
For most areas of the casino and hotel, casual attire is appropriate. However, if you plan on attending special events or tournaments, it's best to adhere to a semi-formal dress code. For example, collared shirts and closed-toe shoes are required for tournament play.
Is An Airport Shuttle Available From Dakota Sioux?
Yes, this casino offers a free shuttle service to and from the Watertown Regional Airport. You can make reservations for the shuttle by calling ahead or at the hotel front desk upon arrival.
So whether you're coming from out of town or just a few miles away, you can rest assured that they have you covered.
What Is The Smoking Policy At Dakota Sioux Casino & Hotel?
This casino hotel allows smoking in designated areas only. Non-smoking sections are marked throughout the property, so make sure to look for signage indicating where smoking is not allowed.
Also, their hotel rooms are all non-smoking, and anyone caught smoking in a room will be subject to additional fees and charges. So if you do choose to smoke on the property, be sure to follow their rules and respect the designated areas.
What Is The Pet Policy At Dakota Sioux?
Sadly, this casino hotel does not allow pets on the premises. Any animals found in guest rooms or around the property will be immediately removed and may incur additional fees.
So if you plan on visiting with a pet, it's best to find other accommodations elsewhere that can accommodate your furry family member.
That being said, service animals are allowed as long as they accompany their owners at all times. All other animals must remain outside the casino property.
Is Wifi Available At Dakota Sioux Casino & Hotel?
Yes, free high-speed internet is available throughout the hotel and casino. This allows guests to stay connected while they enjoy all the amenities this property has to offer. So make sure to take advantage of this complimentary service when you're there.
What Is The Cancellation Policy For Dakota Sioux?
This casino hotel requires a 24-hour cancellation notice. Any cancellations made after this window will be subject to charges equal to one night's stay. So make sure to read the terms of your reservation carefully before booking.
Conclusion
Dakota Sioux Casino & Hotel is a great place for fun and excitement. With so much to do and see, it's no wonder why this casino hotel has become such a popular destination. From gambling options to entertainment choices, you'll find something for everyone here.
So if you're looking for a unique experience and something to do with friends or family, look no further than this casino hotel. With its friendly staff and luxurious amenities, you'll have an unforgettable stay here.