First Gold Gaming Resort Deadwood
Address: 270 Main St, Deadwood, SD 57732
Phone Number: +1 605-578-9777
Website: www.firstgold.com
Hours: First Gold Hotel & Gaming is open 24 hours a day, 7 days a week.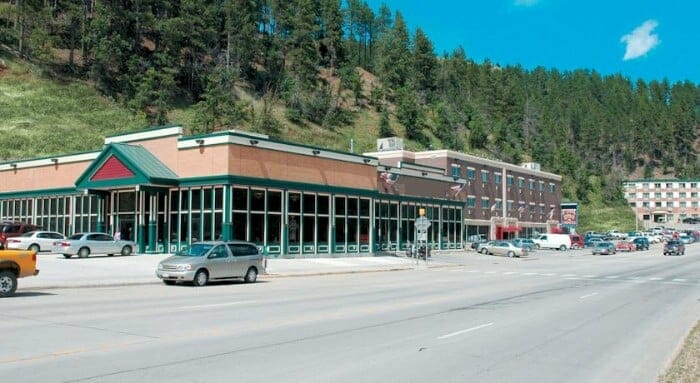 First Gold Gaming Resort, located in Deadwood, South Dakota, has been a staple in the area since 1990. The land it stands on was where gold was discovered in 1876, leading to Deadwood's prosperous mining history, hence the name First Gold.
Since then, this casino has become a popular destination for locals and tourists alike. Their gaming floor has over 300 slot machines and several table games. Plus, with their promotions and tournaments, there's always something new to try.
They also offer accommodations on-site, with a variety of rooms and amenities. Whether you want a budget hotel room or a luxury suite, this property has something for everyone.
In addition to gaming and lodging, this casino also features an onsite restaurant, bar and shopping center. Their entertainment options are also top-notch–they have live music and performances year-round.
Whether you're looking for a night on the slots or just want to take in some of the local cultures, coming to this casino resort is an experience you don't want to miss.
According to recent reviews, guests have given this casino resort in Deadwood a rating of 4.2 out of 5 stars on TripAdvisor and Google Reviews. One guest said, "Love this resort, great gaming options and accommodations. The staff is also very nice and helpful."
Another guest mentioned, "This is a great place to visit in Deadwood. The atmosphere is really nice, and there are plenty of slots and table games to choose from."
(Related reading: South Dakota casinos)
Gaming
Their gaming floor has over 300 slot machines and several table games, including blackjack, poker, and more.
Table Games
This great resort offers a wide selection of table games – including everyone's favorites, such as poker and blackjack. You can test your skills by joining one of their tournaments or playing cash wagers up to the maximum limits.
Players of all levels will find something suitable at this casino, which is why it attracts experienced and novice gamers alike. Table game limits at this casino are subject to change. Generally, minimum table games bets range between $5-10, depending on the game.
Slots
This casino offers a thrilling gaming experience for all types of players. Among their most popular slot machines are:
Buffalo Stampede
Birds of Pay
Jackpot Catcher
Lion of Venice
Zorro
Pompeii
Unfortunately, this casino does not disclose its payback percentage. However, the South Dakota Gaming Commission requires all casinos to hold minimum payback percentages in accordance with state law which is 80%.
Hotel/Resort
This property features two hotels in its complex; their very own First Gold Hotel and The Travelodge. Both hotels offer spacious and modern guest rooms for a comfortable stay.
In the First Gold Hotel, you'll find beautiful nonsmoking rooms outfitted with either one king bed or two queen beds, as well as a roomy queen suite with extra space to relax.
If you have a pet, you can book your stay at the Travelodge, where smoking and non-smoking rooms are available. Each comes in a one king bedroom, two queen bedroom, and king and queen suites to suit your needs.
Additionally, this hotel and casino offer a number of amenities to ensure your stay is as comfortable and enjoyable as possible. These include:
Free Wi-Fi
24-hour room service
Free parking
EV charging stations
Daily housekeeping
Fitness center
Outdoor pool
Business center
Restaurant and bar on site
Gift shop
Live entertainment
The cost of a stay at this casino resort is incredibly affordable. Prices vary depending on the room type and time of year but generally start at $79 per night.
Check-in time at First Gold is 3:00 pm
Check-out time at First Gold is 11:00 am
Restaurants & Buffets
If you're looking for a great meal while in south Dakota, this casino's Horseshoe Restaurant should be your first stop. The restaurant offers sit-down breakfasts, lunches and dinners, so whether you're heading out early or looking for a late-night snack, they have you covered.
No need to worry about buffets either, as they proudly serve each meal fresh and hot to your table. So come check out the local scenery, visit the historic landmarks, then cap off your day with some delicious food at the Horseshoe Restaurant.
Pools
If you're looking for a place to while away the weekend and have a great time, this gaming resort in South Dakota is perfect.
While they, unfortunately, don't have any pools onsite, this premier destination makes up for that lack of water fun with its wide variety of cuisine, entertainment, and gaming options.
With friendly staff, inviting rooms, and ample opportunities to relax – or even score big – it's no surprise this establishment attracts visitors from all over.
First Gold Gaming Resort, Deadwood, SD FAQ
Does First Gold Gaming Resort Have A Sportsbook?
Unfortunately, this casino does not have a sportsbook. But with their vast selection of games and slot machines, players will still find plenty of ways to enjoy their time at this casino resort. Plus, with their daily promotions and exciting tournaments, you can find something for everyone.
Is Poker Available At First Gold?
Yes, you may easily find live poker tables at this casino. Whether you're a beginner or a seasoned veteran, there's something for everyone here. And with their low-limit tables, a great atmosphere, and friendly dealers, you will have an enjoyable experience.
What Are The Age Requirements For Gambling At First Gold Gaming Resort?
You must be age 21 or older to gamble at this gaming resort in South Dakota legally. All patrons are asked to provide valid photo IDs when entering the gaming areas. Failure to provide a valid ID will result in the patron being denied entry.
Does First Gold Have An Online Casino?
Unfortunately, this casino does not currently have an online casino. However, the resort still offers patrons plenty of gaming and entertainment options to enjoy. With their slot selection and various poker tables, you can always find something entertaining to do here.
Is There An First Gold Gaming Resort App?
Yes, this casino and resort do have their own mobile app. With it, you can check out their latest promotions, book a room in advance, reserve tables for dining or shows, and more. You can download the app for free on both iOS and Android devices.
What Is The Dress Code At First Gold?
The dress code at this casino and resort is casual attire. Although some restrictions may apply to certain areas, it's always best to check with a staff member before entering an area you're unfamiliar with.
To be on the safe side, it's best to avoid overly revealing clothing, athletic wear, and offensive or rude slogans. The goal is to be comfortable while adhering to a respectful dress code.
Is There An Airport Shuttle Available From First Gold Gaming Resort?
Unfortunately, you will need to arrange your own transportation to and from this casino. But with its close proximity to the Rapid City Regional Airport, you can easily reach the hotel in approximately 30 minutes by car.
There are also several ridesharing services available in the area. So, you can easily use these services to get from the airport to this gaming resort in South Dakota with relative ease.
What Is The Smoking Policy At First Gold?
This casino and resort are smoke-free. Smoking is not allowed in any of its gambling areas, restaurants, bars, or other locations on the property. However, there are designated smoking areas outside for patrons who need them.
What Is The Pet Policy At First Gold Gaming Resort?
The Travelodge at this casino resort offers pet-friendly accommodations. For more information, please get in touch with their customer service team. Whether you're looking for a place to stay with your pet or just curious about their policies, they will be happy to help you.
Is Wifi Available At First Gold?
Yes, this casino and resort offer complimentary wifi to all its guests. You can easily access the internet from anywhere on the property. So, you'll never have to worry about having a bad connection while trying to enjoy your time here.
What Is The Cancellation Policy For First Gold Gaming Resort?
As there are two hotels on the property, each hotel has its own cancellation policy. For more information, please get in touch with their customer service team.
They can provide you with all the details regarding your reservation and any applicable fees or penalties that may be associated with it.
Conclusion
First Gold Gaming Resort in South Dakota is a great option for anyone looking to experience the thrill of gaming. Whether you're looking to spin the slots, participate in a poker game, or enjoy entertainment, this casino and resort have something for everyone.
So if you're ever in the area, be sure to check out this casino resort. With its great selection of gaming options, live entertainment, and comfortable accommodations, it's a great place for fun and relaxation.