Gold Country Inn Gambling Hall & Cafe Deadwood
Address: 801 Main St, Deadwood, SD 57732
Phone Number: +1 605-578-2393
Website: www.goldcountrydeadwood.com
Hours: Gold Country Inn Gambling Hall & Cafe is open Monday 6:30 AM – 10:00 PM, Tuesday 6:30 AM – 10:00 PM, Wednesday 6:30 AM – 10:00 PM, Thursday 6:30 AM – 10:00 PM, Friday 6:30 AM – 11:00 PM, Saturday 6:30 AM – 11:00 PM, Sunday 6:30 AM – 9:00 PM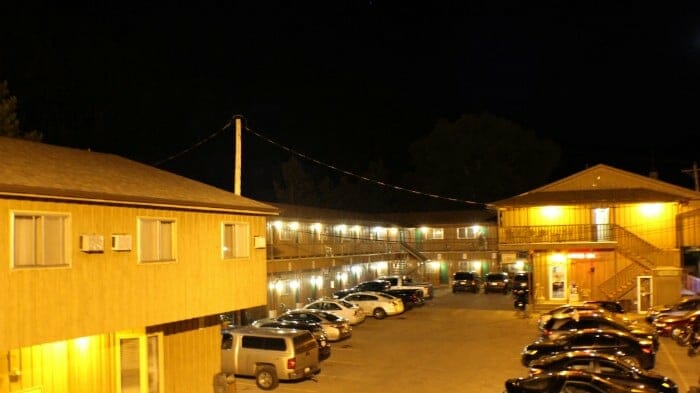 Gold Country Inn Gambling Hall & Cafe has provided an up-scale gaming and dining experience since its opening. The property offers multiple amenities ranging from gaming and dining to an onsite inn.
Their gaming floor features numerous slot machines and electronic table games. Plus, they also have promotions and tournaments running regularly. The property also offers a variety of food and beverage options from their cafe, ranging from American and Mexican favorites.
Furthermore, their accommodations offer guests a comfortable stay in one of their well-appointed rooms. Guests can take advantage of amenities such as free Wifi, HD TVs, nearby local activities and much more.
If you're looking for entertainment in Deadwood's historic downtown district or just need a place to relax and unwind, head to this casino. Their friendly staff, comfortable accommodations and gaming floor make it a great destination for your next stay in Deadwood.
According to TripAdvisor, the establishment currently holds 4 out of 5 stars with over 100 reviews. On Yelp, customers have given them a 3 out of 5-star rating based on more than 37 reviews.
One guest even said, "We enjoyed the Gold Country Inn and Casino. The staff was friendly and accommodating, and the slot machines had a good variety with competitive payouts."
(Related reading: South Dakota casinos)
Gaming
Their gambling hall consists of classic, video and electronic gaming machines ranging from penny to high limit.
Table Games
This gambling facility is a great place to head if you're looking for a fun evening of slots. Unfortunately, if you were hoping to find some of your favorite table games at this venue, there won't be any selection.
Instead, they provide slot machines only – each with its own enticing bonus rounds and mini-games that offer faster playing options.
Slots
If you're looking for a great selection of fun and thrilling online slot machines, this casino in South Dakota has some real gems to offer.
Popular titles range from Dynamic 7's, where you can spin for a chance to win up to seven times the original prize; Da Vinci Diamonds featuring its distinctive tumbling reels and big bonus wins; and Dragon's Realm to take you on an adventure with its unique style
If that's not enough, they also have Jaguar Mist which brings out the explorer in us, Pixie Power which turns up the excitement and Quick Hit to bring mega wins your way.
According to the South Dakota Commission on Gaming, casinos in the state should adhere to a minimum payback percentage of 80%. While this casino does not publish its specific payback percentage, it is very likely that the slots here are up to this requirement.
Hotel/Resort
This gambling hall has an onsite inn that offers comfortable accommodations where guests may enjoy amenities such as free Wifi, HD TVs, nearby local activities and much more.
The rooms are spacious and well-appointed, with modern furniture and comfortable beds. Plus, their staff is friendly and accommodating. To know more about their room types, you must call the establishment to inquire further.
Additionally, this property offers a variety of amenities that are sure to make your stay comfortable. These include:
Free Wifi
Flatscreen HD TVs
Free parking
Onsite cafe
Daily housekeeping
Local nearby activities and attractions
Live entertainment and shows
The prices vary depending on the season and type of room booked. However, to get an accurate rate, you must call the establishment directly to inquire further, as their website does not have any information on pricing.
Check-in time at Gold Country Inn is 2:00 pm
Check-out time at Gold Country Inn is 11:00 am
Restaurants & Buffets
If you're looking for a place to grab a bite while in the area, you won't be disappointed. While this gambling hall doesn't have a full-service restaurant or buffet on the premises, its onsite cafe will surely beat your expectations with its breakfast selection that locals consider the best in town.
They also offer lunch and dinner menus, so no matter what time of day or meal you need to satisfy your appetite, the cafe has something for everyone. So no matter if you're in the mood for something light or something hearty, this cafe is sure to hit the spot.
But if you want something more substantial, you can always head to nearby restaurants that are all within walking distance of the casino. The location offers many dining options, including fast-food joints and fine-dining establishments.
Pools
This casino is an exciting venue located in South Dakota that offers Vegas-style slot machines. With its free parking and onsite cafe, it's the perfect place to spend a fun day out or an exciting night of gambling.
However, if you're looking for some watery fun and relaxation, this casino, unfortunately, does not have any pools available. However, they do offer many other amenities that are sure to make your stay comfortable and enjoyable.
The property is also near multiple outdoor attractions, such as the Adams Museum and the History and Information Center. So if you're looking for a day of fun in the sun without the pool, there are plenty of activities to choose from nearby.
Gold Country Inn Gambling Hall & Cafe, Deadwood, SD FAQ
Does Gold Country Inn Gambling Hall & Cafe Have A Sportsbook?
No, this casino does not have a sportsbook. It only offers gaming in the form of slot machines and video poker. And with its free parking and nearby restaurants and attractions, it's the perfect place to spend a fun day or night out.
Is Poker Available At Gold Country?
No, this casino does not offer poker. However, you may find some video poker machines available in the gaming area. This is a great alternative to traditional poker, as you can enjoy the same thrilling gaming experience without worrying about competing against other players.
What Are The Age Requirements For Gambling At Gold Country Inn Gambling Hall & Cafe?
The minimum age to gamble at this gambling hall is 21 years old. It's important to note that if you're under the age of 21 and caught gambling, you could be subject to fines or other penalties. Make sure to bring proof of identification to the casino to verify your age.
Does Gold Country Have An Online Casino?
No, this casino does not have an online counterpart. It only offers gaming in the form of slot machines and video poker on-site.
The property is conveniently located near other attractions, so you can enjoy exploring the area before or after your gaming session, which definitely makes up for the lack of an online casino.
Is There An Gold Country Inn Gambling Hall & Cafe App?
No, there is no app available for this casino. However, you can use their website to access information on current promotions and gaming options offered on-site. You can also view their hours of operation and contact information if you have any questions or need assistance.
What Is The Dress Code At Gold Country?
The dress code at this casino is casual. You can wear anything you're comfortable in, including jeans and t-shirts. However, please note that they may ask you to remove any hats or hoods inside the gambling hall.
Also, avoid overly revealing attire or offensive language and designs. The casino wants to ensure all guests have a pleasant experience, so please respect their dress code policy.
Is An Airport Shuttle Available From Gold Country Inn Gambling Hall & Cafe?
Yes, this casino offers a free shuttle service for guests coming from or going to the Rapid City Regional Airport. Contact the hotel front desk to book a shuttle and have your flight information ready. Please note that this service is subject to availability, so it's best to book in advance.
What Is The Smoking Policy At Gold Country?
This casino is a smoke-free facility. This means that smoking and vaping are not allowed in any of the gaming areas or throughout the property. They offer designated outdoor smoking areas for guests who need to use them.
What Is The Pet Policy At Gold Country Inn Gambling Hall & Cafe?
They offer pet-friendly accommodations for guests who are traveling with their furry friends.
There is a small fee associated with bringing pets, and please be aware that only certain room types are available for pet-friendly stays. For more information, contact the hotel front desk before your arrival.
Is Wifi Available At Gold Country?
Yes, they offer free high-speed Wi-Fi throughout the property.
Guests can use their own devices to access the internet or take advantage of the complimentary computers located in the lobby. The wifi is accessible 24/7 and allows you to stay connected while enjoying your time at the casino.
What Is The Cancellation Policy For Gold Country Inn Gambling Hall & Cafe?
Most reservations require three days' notice before 3 p.m. to qualify for a refundable $25 fee.
For holiday or special event bookings, the establishment must be notified 14 days in advance if you need to cancel. A non-refundable service fee is charged at the time of reservation, regardless of any potential changes to your stay.
Conclusion
Gold Country Inn Gambling Hall & Cafe is a great casino for anyone who loves to gamble. It's conveniently located near other attractions and has all the amenities you need for a comfortable stay.
And with their numerous slot machines, video poker games, and other gaming options, you will surely have a great time. If you find yourself in South Dakota, then this is definitely a must-visit destination.