Gold Dust Casino & Hotel Deadwood
Address: 688 Main St, Deadwood, SD 57732
Phone Number: +1 605-578-2100
Website: www.golddustdeadwood.com
Hours: Gold Dust Casino & Hotel is open 24 hours a day, 7 days a week.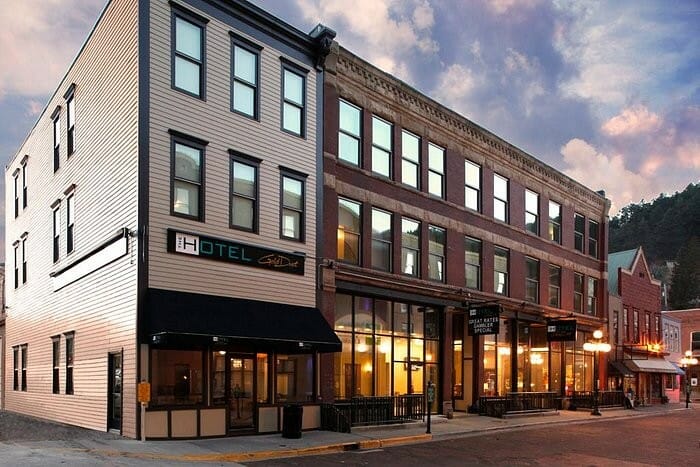 Gold Dust Casino & Hotel has been a part of Deadwood's rich history since its opening. The property is currently owned and operated by brothers Bill and Tom Wohlers in 2007.
The gaming floor features a wide variety of games, including several slot machines, multiple live table games such as blackjack, poker and roulette, along with a full-service sports book. They also offer accommodations in their onsite hotel.
For anyone who would like to grab a bite to eat, the casino also has an onsite steakhouse that serves up some of the best steaks around. They also have a bar that serves up delicious cocktails and appetizers.
But if you're looking for lively nightlife, the establishment hosts live music and entertainment on select nights. They also have occasional tournaments and giveaways, so it's a great place to come out and have some fun.
So if you find yourself in Deadwood, make sure to stop by this casino hotel for all your gambling and entertainment needs. From the delicious food to the great entertainment, you'll surely leave satisfied.
This casino hotel has been rated consistently with 4-star reviews, with guests raving about the great food and entertainment. One guest even said, "It's a great place to come out and have fun. The slots were operating well, the bar staff was friendly, and the steaks were top-notch."
Another guest said, "This is one of the best casinos in Deadwood. Friendly staff, great gaming options and lots of fun activities."
(Related reading: South Dakota casinos)
Gaming
The casino offers classic Las Vegas-style gaming, including various slots, live table games and a full-service sports book.
Table Games
If you're in search of some exciting table game action, then look no further than this casino hotel. You have a range of choices to choose from, and each one will bring plenty of enjoyment.
Try your luck at the ever-popular blackjack, or test your skills against the dealer in roulette. Three Card Poker is always a crowd favorite, too, as it adds an extra level of strategy to poker night.
Lastly, if Texas Hold'Em is more your forte, give Ultimate Texas Hold'Em a try – it's sure to offer an enjoyable experience.
The minimums at this casino's table games vary depending on the game and day. Generally, table minimums at this casino go as low as $5 on weekdays and range up to $25 during peak hours. Check with the casino for exact minimums on any given day.
Slots
This casino hotel offers classic Las Vegas-style slot machines and modern video gaming machines. Some of the popular titles include:
Li'l Red
Jaguar Mist
Pharaoh's Fortune
Snow Wizard
Rapa Nui Riches
Sun and Moon
This casino is required by law to have a minimum payback percentage of 80% on its electronic gaming devices. So even though they do not publish their exact rates, you can rest assured that your chances of winning are good.
Hotel/Resort
The hotel offers a range of comfortable rooms that will suit any budget. There is a range of room sizes and amenities available, so you are sure to find something that fits your needs. Each room includes a refrigerator, microwave and coffee maker.
Room types include:
Single Queen – features one queen bed
Double Queen – features two queen beds
King – features one king bed
Additionally, the hotel offers a range of amenities for guests to enjoy. Some of these include:
Wifi access
Free parking
24-hour front desk
Daily housekeeping
Business center
Pet-friendly accommodations
Onsite sportsbook
Restaurant and bar
Live entertainment and shows
Nearby local attractions
The hotel offers different rates depending on the room type and time of year. Rates start at around $79 per night, excluding taxes and fees.
Check-in time at Gold Dust is 3:00 pm
Check-out time at Gold Dust is 11:00 am
Restaurants & Buffets
At this casino hotel, visitors will find a delicious array of restaurant options. Though there is no buffet option, guests can enjoy the savory flavors of Mavericks Steak & Cocktails. Offering the finest meats and freshest seafood, Mavericks' menu is sure to please any diner.
With an unbeatably exquisite atmosphere and top-notch service, a visit this steakhouse truly boasts an enjoyable experience with every visit. So come by this casino hotel and treat yourself to a meal at one of South Dakota's finest restaurants.
Pools
This casino hotel is a great spot for gambling and entertainment. However, guests should be aware that there aren't any pools located onsite – so if you were looking to get some beach time between slot pulls, this isn't the place for you.
That being said, there are plenty of quality attractions nearby where you can relax by the water and cool down during the summer months. So don't let the lack of a hotel pool put you off – this casino offers up its own special brand of fun.
Gold Dust Casino & Hotel, Deadwood, SD FAQ
Does Gold Dust Casino & Hotel Have A Sportsbook?
Yes, this casino hotel offers an onsite sportsbook. This makes it easy for guests to join the action with their favorite teams and sports events. Plus, the sportsbook area also offers many TVs so that you can keep up with all the games simultaneously.
Is Poker Available At Gold Dust Casino?
Yes, this casino offers several live poker tables and electronic poker games. The casino also offers Ultimate Texas Hold'em and 3-Card Poker tournaments. There are also plenty of slot machines and other table games available.
What Are The Age Requirements For Gambling At Gold Dust Casino & Hotel?
Guests must be 21 years or older to play at the casino. There is a separate area for non-gambling activities that are open to guests aged 18 and over. Additionally, all persons under the age of 21 are not allowed in the sportsbook area.
Does Gold Dust Have An Online Casino?
No, at this time, there is no online casino offered by this establishment. However, their slots and table games are available for play in person at the casino. Additionally, they offer various other entertainment options to enjoy.
Is There An Gold Dust Casino & Hotel App?
No, this casino does not have an app available. However, they offer a wide range of promotions and other offers that can be accessed directly on their website. Additionally, they have social media accounts where they post updates, offers and more.
What Is The Dress Code At Gold Dust?
This casino does not have a dress code. However, most guests tend to dress casually. This includes shorts and t-shirts for men and skirts or jeans for women. Guests should also be aware that no swimwear is allowed inside the casino.
Also, avoid wearing overly revealing clothing, which may be considered inappropriate. Additionally, guests must always wear shoes in the casino. Sandals and flip-flops are not allowed.
Is An Airport Shuttle Available From Gold Dust Casino & Hotel?
Unfortunately, there is no airport shuttle service from this casino hotel. However, guests can take a taxi or ride-share service to and from the airport. Additionally, the hotel also offers free parking for those who wish to drive themselves.
What Is The Smoking Policy At Gold Dust?
The casino hotel does not allow smoking in any area inside the casino. However, there is an outdoor designated smoking area for those who wish to enjoy a cigarette or cigar while playing. Additionally, no vaping is allowed anywhere on the premises.
What Is The Pet Policy At Gold Dust Casino & Hotel?
This casino hotel in South Dakota is a pet-friendly facility with a welcoming attitude and reasonable fees. They accept two pets of any size with an additional fee of $35 per stay.
To ensure everyone's safety, they ask guests with pets to clean up after their animals inside and outside of the property and to keep them under control at all times.
Is Wifi Available At Gold Dust?
Yes, this casino hotel offers free wifi to all of its guests. Plus, the connection speed is fast and reliable. So if you need to stay connected while playing at the casino or simply want to check your emails, you can do so easily.
What Is The Cancellation Policy For Gold Dust Casino & Hotel?
Cancellations must be made at least 24 hours before the arrival date to receive a full refund. If a cancellation is not made within this time period, it will be non-refundable.
Make sure that you take note of the cancellation policy when you book your reservation so that everything is taken care of and there are no surprises when it comes time to check in.
Conclusion
Gold Dust Casino & Hotel is a great place to visit for those who are looking for some gaming action.
The casino offers many games, including slots, table games, and tournaments. Additionally, the hotel has pet-friendly policies and free wifi. There is also no dress code, and smoking is only allowed in designated outdoor areas.
So if you are looking for an enjoyable gambling experience in South Dakota, this casino hotel is definitely worth a visit.