Historic Bullock Hotel Deadwood
Address: 633 Main St, Deadwood, SD 57732
Phone Number: +1 605-578-1745
Website: www.historicbullock.com
Hours: Historic Bullock Hotel is open 24 hours a day, 7 days a week.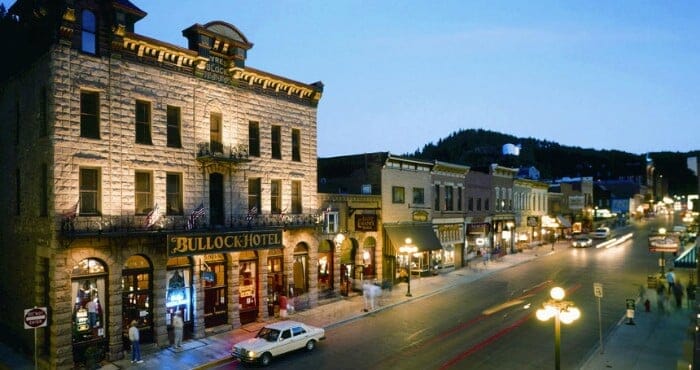 The Historic Bullock Hotel in Deadwood was built in 1896. The property is recognized as the oldest hotel in Deadwood and was built to cater to the influx of settlers that began to pour into the area during the Gold Rush.
The property is owned and operated by the Bullock properties, which now feature more than just the original hotel. Their casino boasts a variety of slot machines, ranging from classic reel games to the newest video slots.
They also have promotions and discounts throughout the year, as well as a full-service bar and restaurant. Their hotel has been recently renovated and features various comfortable guest rooms, including king-sized beds and deluxe options.
They offer some of the best hospitality in town, with friendly service and a wide selection of amenities. Whether you're looking for a great place to stay while visiting Deadwood or just looking to enjoy the atmosphere and entertainment, they offer something for everyone.
On TripAdvisor, this casino hotel has a 4.5-star rating out of 5. According to one guest, "The staff was friendly and accommodating, and the rooms were clean and comfortable. This is a great place to stay in if you're visiting Deadwood."
Another guest commented about the hotel's restaurant, "The restaurant had great food and drinks. The staff was very friendly and accommodating."
(Related reading: South Dakota casinos)
Gaming
The casino floor offers multiple slots and electronic gaming options, with various video poker and slot machines.
Table Games
If you're looking for a fun night out and some classic Las Vegas entertainment, this casino hotel in South Dakota is the spot for you. Although this establishment may be small and quaint, it offers the perfect escape from your everyday hustle and bustle with its various slot machines.
With a range of machines, there's sure to be something that will tantalize your fancy. So go down to this historic establishment for an exhilarating evening of good times and great prizes.
Slots
If you're looking for classic gaming fun with some modern twists, this casino hotel is the place to be. This historic setting provides a unique atmosphere for those looking to play charming machines from yesteryear.
For the traditional slot enthusiast, there are the classic 3-reelers that provide classic spinning action and jackpots. There are also video slots with popular themes like superheroes and sports that offer exciting graphics and special features like wilds and multipliers.
And as a bonus, all of these machines accept wagers ranging from 0.01$ to 5.00$, so you have plenty of options for playing your favorite slot games.
Unfortunately, this casino does not post the slot machine payback percentages for their machines. However, it is commonly accepted that all South Dakota casinos have a minimum payout percentage of 80%.
Hotel/Resort
At this historic hotel, you can experience luxurious accommodations during your stay. The hotel features various guest rooms to fit all kinds of travelers. Each room has amenities like air conditioning, flat-screen TVs and complimentary Wi-Fi.
Room types include:
Full Beds – features one full-size single bed
Queen Beds – features one full-size queen bed
Two Queen Beds – features two queen beds
Single King Beds – features a king bed
Jacuzzi Suites – features one king bed, a jacuzzi, a sitting area and a wet bar
The hotel offers plenty of amenities for its guests to enjoy during their stay. Some of these include:
Wifi access
Housekeeping
Free parking
24-hour front desk
Daily housekeeping
Onsite restaurant and bar
Live entertainment and shows
Room rates vary depending on the season but generally start from $59/night. There are also various packages available for longer stays and special occasions. For a more detailed breakdown of the prices, please visit the official website.
Check-in time at Historic Bullock Hotel is 3:00 pm
Check-out time at Historic Bullock Hotel is 11:00 am
Restaurants & Buffets
When visiting this casino hotel in South Dakota, you'll find delicious options for breakfast, lunch, and dinner. Bullies specialize in classic American fare; enjoy all your favorites, like burgers and fries or steak, cooked to perfection over their open-flame grill.
And there might not be a buffet, but there are plenty of delectable side items to accompany your main course. For breakfast, you can devour a hefty egg sandwich or go big with a western omelet.
Lunch could consist of quesadillas with homemade salsa and guacamole or build-your-own sandwiches with all your favorite toppings. Whatever meal you're indulging in at Bully's, you can rest assured it's freshly cooked with the freshest ingredients.
And there might not be a buffet, but there are plenty of delectable side items to accompany your main course.
Pools
A trip to this historic establishment is sure to make some great memories. Even though there are no pools onsite, the beautiful scenery outside provides a sense of adventure and relaxation.
You may also find that the nearby amenities offer plenty of places to cool off during the summer heat. So while you'll have to find your recreational swimming elsewhere, you'll discover lots of other ways to rest and revive at this casino hotel.
Historic Bullock Hotel, Deadwood, SD FAQ
Does Historic Bullock Hotel Have A Sportsbook?
No, this casino does not have a sportsbook onsite. The establishment is focused on gaming activities, such as video poker and slot machines. With their selection of classic spinning action and jackpots, you can be sure to find the perfect game for your gaming needs.
Is Poker Available At Historic Bullock?
Unfortunately, this casino does not offer poker tables or tournaments. However, they have a selection of video poker machines to choose from, so you can still enjoy some card-based gaming while in town.
What Are The Age Requirements For Gambling At Historic Bullock Hotel?
The legal gambling age in South Dakota is 21. All visitors must present a valid ID to access the gaming floor. Minors are not allowed on the premises, even when accompanied by an adult. Failure to comply will result in immediate expulsion from the casino.
Does Historic Bullock Have An Online Casino?
No, this establishment does not have an online casino. You may only enjoy their gaming activities and promotions onsite. They do not offer any online gambling, so all guests must visit the casino in person to take part in the fun.
Is There An Historic Bullock Hotel App?
No, this casino does not currently have an app. However, they offer a mobile-friendly website where guests can find the latest promotions and gaming updates. The website is easy to navigate and provides plenty of ways to stay informed on all things this casino hotel has to offer.
What Is The Dress Code At Historic Bullock?
The attire for this casino is pretty casual, but the dress code does require that all guests wear appropriate clothing. Shorts and flip-flops are generally not permitted in the gaming area, and most guests tend to leave the beachwear at home.
Is There An Airport Shuttle Available From Historic Bullock Hotel?
No, this casino does not offer an airport shuttle. However, if you need transportation to and from the hotel, there are plenty of taxi and ride-sharing services available in South Dakota.
And if you'd like to explore the local attractions, there are plenty of rental car options too. Just be sure to time your arrival to ensure you have a vehicle ready when you arrive at the hotel.
What Is The Smoking Policy At Historic Bullock?
This casino is a smoke-free establishment. Smoking and vaping are not permitted onsite, and there are no designated smoking areas indoors. However, guests can step outside to partake in their habit if they choose.
What Is The Pet Policy At Historic Bullock Hotel?
Sadly, pets are not allowed on the premises at this casino. This is to ensure that all guests have a safe and comfortable stay. If you need pet-sitting services, there are plenty of nearby options available for your convenience.
Service animals are allowed on the property, provided guests can provide paperwork and proof of their animal's training.
Is Wifi Available At Historic Bullock?
Yes, wifi is available throughout the premises. Guests can access it free using their room key and a valid email address. This ensures that all guests can stay connected no matter where they are on the property.
What Is The Cancellation Policy For Historic Bullock Hotel?
The cancellation policy for this casino is simple and straightforward. All reservations must be canceled at least 24 hours before arrival. If you cancel within the 24-hour window, you will be subject to a penalty fee equal to one night's stay plus taxes.
Conclusion
Historic Bullock Hotel is a great destination for those looking to enjoy gaming in South Dakota. Whether you're a slots fan or video poker, there's something for everyone at this casino.
Be sure to check out the age requirements and dress code before you visit, and take advantage of the free wifi while you're there.
And don't forget to check out the cancellation policy before you book your stay. With all these considerations in mind, you'll surely have a great time at this casino hotel.