Mustang Sally's Deadwood
Address: 634 Main St, Deadwood, SD 57732
Phone Number: +1 605-578-2025
Website: www.mustangsallys.biz
Hours: Mustang Sally's is open Monday 10 am – 11 pm, Tuesday 10 am – 11 pm, Wednesday 10 am – 11 pm, Thursday 10 am – 11 pm, Friday 10 am – 11 pm, Saturday 10 am – 11 pm, Sunday 10 am – 11 pm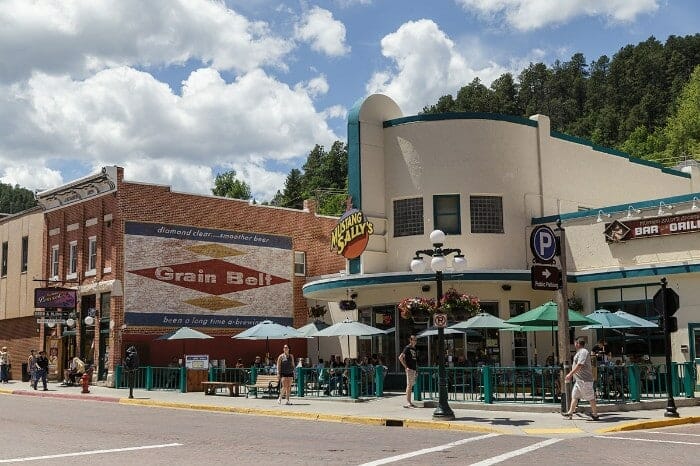 Mustang Sally's has been a Deadwood tradition since the town was founded in 2002. Located in the heart of town, this property has offered delicious food and amazing service for nearly 20 years.
Their gaming floor comprises several slot machines and video gaming machines, ranging from classic favorites to the latest technology. It also offers a full-service sports bar with televisions, darts and other activities.
The restaurant at this establishment is known for its mouthwatering selection of classic American dishes, including chicken wings, burgers, and fish tacos. In addition to the regular menu items, they also offer a daily special for dinner or lunch.
This popular gathering place is also home to live music on selected nights from some of Deadwood's best bands. Whether you're looking for a night out with friends or a place to relax and enjoy great food, this is the perfect spot.
Overall, customers give this establishment a 4.5 out of 5 stars on average across all review sites. According to one guest, "The service was great, the food was delicious, and they were very accommodating. I would highly recommend Mustang Sally's."
Another customer commented, "Mustang Sally's was a great experience. The servers were friendly, and the food was really good. We will definitely be back."
(Related reading: South Dakota casinos)
Gaming
Their gaming space has a variety of slot and video gaming machines, offering you the chance to experience a mix of classic favorites and the latest technology.
Table Games
This casino is a great spot to spend the evening if you love slots and sports betting. They don't offer traditional table games like poker, blackjack, or craps, but they have great slot machines, sure to excite any gambler.
If you're looking to hit up the sportsbooks while you're there, they have several options for every kind of bet, from sports like football, basketball, baseball and more.
Slots
This casino, located in South Dakota, is home to some of the most popular slot machines around the state. For example, Earth Rainforest transports you to the amazing depths of lush rainforest with its visuals and sounds.
Emperor Penguin offers you the chance to enjoy majestic creatures in an arctic winter setting while searching for winnings. Fu Dao Le is filled with classic elements and modern features that entertain you.
The Green Machine is decked out in bright greens and offers up some big opportunities. Age of Aurora takes your gaming enjoyment to new heights under the Northern Lights as gorgeous color fills your screen.
And no visit would be complete without playing Kitty Glitter – where those furry felines might just fill your bankroll with cash.
Unfortunately, they do not disclose the payback percentage for their slot machines. However, by South Dakota law, all slot machines must have a minimum payout of 80%. Therefore, you can rest assured that while playing at this casino, you will receive fair and generous payouts.
Hotel/Resort
This casino in South Dakota is a great destination for travelers looking to explore the area while enjoying the comforts of home. However, they do not offer a hotel/resort onsite.
Don't worry, though, as you have the option of checking into any one of the nearby hotels, all of which offer great value for every budget.
Choose from the Hampton Inn, DoubleTree by Hilton, or Best Western Black Hills Lodge and make the most out of your trip. Each hotel offers plenty of amenities to ensure you have a cozy and stress-free stay.
Rest assured that all three properties will provide you with above-and-beyond customer service, all in close proximity to the casino.
Restaurants & Buffets
This casino offers a truly special restaurant experience. Here, you can enjoy classic American food such as burgers, hotdogs, fries and chicken wings – but that's not all. You can also get delicious fish and chips for those days when you're in the mood for something a bit more traditional.
With no buffet option available, you can get exciting choices off the menu without worrying about eating too much. If you're in the area, be sure to visit this casino – it'll be a satisfying meal every time.
Pools
This establishment is a one-of-a-kind casino experience for all types of travelers. With an array of amenities, you can expect to settle into comfort and relaxation at this inviting destination.
Although there are no pools onsite, the abundance of sights, attractions, and activities in the city offers countless opportunities to explore and enjoy South Dakota during your stay.
From shopping and entertainment to golf courses, you won't be short on things to do. With the nearby attractions, you can easily take a break from gaming and still have plenty of fun.
Mustang Sally's, Deadwood, SD FAQ
Does Mustang Sally's Have A Sportsbook?
Yes, they have two kiosks available that offer their customers all the top sports options, from NFL and MLB to NHL, NBA, and more.
You don't have to worry about those time-consuming trips to the sportsbook anymore – just come by and make your wagers in a few simple steps. Plus, with the help of friendly staff, you'll never feel lost in the process.
Is Poker Available At Mustang Sally's?
No, they don't offer poker tables. However, the casino itself is home to a wide range of slot machines, and you may easily find a couple of video poker machines. You can also take part in their various tournaments and events, which offer great prizes and fun times for all involved.
What Are The Age Requirements For Gambling At Mustang Sally's?
The minimum legal gambling age is 21 in South Dakota. To gain access to the casino, customers must present a valid ID when entering the premises. Customers under 21 years of age will not be allowed to enter, even if accompanied by an adult. There are no exceptions to this rule.​
Does Mustang Sally's Have An Online Casino?
No, this establishment does not offer an online casino. All of the gaming at this establishment is done in person, so you'll need to be present to take part. With their wide selection of games and generous bonuses, it's worth the visit.​
Is There A Mustang Sally's App?
No, this casino does not have an app. However, they do have a website that has all of the information you need on their various games, promotions and events. The website also includes detailed directions to the casino, so you can easily find your way there.
What Is The Dress Code At Mustang Sally's?
The dress code is casual, but guests should avoid wearing overly revealing clothing or items that are too disruptive. Shorts, tank tops and flip-flops are not allowed in the gaming area. Be mindful of your attire and always show respect for the establishment.
Is There An Airport Shuttle Available From Mustang Sally's?
No, this casino does not offer an airport shuttle. However, if you're looking for transportation to and from the casino, there are plenty of taxis and ride-hailing services available nearby. Customers may also rent a car or book a private limousine to get to the casino in style.
What Is The Smoking Policy At Mustang Sally's?
This casino is a smoke-free establishment, with designated smoking areas available outside the building. Customers may not bring any type of tobacco product or other smoking paraphernalia into the casino. This policy applies to all areas, and patrons must follow it at all times.
What Is The Pet Policy At Mustang Sally's?
Sadly, no pets are allowed in the casino. Service animals are accepted but must be properly identified and wearing a service animal vest. If you're traveling with your furry loved one, there are many pet-friendly hotels in the area that can accommodate both of you comfortably.
Is Wifi Available At Mustang Sally's?
Unfortunately, you may need to use your own data to stay connected, as this establishment does not offer any kind of wifi access. You should consider bringing a mobile hotspot or portable charger if you need extra online power while at the casino.​
What Is The Cancellation Policy For Mustang Sally's?
As there is no hotel attached to this property, they do not have a cancellation policy. However, if you have a reservation for a special event or promotion, don't hesitate to contact them directly for more information about their cancellation policy.
Conclusion
This establishment is a great choice for anyone who loves to gamble and have fun. With their range of machines, tournaments and events, you'll surely find something that suits your needs.
Be sure to bring your valid ID if you plan on gambling, and don't forget to check out the dress code before arriving. With these tips in mind, you will have a great time at Mustang Sally's!