Old Style Saloon No. 10 Deadwood
Address: 657 Main St, Deadwood, SD 57732
Phone Number: +1 800-952-9398
Website: www.saloon10.com
Hours: Old Style Saloon No. 10 is open Monday 9 am – 2 am, Tuesday 9 am – 2 am, Wednesday 9 am – 2 am, Thursday 9 am – 2 am, Friday 9 am – 2 am, Saturday 9 am – 2 am, Sunday 9 am – 2 am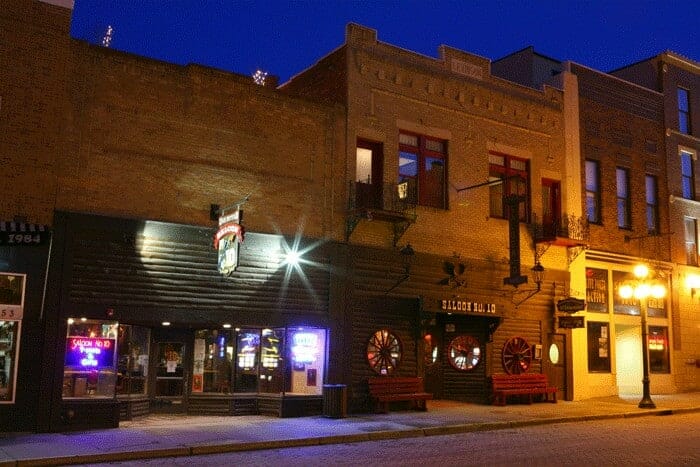 Old Style Saloon No. 10 has a long and storied history in the town of Deadwood. Founded in 1876, it is one of the oldest businesses in Deadwood's historic district. The property is famously known as the place where Wild Bill Hickok was shot and killed while playing poker in 1876.
Today, the property has offered multiple services to the local community for 140 years. It features a saloon, restaurant and gaming hall, as well as being a popular tourist stop for its historical significance.
Their gaming floor features multiple slot machines, blackjack and poker tables. They also have promotions and live entertainment, such as music performances and more. They serve a variety of food items, including signature steak dishes and burgers.
They also have an onsite bar and lounge, serving specialty cocktails, beer and wine. Plus, with a theater that accommodates both movies and live performances, this property still serves to be one of the most popular entertainment venues in Deadwood.
Whether you are a local or visiting tourist, this casino has something to offer everyone. From the historical atmosphere to tasty food, live entertainment and gaming options – it's a great place to experience Deadwood.
This establishment is highly rated by guests, with an average rating of 4.5 stars out of 5 on popular review sites such as TripAdvisor and Google Places. One guest said, "It's a great place to visit, and the staff is friendly and helpful. The food was good, too."
Another guest said, "Old Style Saloon No. 10 has the best burgers in town! And with their live music and gaming options, it's a great spot to hang out with friends."
(Related reading: South Dakota casinos)
Gaming
Their gaming space offers multiple slot machines, blackjack and poker tables. Plus, they have promotions and live entertainment.
Table Games
This casino offers two classic and well-known table games that are always entertaining: blackjack and poker.
If you're looking for some Vegas-style fun, head to the saloon for a night of card playing. Blackjack is sure to get your adrenaline running as you attempt to beat the dealer, while poker will challenge your strategizing skills.
The minimum bet for blackjack and poker tables at this saloon is $5 per round or hand. However, it may still be subject to change.
Slots
This casino has a variety of slot machines, from classic 3-reel games to the more modern 5-reel video slots. Popular titles include:
Sun and Moon
Jurassic Park
Jaguar Mist
Dragon's Realm
Kitty Glitter
Pirate's Pleasure
Unfortunately, this casino does not have a published slot machine payback percentage. However, by law, the minimum payout percentage for slots must be 80%.
Hotel/Resort
This saloon in South Dakota is the place to go for a historical experience, but that doesn't mean you have to forgo modern amenities.
There's no hotel on site, but not to worry – guests can check out any of the nearby hotels and resorts in the area, like the Historic Bullock Hotel, Super 8 by Wyndham and Silverado Franklin Historic Hotel.
Whether you're looking for top-notch service or just a cozy room off the beaten path, you'll find something just right.
Restaurants & Buffets
Even though they do not have a buffet on-site, the saloon still serves some of the best meals around. Their restaurant offers a variety of classic entrees, like steak and chicken dishes, as well as hearty burgers and sandwiches.
Enjoy an old-school saloon atmosphere as you tuck into hearty dishes made with fresh local ingredients, from juicy cuts of prime rib to a top-quality selection of homemade soups and sides.
With its unique history, buzzing atmosphere, and inviting decor, this saloon is the perfect place to make lasting memories while exploring the vibrant restaurants in Deadwood
Pools
Located in South Dakota, this casino and saloon is an iconic American experience. This local establishment has been a staple of the community for over a century and offers visitors a unique look into the way drinking culture used to be.
While it has no swimming pools onsite, it will certainly provide you with stories to tell after your visit. Whether you're looking for live music or just a place to relax and have fun, come by and make sure to check out this casino for yourself.
Old Style Saloon No. 10, Deadwood, SD FAQ
Does Old Style Saloon No. 10 Have A Sportsbook?
Unfortunately, no. This casino does not currently offer sports betting services. But with plenty of table games, slot machines and live entertainment, there's still lots to do. From blackjack to poker and more, you will surely find a fun game or two.
Is Poker Available At Old Style Saloon No. 10?
Yes, this saloon does offer poker. You can join a game of Texas Hold'em to pit your skills against the dealer or compete with other players for the pot. Whether you are a newbie or a veteran, poker is always an exciting experience.
What Are The Age Requirements For Gambling At Old Style Saloon No. 10?
The legal gambling age at this saloon is 21. You must present a valid form of identification to prove that you are over 21 years old. Security guards may also request proof of your age, so make sure to bring it with you.
Does Old Style Saloon No. 10 Have An Online Casino?
Unfortunately, no. This saloon does not currently offer an online casino or sportsbook. However, you can still enjoy its classic atmosphere and all the games it offers without leaving the comfort of your own home.
From slots and table games to special entertainment like DJ nights and live music, you'll find plenty of fun activities here.
Is There An Old Style Saloon No. 10 App?
No, there is no app for this casino. However, you can still stay informed about their latest events and promotions by following their Facebook page or signing up for their newsletter. You can also check out their website to learn more about this saloon and its history.
What Is The Dress Code At Old Style Saloon No. 10?
The dress code at this saloon 10 is casual. Guests are welcome to wear jeans, t-shirts, and sneakers. However, guests should avoid wearing any clothing that could be deemed offensive or provocative.
Is There An Airport Shuttle Available From Old Style Saloon No. 10?
No, this casino does not offer an airport shuttle service. However, there are plenty of transportation services that you can use while in Deadwood.
The closest major airport is located in Rapid City, which is about 88 miles away from the saloon. There are taxis, shuttles and ride-sharing services you can take to get to and from this casino.
What Is The Smoking Policy At Old Style Saloon No. 10?
This casino does not permit smoking inside its premises. There is a designated smoking area outside the premises for those who wish to smoke. Electronic cigarettes and vaping are also not allowed inside the casino.
What Is The Pet Policy At Old Style Saloon No. 10?
Fortunately, this saloon is a pet-friendly establishment. Visitors can bring their pets with them while they explore the casino and its grounds. However, all pets must be leashed at all times, and owners must clean up after their pet's messes.
Is Wifi Available At Old Style Saloon No. 10?
Unfortunately, you may need to bring your own mobile hotspot or device to access the internet while inside this casino. Wifi is not available here, but many visitors find that their cellular data works just fine.
What Is The Cancellation Policy For Old Style Saloon No. 10?
There is no need to reserve a seat at their tables or games. But if you have a reservation for a special event or package, you must contact the casino directly for their cancellation policy, as it may vary.
Conclusion
This historic saloon is a great destination for both experienced gamblers and casual players alike. The casino offers plenty of exciting games, live entertainment, and special packages that you won't want to miss out on.
Make sure to check the age limits and dress code before visiting, as well as the cancellation policy if you have a reservation. With that, you can enjoy a great night of gambling and entertainment at Old Style Saloon No. 10!