Prairie Wind Casino & Hotel Oglala
Address: 112 Casino Dr, Oglala, SD 57764
Phone Number: +1 605-867-6300
Website: www.prairiewindcasino.com
Hours: Prairie Wind Casino & Hotel is open Monday 9 am – 1 am, Tuesday 9 am – 1 am, Wednesday 9 am – 1 am, Thursday 9 am – 12 am, Friday Open 24 hours, Saturday Open 24 hours, Sunday 9 am – 1 am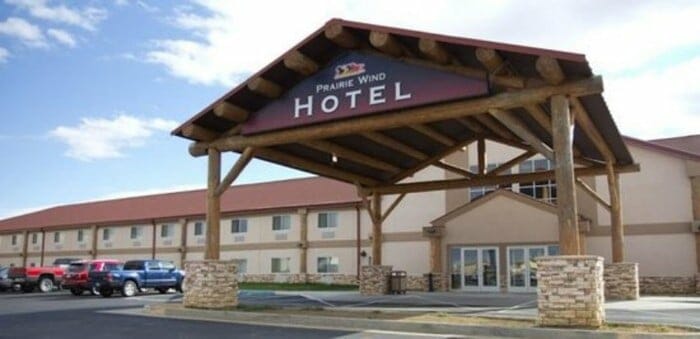 Prairie Wind Casino & Hotel is owned and operated by the Oglala Sioux Tribe. Located in south-central South Dakota, the facility opened its doors in 1994 and has since become an established business in the region.
The casino has various gaming options, including almost 400 slot machines, blackjack tables, poker tournaments, bingo halls and more. The hotel boasts 160 spacious rooms with premier amenities like flat-screen televisions and complimentary Wi-Fi.
If you want to take a break from the excitement, the casino hotel offers a variety of delicious dining options. From fine dining restaurants to casual eateries, there's something for everyone at this South Dakota casino and hotel.
The property also has great entertainment options ranging from live music and comedy shows to special events. With all these attractions, it's no surprise that this casino hotel has become one of South Dakota's most popular destinations for travelers and locals alike.
The guests at this casino hotel in Oglala, South Dakota, have given the property an overall rating of 4.3/5 stars on popular travel websites. One guest even said, "This casino is great. The top-notch gaming options, the clean accommodations, and the atmosphere were fun."
Another guest noted, "We had a great time with the slot machines, the poker tournaments and the bingo hall. The staff was friendly and accommodating. We will definitely be back in the future."
(Related reading: South Dakota casinos)
Gaming
Their gaming space features 400 gaming machines and multiple table games. The casino also has a bingo hall and poker tournaments.
Table Games
Are you looking to try something new and exciting? Look no further than this casino hotel, where they offer a wide selection of table games to choose from. You can test your luck by playing blackjack or see if Lady Luck has your number with Three Card Poker.
If you're daring, challenge yourself with Ultimate Texas Hold'em and attempt to win it all. Roulette is another great option for brave people, and Craps will always entertain.
Table game minimums vary, so be sure to check with the casino directly before you start playing. Generally speaking, you can expect minimum bets of $5 for most table games.
Slots
This casino hotel offers some of the best slot machines in South Dakota. There are almost 400 games to choose from, so you'll never get bored. Popular slots include:
Lock It Link
Tabasco
Starry Night
Wheel of Fortune
Geisha
Rawhide
The payback percentage for slot machines at this casino hotel is currently unknown. However, South Dakota gaming regulations require a minimum of 80% payout rate for all legal slot machines in the state.
Hotel/Resort
If you'd like to stay the night, their hotel has 160 spacious rooms and suites available for lodging. All of their accommodations offer plush bedding and modern amenities such as flat-screen televisions and complimentary Wi-Fi.
Room types include:
Standard Rooms – features one king or two queen-sized beds
King Suites – features one king bed and a hot tub
The hotel offers a variety of amenities to make your stay more enjoyable and memorable. Some of these include:
Complimentary wifi throughout the property
Onsite dining options
An indoor pool and hot tub
Free parking
Meeting facilities
A bingo hall
Pet-friendly accommodations
ADA amenities
Room rates at this hotel begin at $75 per night for a standard room, excluding taxes and fees. For a more accurate quote, please contact the hotel directly or visit their website.
Check-in time at Prairie Wind is 3:00 pm
Check-out time at Prairie Wind is 11:00 am
Restaurants & Buffets
This casino hotel in South Dakota offers plenty of great dining options that will please any palette. For a more upscale experience, guests should try Stronghold Restaurant, which features traditional American dinners with a modern twist.
They also offer special buffets occasionally, where guests can sample various dishes. These all-you-can-eat buffets feature an array of entrees, sides, and desserts. For their buffet prices and schedule, please get in touch with the casino directly.
If you're looking for something a little faster, or prefer the classic coffee shop vibe, then the Coffee Shop is just the spot for you. From burgers and breakfast sandwiches to hot coffee and fresh pastries, the Coffee Shop has something for everyone.
Whether you're staying at the hotel or just passing through town, make sure to swing by this casino hotel and check out its delicious offerings.
Pools
If you're looking for a great place to stay and enjoy some fun amenities, this casino hotel in South Dakota is an excellent choice. With its convenient location, the hotel makes it easy to explore the city before or after a relaxing dip in its indoor pool
Plus, the well-maintained facilities offer up refreshment options too so that you can take a break from swimming when you need it. Whether you're traveling alone or with family, this is the perfect place to make memories while taking advantage of some top amenities.
Prairie Wind Casino & Hotel, Oglala, SD FAQ
Does Prairie Wind Casino & Hotel Have A Sportsbook?
Unfortunately, this casino does not currently offer a sportsbook. But with so many other entertainment options, you will never be bored here. From slots and table games to live entertainment, there is something for everyone.
Is Poker Available At Prairie Wind Casino?
Yes, this casino does have a poker room. Guests can enjoy daily Texas Hold 'Em tournaments and cash games with different buy-in levels. Whether you're a novice or an experienced player, there is something for everyone.
What Are The Age Requirements For Gambling At Prairie Wind Casino & Hotel?
To gamble at this casino, guests must be 21 years of age or older. Guests might also need to present valid IDs upon entry. Failure to provide proof of age can result in the guest being turned away.
Does Prairie Wind Have An Online Casino?
No, this casino does not have an online casino. You may only enjoy the gambling experience on-site at this casino. Don't worry, though, as there is plenty of entertainment to be found here; you won't even miss the online option.
Is There An Prairie Wind Casino & HotelApp?
Unfortunately, no. This casino does not have an app available at this time. However, you can still find out all the information you need on the casino's website or by calling their customer service line.
Their social media accounts are another great way to stay up-to-date on promotions, events and news from this casino hotel. So make sure to give them a follow, and don't miss out on anything.
What Is The Dress Code At Prairie Wind?
The dress code at this casino hotel is pretty casual; you don't need to dress up too much to enjoy the amenities here. Shoes and shirts are required, but otherwise, guests can wear whatever they feel comfortable in.
That being said, avoid wearing any offensive or revealing clothing, as this might get you turned away at the door.
Is There An Airport Shuttle Available From Prairie Wind Casino & Hotel?
No, this casino does not have an airport shuttle service. However, guests can easily find alternative transportation options to and from the hotel.
There are taxis available in the area, as well as car rental services. Guests can also look into public transport options if they don't have access to a car.
What Is The Smoking Policy At Prairie Wind Casino?
The casino hotel has a strict no-smoking policy throughout the entire property. This includes both indoor and outdoor areas. Guests who wish to smoke must go outside of the premises. Vapes and e-cigarettes are also not allowed here.
What Is The Pet Policy At Prairie Wind?
The hotel offers limited pet-friendly services. Small pets may stay in the guest rooms, but they must be registered with the hotel first. A fee per night per pet will also apply. For more information and details, guests should contact the hotel directly.
Is Wifi Available At Prairie Wind Casino & Hotel?
Yes, this casino hotel provides guests with complimentary wifi. Guests can access the wifi network in all public areas of the property. This includes the lobby, restaurant, pool area and other common spaces.
What Is The Cancellation Policy For Prairie Wind?
Guests must cancel at least 24 hours before the check-in date to receive a full refund. If guests cancel less than 24 hours before, they will be charged for the first night's stay. No refunds are given for early departures or no-shows.
Conclusion
Prairie Wind Casino & Hotel is a great destination for guests who are looking to enjoy some gambling and entertainment. It offers a variety of games and activities, as well as amenities like complimentary wifi and pet-friendly services.
With all these features and services, this casino hotel will surely provide guests with a memorable experience. Whether you're an experienced gambler or want to try your luck for the first time, this casino has something for everyone.