The Lodge at Deadwood Gaming Resort
Address: 100 Pine Crest Lane, Deadwood, SD 57732
Phone Number: +1 877-393-5634
Website: www.deadwoodlodge.com
Hours: The Lodge at Deadwood Gaming Resort is open 24 hours a day, 7 days a week.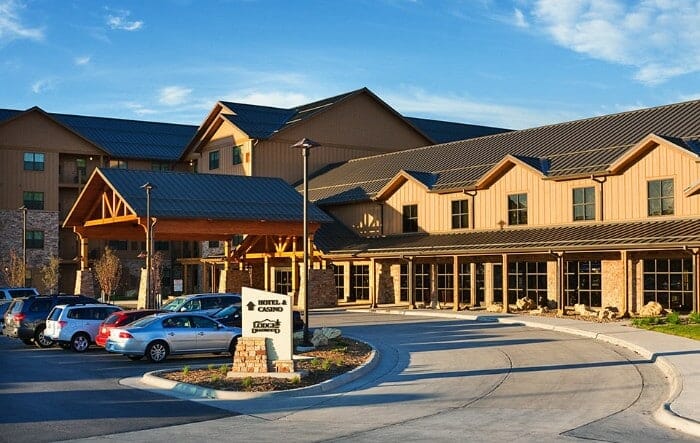 The Lodge at Deadwood Gaming Resort, located in the scenic Black Hills of South Dakota, has provided a retreat for gamblers and adventurers since its opening in 2007. The property is owned and operated by the local Deadwood government and was built to bring in revenue to the area.
Since its opening, the gaming resort has become a destination for visitors from far and wide. With over 280 slot machines and several table games, there is no shortage of action at this popular resort.
The hotel features a variety of accommodations, including standard rooms and suites. The hotel also offers a couple of restaurants. Visitors can also enjoy live music in the evenings or take advantage of their heated indoor pool and hot tubs.
This gaming resort offers the best gaming and entertainment, and it's easy to see why this resort is so popular. With its unique mix of gambling and entertainment options, visitors to this casino will surely have a great time.
This gaming resort has a 4.5-star rating on its Google page, with guests praising the friendly staff, great food, and plenty of fun gambling options. One guest said, "I love it here. The staff is very friendly, and the atmosphere is amazing."
Another guest said, "This was my first time going to this gaming resort, but I'm already planning a return trip as soon as possible. The atmosphere is great, and the staff was very helpful. Highly recommend."
(Related reading: South Dakota casinos)
Gaming
The gaming space features over 280 slot machines and multiple table games, including blackjack, poker and much more.
Table Games
If you are looking for an exciting and thrilling gaming experience, this casino in South Dakota is the perfect place for you. With a wide variety of table games to choose from, it's sure to please everyone.
At this resort, you can enjoy classic favorites such as Blackjack and Three Card Poker Progressive.
Want something a little more daring? Try Dakota Duel Draw or Mississippi Stud for a unique twist on familiar games. For an even more exhilarating twist, try Trilux Blackjack Bonus or Ultimate Texas Hold 'Em.
The minimums for table games vary by game. However, most table games have a $5 minimum. No matter what game you choose to play, it is sure to be an enjoyable adventure.
Slots
This casino has a variety of slot machines ranging from classic 3-reel slots to the latest interactive video slots. Some of the most popular slots include:
Sex and the City Ultra
Hundred of Grand
American Gods 4D
The of Life: Career Day
Willy Wonka Wonkavator
Rocky: Redemption
According to the law, all slot machine payback percentages at this gaming resort must be at least 80%. This means that for every $100 you wager, you will receive an average of $80 in winnings.
Hotel/Resort
The Lodge also offers comfortable accommodations for its guests. You can choose from various rooms and suites, all featuring modern amenities such as flat-screen TVs and complimentary Wi-Fi.
Room types include:
Deluxe Rooms – features one king or two queen beds
King Business Suites – features one king bed and a pull-out couch
Family Suites – features two queen beds and a sitting area
King Spa Suites – features one king bed, a pull-out couch and a workspace
The hotel also offers a variety of amenities to make your stay more enjoyable. These include:
Complimentary Wi-Fi
24-hour front desk
EV chargers
Daily housekeeping
Free parking
24-hour fitness center
A business center with meeting rooms
An indoor swimming pool
A gift shop
Onsite restaurants and bar
The room price at this gaming resort varies based on the room type, length of stay and time of year. Rates start as low as $119 per night for a standard room and can go up to $300 per night for a suite.
Check-in time at The Lodge is 4:00 pm
Check-out time at The Lodge is 11:00 am
Restaurants & Buffets
This casino resort in South Dakota offers a variety of dining experiences. The popular Deadwood Grille is an elegant steakhouse fit for any occasion and pairs delicious meals with amazing service.
If you're looking for a lively and casual atmosphere, Oggie's Sports Bar is the place for you. Watch all the games on the big screens and enjoy some nachos and craft beer while hanging out with friends.
Unfortunately, the hotel doesn't offer a buffet at this time, but there's still a wide selection of options when it comes to dining.
Pools
Are you looking for some fun and relaxation on your next vacation? Look no further than this gaming resort in South Dakota. With a variety of great amenities and attractions, you can't go wrong with this vacation spot.
A highlight is their multiple pools – including an indoor water playground that the whole family can enjoy. Whether you're soaking up the sun by lounging around or taking a dip in the pool, there is something for everyone to enjoy.
The Lodge at Deadwood Gaming Resort, SD FAQ
Does The Lodge at Deadwood Gaming Resort Have A Sportsbook?
Located in the heart of the Black Hills, this gaming resort offers guests a full range of casino and sportsbook experiences. With BetLodge Sportsbook, guests can place bets on their favorite teams while they play slots or table games.
Boasting an array of betting lines, along with real-time expert analysis and advice gave daily by professional staff members, guests have every opportunity to have an entertaining time while placing their wagers at this fantastic resort.
Is Poker Available At The Lodge at Deadwood?
Yes, poker is available at this casino. Guests can choose from various poker games, including Texas Hold 'Em, Stud and more. With multiple tables for each game, there are sure to be plenty of activities for all levels of players.
The resort also provides guests complimentary poker lessons and tournaments on select days throughout the week. So if you enjoy playing poker, you won't be disappointed with the selection at this gaming resort.
What Are The Age Requirements For Gambling At The Lodge?
The legal gambling age in South Dakota is 21 years old. Guests must present a valid ID at check-in and will not be allowed to gamble if they are under the required age.
Additionally, only registered hotel guests who are 21 or older are permitted on the casino floor, so make sure you have your ID handy when you arrive.
Does The Lodge at Deadwood Gaming Resort Have An Online Casino?
No, they do not have an online casino. All gaming activities must occur in person, on the designated casino floor within the resort. Guests can experience a range of exciting games and activities available, including slots, table games, poker tournaments and more.
Is There An The Lodge at Deadwood App?
No, there is no app available at this time. However, guests can keep up to date on all the latest news and promotions by visiting the website or checking in with the resort staff.
Additionally, guests can get special discounts and offers sent directly to their mobile devices by signing up for email notifications on their website.
What Is The Dress Code At The Lodge?
The dress code at this gaming resort is casual and comfortable. Guests should wear appropriate clothing, such as jeans or shorts, and comfortable shoes. Tank tops and swimwear are not allowed on the casino floor.
Is There An Airport Shuttle Available From The Lodge at Deadwood Gaming Resort?
Yes, the resort offers an airport shuttle to and from Rapid City Regional Airport (RAP). The shuttle is available for a fee, and you must make a reservation beforehand. For more information, visit their website or contact the resort directly.
What Is The Smoking Policy At The Lodge at Deadwood?
Their casino resort is a completely smoke-free environment, including indoors and on the casino floor. However, they provide an outdoor smoking area for those who desire an occasional cigarette or cigar while visiting us.
What Is The Pet Policy At The Lodge?
They offer a pet-friendly policy where all breeds and sizes of dogs are welcome for an additional fee of $10 per night. Ensure the best possible experience by contacting customer service before making any reservations so they can ensure everything is in order when you arrive.
Is Wifi Available At The Lodge at Deadwood Gaming Resort?
Yes, the resort offers free wifi to all guests. This allows you to stay connected while on vacation and keep up with family and friends back home. For further assistance, the resort staff is available to answer any questions or concerns you may have about your stay.
What Is The Cancellation Policy For The Lodge?
If you need to cancel your reservation, you can do so without penalty up to 24 hours before your check-in date. Cancellations made after this time will be subject to a fee equal to the first night's stay plus applicable taxes.
Conclusion
The Lodge at Deadwood Gaming Resort is a great destination for anyone looking for an exciting gaming experience with plenty of activities available. From complimentary poker lessons and tournaments to a pet-friendly policy, this resort has something for everyone.
Whether you're looking for a night out on the casino floor or just some restful relaxation in the comfort of your own room, this gaming resort will be your next perfect choice!