Tin Lizzie Gaming Resort Deadwood
Address: 555 Lower Main St, Deadwood, SD 57732
Phone Number: +1 605-578-1715
Website: www.tinlizzie.com
Hours: Tin Lizzie Gaming Resort is open 24 hours a day, 7 days a week.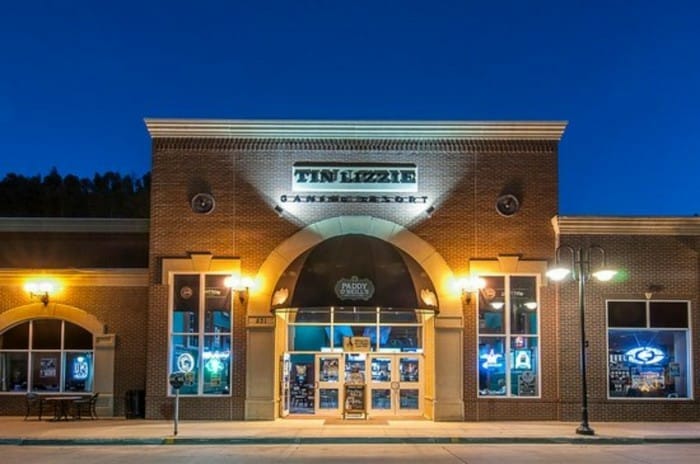 The Tin Lizzie Gaming Resort in Deadwood, South Dakota, has been a part of the city's rich history since its inception as a gambling hall since its opening back in 2002. The property is owned by the Deadwood Parking Lots and Blue Sky Gaming, Inc.
Today, their casino floor offers a variety of gaming options for guests, including slot machines, video poker and table games. As a cherry on top, they also offer multiple promotions and bonuses throughout the year.
In addition to the gaming options, the property also houses two hotels that feature hundreds of modern guestrooms, along with various other amenities, including a fitness center and pet-friendly accommodations.
And if you want to take a break from gambling, the property also offers dining options ranging from a casual café to an upscale steakhouse, as well as live entertainment like comedy shows and musical performances.
So if you're ever in Deadwood and looking for some gaming fun, be sure to check out this gaming resort. With all that it offers, it's sure to have something for everyone.
On several review websites, guests have rated this casino resort with an overall rating of 4.5 out of 5 stars. According to one guest, "The staff at Tin Lizzie Gaming Resort is top-notch. They are always friendly and helpful, and the casino floor is clean and inviting."
Another guest noted that "The promotions and bonuses are a nice touch, and the gaming options are varied enough to keep you entertained. The hotel rooms are comfortable and well-appointed."
(Related reading: South Dakota casinos)
Gaming
The casino floor features a variety of gaming options, including slot machines, video poker, and table games. Guests can also take advantage of multiple promotions and bonuses throughout the year.
Table Games
At this gaming resort in South Dakota, there are many table games to choose from. Whether you're after something classic like Blackjack or 3-Card, or seeking the thrills of Craps or Roulette, the casino has it all.
For those looking for more strategy-driven entertainment, make sure to check out Ultimate Texas Hold'em – a great take on the traditional poker experience.
Table game minimums at this casino vary from $5 – $10 depending on the type of game being played. Regardless of the stakes, each table game is always staffed with friendly and knowledgeable dealers who are willing to answer any questions you may have.
Slots
This gaming resort in South Dakota has some of the most popular slot machines around. Players can try their luck at the wheel on various classic and modern games. Popular titles include:
Lock It Link
Geisha
Pharaoh's Fortune
Starry Night
Rawhide
The Three Fates
Unfortunately, the exact slot machine payback percentage for this casino is not public information. However, the law in South Dakota does require all slot machine establishments to have a minimum payback percentage of 80%.
Hotel/Resort
This gaming resort in South Dakota also has two properties that feature modern guestrooms. Guests may choose from either the Hampton By Hilton and Four Points By Sheraton.
The Hampton By Hilton offers rooms with one king bed or two queen beds, as well as a spacious King Bed Suite. Meanwhile, Four Points By Sheraton Traditional Rooms have two queen beds, and their Traditional King Room features one large king bed.
In addition to the gaming options, the hotel offers many amenities for guests to enjoy. These include:
Highspeed wifi access
Self-parking
EV charging stations
Fitness center
24-hour front desk
Daily housekeeping
Business center and meeting rooms
Various dining options
Live entertainment
ADA amenities
Pet-friendly accommodations
An onsite sportsbook
The cost of staying at their hotels varies depending on the type of room you choose. Rooms typically start at around $69 per night.
Check-in time at Tin Lizzie is 3:00 pm
Check-out time at Tin Lizzie is 11:00 am
Restaurants & Buffets
This gaming resort in South Dakota has several excellent restaurants for locals and tourists alike to enjoy. From Paddy O'Neill's Irish Pub, offering classic pub fare, to the Japanese-style sushi bar Ichiban, there's something here for all tastes.
Those looking for a quick fix won't be disappointed either – check out Starbucks Coffee or Best Brews for drinks on the go. If you're feeling a little more daring, then why not try one of the delicious Lizzie Burgers served at Snitches?
Unfortunately, despite all these great options, there isn't a buffet offered right now; but with so many mouth-watering dishes to choose from, you won't miss it.
Pools
This casino resort is the perfect place to have some fun and let loose. Although they do not offer swimming pools onsite, they have tons of great amenities and games sure to keep you entertained.
With tons of gaming machines, everyone will find something that appeals to them. Plus, there's plenty of delicious food to satisfy your cravings and friendly staff to help make your stay even more enjoyable.
Tin Lizzie Gaming Resort, Deadwood, SD FAQ
Does Tin Lizzie Gaming Resort Have A Sportsbook?
This casino has added BETMGM Sportsbook to its many offerings. Choose from a selection of NFL, NBA, MLB, NHL, boxing, and auto racing matches with odds both pre-game and live while you watch.
Is Poker Available At Tin Lizzie?
Yes, this gaming resort offers poker games. Variations such as Texas Hold'em and 3-Card can be played. And even if you are new to the game, friendly and knowledgeable dealers are always on hand to help.
What Are The Age Requirements For Gambling At Tin Lizzie Gaming Resort?
In South Dakota, the minimum legal gambling age is 21 years old. All players must present a valid government-issued photo ID to access any gaming area in the resort. Failure to do so will result in being asked to leave the premises.
Does Tin Lizzie Have An Online Casino?
Unfortunately, this establishment does not offer an online casino at this time. However, they do provide a variety of gaming machines and table games in their physical location. From poker and blackjack to slots, there are plenty of options for visitors.
Is There An Tin Lizzie Gaming Resort App?
Yes, they have a Tin Lizzie App. With its easy-to-use design, users can quickly view their Clubhouse Account, book a stay at Hampton Inn by Hilton and receive exclusive offers and specials.
Additionally, this app allows interested visitors to see the casino promotions and events coming up soon. With its user-friendly interface and convenient features, Tin Lizzie App is a great solution for those looking to maximize their gaming experience at this gaming resort.
What Is The Dress Code At Tin Lizzie?
This resort has a casual dress code. Shorts, jeans, and t-shirts are all allowed, but you must at least wear something covering your shoulders and upper torso. Beachwear is not permitted anywhere in the casino or resort areas.
Is There An Airport Shuttle Available From Tin Lizzie Gaming Resort?
Unfortunately, there is no airport shuttle service available. However, various transportation services can be arranged for visitors who travel from the resort to other nearby attractions or destinations.
There are taxi services and rental car companies in the area, as well as ridesharing options such as Uber and Lyft.
What Is The Smoking Policy At Tin Lizzie?
Smoking is prohibited anywhere in the casino or resort areas except for designated smoking areas. Guests must use these areas only when needed and take all necessary precautions to ensure their safety as well as the safety of others.
What Is The Pet Policy At Tin Lizzie Gaming Resort?
Fortunately, this casino resort is pet friendly. They offer pet-friendly hotel rooms as well as pet-friendly gaming areas. Pets must be properly registered and up to date with their vaccinations to access any of the casino or resort facilities.
Is Wifi Available At Tin Lizzie?
Yes, this resort offers free high-speed wifi access for all guests. The wifi can be accessed in the hotel and gaming areas. If you need help setting up or troubleshooting the connection, ask a friendly staff member for assistance.
What Is The Cancellation Policy For Tin Lizzie Gaming Resort?
The cancellation policy at this property depends on which hotel you book. At the Hampton By Hilton, you can cancel reservations up to 24 hours before your intended arrival.
But if you have a reservation at Four Points By Sheraton, you must cancel at least 48 hours before your intended arrival to receive a full refund. All cancellation policies are subject to change without notice, so be sure to check with the hotel directly when making a reservation.
Conclusion
The Tin Lizzie Gaming Resort is a great destination for those looking to enjoy the excitement of casino gaming. With its friendly service, knowledgeable dealers and modern amenities, it's no wonder why this resort continues to be a popular choice among visitors.
Whether you're interested in playing slots or enjoying a night out with friends, they will surely provide an enjoyable experience. So why not join the fun and go to this vibrant casino today?