VFW Casino Deadwood
Address: 10 Pine St, Deadwood, SD 57732
Phone Number: +1 605-722-9914
Website: N/A
Hours: VFW Casino is open Monday 9:30 am – 12 am, Tuesday 9:30 am – 12 am, Wednesday 9:30 am – 12 am, Thursday 9:30 am – 12 am, Friday 9:30 am – 12 am, Saturday 9:30 am – 12 am, Sunday 9:30 am – 12 am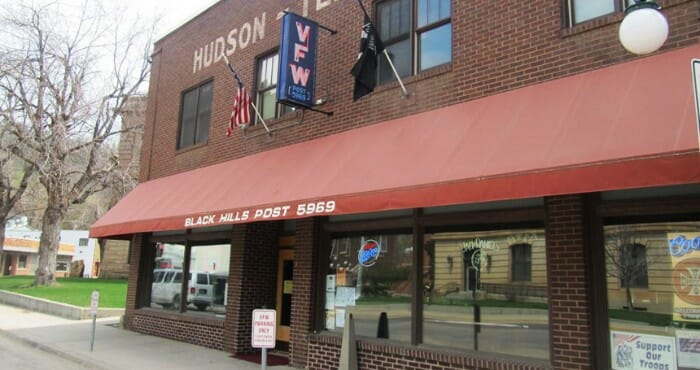 The VFW Casino in Deadwood, South Dakota, is a small casino located in a historic building originally used by the Veterans of Foreign Wars (VFW) organization. The casino had been offering gambling services and other forms of entertainment in Deadwood since its opening.
The casino offers multiple slot machines, video poker, and more. Live table games are not offered at this casino; however, they have multiple promotions and tournaments throughout the year. The casino also offers a wide variety of food and drinks, as well as a full bar.
So if you want to experience a piece of history in Deadwood, stop by this casino and check out all they offer. With its unique environment and extensive gaming selection, this casino will surely provide an unforgettable experience.
This casino in Deadwood has an average rating of 4 stars from customers on TripAdvisor and Google reviews. One customer said, "This place was great. I'm not a gambler, but it's still a great atmosphere. The staff was friendly and helpful. Highly recommend."
Another commented, "I had an enjoyable experience at the VFW Casino in Deadwood. The machines are nice and clean, and there is something for everyone."
(Related reading: South Dakota casinos)
Gaming
Their gaming space includes a wide selection of video poker and slot machines, including classic and themed games. Some multiple tournaments and promotions are offered throughout the year.
Table Games
If you're a fan of table games and plan on heading to this casino in South Dakota, it's important to note that they only offer slot machines. While you may not be able to enjoy your favorite table games here, don't let that stop you from having a good time.
This casino boasts a variety of slot machines that are sure to keep you entertained for hours on end. So grab a drink, sit, and let the casino's state-of-the-art slot machines take you on a gaming adventure.
Slots
This casino in Deadwood, South Dakota, offers a wide selection of slot machines. The most popular types include:
Da Vinci Diamonds
Sun and Moon
Miss Kitty
Pirate's Pleasure
Ghostbusters
Monopoly
This casino does not disclose the slot machine payback percentage, but you can be sure it's equal to or greater than other casinos in the state. South Dakota requires that all casinos have a minimum return of 80%, so you can be sure that this casino is in compliance.
Hotel/Resort
Are you planning to visit this casino and looking for suitable accommodation? While there is no hotel attached to the property, there are several nearby options that guests can check out.
The Royal River Casino & Hotel is just a short drive away, offering luxurious rooms and suites along with a variety of amenities. Alternatively, the Deadwood Gulch Resort and First Gold Gaming Resort are great options for those seeking comfortable lodging.
Don't let a lack of on-site lodging stop you from experiencing all this casino offers – these nearby hotels will provide a comfortable and enjoyable stay.
Restaurants & Buffets
If you're in Deadwood and crave good food and drinks, look no further than this casino. Not only does this popular spot offer exciting gaming opportunities, but it also boasts a mouth-watering selection of tasty treats and refreshing beverages.
Whether you're in the mood for a hearty burger, a crispy salad or something else, you'll find plenty of tempting options to satisfy your appetite. And with a full bar available, you can wash down your meal with your favorite craft beer, wine, or cocktails.
Pools
If you're looking for a fun and exciting place to visit in Deadwood, South Dakota, this casino is definitely worth checking out. While there are no swimming pools directly on site, there are several great options nearby that you can enjoy during your stay.
Whether you're looking for a refreshing dip to cool off on a hot summer day or just a place to relax and unwind, you will surely find something that suits your needs and preferences.
From public pools to private resorts, there are plenty of options to choose from, so you can make the most of your time in this beautiful part of the country.
VFW Casino, Deadwood, SD FAQ
Does VFW Casino Have A Sportsbook?
Unfortunately, they do not have a sportsbook. But if you want a laid-back atmosphere to watch your favorite sports team, they have a lounge with TVs and comfy seating.
And they offer plenty of other gaming opportunities, too, so you can still be sure to have an enjoyable experience at this casino in South Dakota.
Is Poker Available At VFW Casino?
No, they do not offer live table games like poker. Instead, they only offer slot machines and video gaming options. If you're looking for live table games such as poker, you'll need to visit another nearby casino in the area.
What Are The Age Requirements For Gambling At VFW Casino?
You must be at least 21 years old to gamble at this casino. Identification is required for entry, so make sure you bring your ID if you plan to visit the casino. All guests under the age of 21 are not allowed in the gaming area, so minors should stay away from this establishment.
Does VFW Casino Have An Online Casino?
No, they do not have an online casino. The only way to experience the gaming offerings at this casino is by visiting it in person. With so many offerings available at this casino, you definitely won't be disappointed when you visit in person.
Is There An VFW Casino App?
No, they do not have an app. But their website is mobile-friendly, so you can easily access important information, such as hours and gaming details, from your smartphone or tablet. That way, you'll be sure to have all the necessary information before visiting this South Dakota casino.
What Is The Dress Code At VFW Casino?
There is no formal dress code for this casino. Although, guests are asked to be respectful and presentable when visiting the property. So make sure you're dressed in appropriate clothing that is free from any offensive material.
Is There An Airport Shuttle Available From VFW Casino?
No, there is no airport shuttle service available from this casino. However, several transportation services in the area can take you to the casino from local airports. It's best to check with your hotel or the casino for more information on transportation options and rates.
What Is The Smoking Policy At VFW Casino?
Smoking is not allowed at this casino. However, there is a designated smoking area located outside the building. That way, smokers can still enjoy their cigarettes while visiting the property without having to worry about causing any discomfort to other guests.
What Is The Pet Policy At VFW Casino?
Sadly, pets are not allowed at this casino. Guests can bring service animals with them if they have the proper paperwork. However, all other animals must stay at home or in a kennel nearby while you visit this casino.
Is Wifi Available At VFW Casino?
Unfortunately, there is no wifi available at this casino. However, you can still use your phone's data plan to access the internet if needed. That way, you can stay connected while visiting this casino in South Dakota.
What Is The Cancellation Policy For VFW Casino?
They do not have any accommodations at this casino, so there is no need for a cancellation policy. However, if you have made reservations for any of the services at the casino, such as entertainment or events, you should contact them directly to inquire about their policies.
Conclusion
This casino in South Dakota is a great place to visit if you're looking for a night of fun and excitement. With plenty of gaming options, entertainment, and other amenities available, VFW Casino will surely provide you with an enjoyable experience.
Lastly, remember to stay safe and have fun while you're at the casino! It's a great way to relax and enjoy yourself while still following all of the rules and regulations set in place by this establishment.