Wooden Nickel Casino Deadwood
Address: 9 Lee St, Deadwood, SD 57732
Phone Number: +1 605-722-3456
Website: www.deadwood.com/business/casinos/wooden-nickel-casino-iron-horse-casino/
Hours: Wooden Nickel Casino is open Monday 7 AM – 9 PM, Tuesday 9 AM – 9 PM, Wednesday 9 AM – 9 PM, Thursday 7 AM –9 PM, Friday 7 AM – 11 PM, Saturday 7 AM – 11 PM, Sunday 7 AM – 9 PM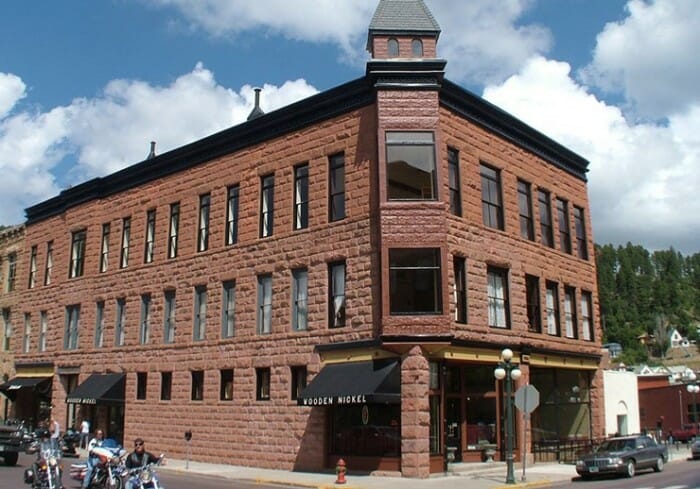 Wooden Nickel Casino has been serving the Deadwood community since 1966. The casino was originally in an old train station but moved to Lee Street in 1978. As one of the oldest casinos in South Dakota, it has provided great gaming and entertainment for many years.
The casino floor offers over 80 slot machines, video poker and other games. They do not have any live table games; however, they still make up for it with several promotions and events.
They also have an onsite cafe that serves a variety of delicious food items and drinks. The cafe is open for breakfast, lunch, and dinner, making it the perfect place to grab a meal or snack while playing at the casino.
So if you are ever in Deadwood, be sure to visit this casino and experience all that it has to offer. With great gaming, delicious food, and a friendly atmosphere, there is something for everyone.
The majority of guests rate this casino with 4 out of 5 stars. One guest mentioned, "I love this place! Friendly staff and a great selection of games. Highly recommend Wooden Nickel Casino to anyone looking for a fun night out."
Another guest remarked, "Great atmosphere, good food, friendly service. Definitely worth a visit if you are in the area. And the prices are pretty good too."
(Related reading: South Dakota casinos)
Gaming
Their gaming floor offers traditional to modern slot machines, video poker and other electronic gaming machines. And with promotions and events running throughout the year, there is always something exciting to look forward to.
Table Games
If you're visiting this casino, you might be wondering what table games they have to offer. While they understand the appeal of classic games like blackjack and roulette, however, this casino exclusively features slot machines.
But don't let that dissuade you from stopping by – the casino still has plenty to offer when it comes to slot games, ranging from traditional favorites to new and exciting options. With dozens of machines to choose from, you're sure to find something that piques your interest here.
Slots
This casino offers a wide selection of slots, from traditional games to the latest interactive titles. Some of their most popular slot machines include:
Flying Horse
Wheel of Fortune
Snow Wizard
Jurassic Park
Hot Shots
Geisha
Quick Hit Platinum
Super Monopoly Money
Emperor Penguin
Spartacus Gladiator of Rome
Da Vinci Diamonds
Unfortunately, this casino does not divulge its slot machine payback percentage. However, South Dakota's theoretical payback percentage is 80%, so you can expect to get close to that amount when playing here.
Hotel/Resort
Although no hotel is attached to this casino, there are plenty of options nearby for visitors looking for a comfortable place to stay during their trip.
One such option is the Silverado Franklin Historic Hotel, which features luxurious rooms and suites, as well as plenty of entertainment options. Another great choice is the Holiday Inn Express & Suites, which offers modern amenities and a convenient location near a popular casino.
Lastly, the Gold Country Inn is a budget-friendly choice that still provides comfortable accommodations and easy access to local attractions. No matter which hotel guests choose, they can be sure they'll have a great time exploring all that South Dakota offers.
Restaurants & Buffets
If you're looking for a delicious meal in this casino, look no further than Lee Street Station Café. This cozy eatery offers a wide range of options to satisfy any palate.
Whether you're in the mood for a hearty breakfast, a delicious sandwich, or a savory dinner entree, you'll find something here that leaves you feeling truly satisfied. Plus, the friendly staff and cozy atmosphere make for a truly enjoyable dining experience.
So why not stop by Lee Street Station Café and see for yourself what this gem of a restaurant has to offer? You won't be disappointed.
Pools
While this casino in South Dakota may not have any swimming pools onsite, there are still plenty of activities and attractions to enjoy during your stay. The casino offers various gaming options for those feeling lucky, and there are numerous local restaurants and shops to explore in the area.
If you want to spend some time outdoors, there are plenty of parks and hiking trails nearby, as well as beautiful lakes and rivers perfect for fishing or boating.
Wooden Nickel Casino, Deadwood, SD FAQ
Does Wooden Nickel Casino Have A Sportsbook?
No, they do not have a sportsbook. Instead, they offer traditional and modern slot machines, video poker, and other electronic gaming machines. Additionally, they host promotions and events throughout the year for guests to enjoy.
Is Poker Available At Wooden Nickel?
No, they do not have any live poker games available. They do, however, offer video poker machines with various denominations so players can choose their own stakes.
Players can also participate in electronic table games such as blackjack and roulette for a more traditional gaming experience.
What Are The Age Requirements For Gambling At Wooden Nickel Casino?
Guests must be at least 21 years of age to enter the casino and gamble. Minors are allowed in the restaurant area with a parent or guardian, but they are not permitted on the gaming floor. And, as always, the casino recommends that all patrons gamble responsibly.
Does Wooden Nickel Have An Online Casino?
No, they do not have an online casino. Visitors to the casino must be physically present to play at this casino. Their offerings are limited to machines and table games on the gaming floor. However, they offer promotions and events throughout the year for guests to enjoy.
Is There An Wooden Nickel Casino App?
No, they do not have a mobile app at this time. Guests can stay updated with the latest promotions and offers by visiting their website or following them on social media.
Additionally, they have a rewards program for loyal patrons that allows players to accumulate points and redeem them for discounts and prizes.
What Is The Dress Code At Wooden Nickel?
The dress code at this casino is casual. Shorts, jeans, t-shirts and other casual attire are acceptable. However, they ask that guests refrain from wearing anything overly revealing or offensive.
Is There An Airport Shuttle Available From Wooden Nickel Casino?
No, there is not an airport shuttle available from the casino. Guests can arrange transportation to and from the airport or other destinations through a taxi or ride-sharing app. Also, the casino is within walking distance of many restaurants and shops in downtown Deadwood.
What Is The Smoking Policy At Wooden Nickel?
The casino does not allow smoking on the gaming floor. However, there is a designated outdoor area where guests can smoke, located near the casino entrance. The restaurant also has an outdoor patio for smokers to enjoy their meals.
What Is The Pet Policy At Wooden Nickel Casino?
Currently, they only allow service animals on the property. All other pets are not permitted inside the casino, restaurant or any other area of the premises. Make sure to bring valid documentation if you plan on bringing a service animal.
Is Wifi Available At Wooden Nickel?
Unfortunately, there is no wifi available at the casino. However, many restaurants and shops in downtown Deadwood offer free wifi to guests. Additionally, there are public libraries in the area that may provide access to the internet for a fee.
What Is The Cancellation Policy For Wooden Nickel Casino?
As they do not have a hotel, they do not offer any cancellation policies. Any guests who have booked an event at the casino will need to contact their reservation agent for information regarding refunds or cancellations.
Conclusion
This small casino in Deadwood offers guests an exciting and entertaining gaming experience. With various slot machines and other gaming options, visitors can expect plenty of action and fun. In addition to their regular offerings, they host promotions and yearly events.
Ultimately, Wooden Nickel Casino is a great destination for those looking for an evening of fun and gambling. As with all casino gaming, it is important to remember to stay within your limits and play responsibly.