Naskila Gaming Livingston
Address: 540 State Park Rd 56, Livingston, TX 77351
Phone Number: +1 936-563-2946
Website: www.naskila.com
Hours: Naskila Gaming is open 24 hours a day, 7 days a week.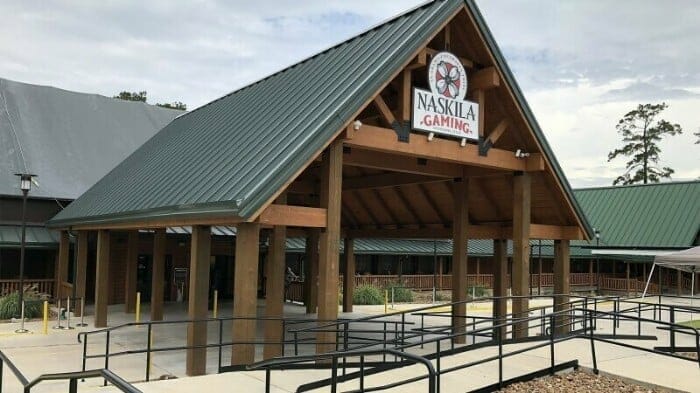 Naskila Gaming has been a part of Texas since its establishment in May 2016. The property is owned and operated by the Alabama-Coushatta Tribe of Texas. Since its opening, the casino has served as a source of entertainment and employment for many locals and visitors.
Their casino comprises over 800 electronic gaming machines that range from penny machines to $25 max bet machines. The casino also features a bingo hall hosting amazing games every night.
They also host different promotions and events throughout the year for players to enjoy. And if you're looking for a bite to eat, the property offers two restaurants: Timbers Grille and Caffe Itto Si.
The casino is committed to providing guests with a safe and secure environment and excellent customer service. So whether you're looking for fun or just want a night away, this gaming facility is sure to have something that will make your visit a memorable one.
The casino has a 4.5-star rating on Google, with many guests praising the friendly staff and variety of exciting gaming options available. One guest said, "The staff are friendly and helpful, the machines are modern, and there's plenty of variety to keep you entertained."
Another guest noted, "The staff is always friendly and helpful, the food at Timbers Grille is delicious, and the gaming options are great. Highly recommend!"
(Related reading: Texas casinos)
Gaming
Their gaming space offers over 800 electronic gaming machines that range from penny machines to $25 max bet. In addition, their bingo hall is the perfect place for a fun night of bingo and exciting prizes.
Table Games
If you're headed over to this casino in Texas, be prepared for a night full of slot machine action. Unfortunately, they don't offer table games at the moment, but that doesn't have to mean your night won't be filled with excitement.
With all their different machines, you'll find something to suit your taste and plenty of chances to win big. So why not take a trip to this casino and see what kind of luck awaits you tonight?
Slots
This casino in Texas offers a variety of exciting slot machines for guests to enjoy. Among the popular slots is Colossal Wizards, where players can win big. It comes with an exciting bonus round and impressive payouts.
Li'l Red has fun music and sounds to bring the game alive, complete with great gift animals and thrilling wins.
Spartacus Gladiator of Rome combines Roman mythology and great winning potential, while Forbidden Dragons have 5×3 reels with special features that include Dragon Fire Wilds and Free Spins.
Queen of the Wild II offers an immersive gaming experience with cartoon-style graphics and unlimited free spins. And finally, Lazer Lock Ice Sapphire is a space-themed cosmic slot game with over 100 lines that offer free spins and an innovative locking reels feature.
Unfortunately, this casino does not publish its slot machine payback percentage. No statistic is available that reveals the average payout of all their slot machines as well. Although, you may ask a staff member for general information about the slot machines.
Hotel/Resort
For those looking to enjoy the gaming and entertainment action at this casino, there are some great nearby hotel options to choose from.
Americas Best Value Inn & Suites, La Quinta Inn & Suites by Wyndham, and Motel 6 Livingston all provide quality accommodations for a comfortable and memorable stay.
With each hotel offering its own unique amenities and services, visiting guests are sure to find one that caters perfectly to their needs. Plus, they all offer easy access to this casino, the perfect ending or beginning of your exciting Texas visit.
Restaurants & Buffets
Although they currently do not offer a buffet, this casino does have two restaurants: Timbers Grille and Caffe Itto Si.
Timbers Grille features classic American cuisine served in a warm atmosphere. Dishes like the slow-roasted prime rib and the deep-fried Texas catfish will tantalize your taste buds as you enjoy your gaming night. The outdoor patio seating is perfect for summer evenings.
Caffe Itto Si offers Italian cuisine, with dishes like eggplant parmesan and rich lasagna, as well as a variety of pizzas to choose from. So no matter what you're in the mood for, this casino has something for you.
Pools
This gaming facility in Texas offers a great gaming experience with many fun activities. While there are no swimming pools onsite, the casino is always bustling with lively entertainment, delicious food and drinks, and of course, thrilling gaming machines.
So even if you don't get to take a dip in the pool, this casino is still worth a visit. From penny machines to max bets, this casino has something for everyone.
Naskila Gaming, Livingston, TX FAQ
Does Naskila Gaming Have A Sportsbook?
Unfortunately, this casino does not offer sports betting services. However, there are still plenty of other gaming options and activities to enjoy. From slots and table games to delicious food, drinks and entertainment, this casino has it all.
Is Poker Available At Naskila Gaming?
No, this casino does not offer any poker games or tournaments. However, they offer some video poker machines for guests to play. This is a great way to enjoy a classic casino game without worrying about the skill and luck involved in poker.
What Are The Age Requirements For Gambling At Naskila Gaming?
The minimum age for gambling at this casino is 21 years old. Guests must also have valid identification to enter the casino and play any available games. Failure to provide proof of age will result in entry being refused.
Does Naskila Gaming Have An Online Casino?
Unfortunately, this casino does not currently offer an online platform. All the gaming and entertainment options must be experienced in person at the physical location in Livingston, TX.
Coming to this casino will surely be worth it with all the available gaming options, delicious food, and great entertainment. Plus, with nearby hotel accommodations and other amenities, you will surely have an enjoyable and memorable experience at this casino.
Is There An Naskila Gaming App?
No, this casino does not currently have an app for guests to enjoy. However, guests may inquire about any information regarding the casino in person or via their website. Plus, their social media accounts offer regular updates and information about the casino.
What Is The Dress Code At Naskila Gaming?
The dress code of this casino is casual. However, guests should be aware that any offensive clothing or apparel will not be allowed and may result in refused entry. Additionally, pool attire, such as swimwear, is not permitted inside the building.
Is There An Airport Shuttle Available From Naskila Gaming?
Unfortunately, this casino does not offer an airport shuttle service. However, there are several nearby hotels that offer shuttle services to and from the airport.
There are taxis, rideshares and public transportation available as well. Visitors should plan ahead and make sure to arrive at the casino on time for the best gaming experience.
What Is The Smoking Policy At Naskila Gaming?
This casino does not allow smoking in any of its premises except for designated outdoor areas. Smoking is strictly prohibited inside all buildings, gaming floors and restaurants. Violators will be subject to removal from the premises.
What Is The Pet Policy At Naskila Gaming?
Sadly, this casino does not allow pets unless they are service animals. Any pet owners who bring their animals onto the premises risk being asked to leave and may be subject to fines.
If you need to bring a service animal, you must inform the casino in advance. Be sure to have your service animal properly identified and up-to-date on all necessary vaccinations.
Is Wifi Available At Naskila Gaming?
Unfortunately, you may need to bring a portable wifi device as this casino does not offer any free wireless internet access. However, there are several cafes and restaurants nearby where you can access free wifi while enjoying a delicious meal or snack.
What Is The Cancellation Policy For Naskila Gaming?
As there is no hotel accommodation available at this casino, this policy does not apply. However, if you need to cancel your reservation for any other services or events the casino provides, don't hesitate to contact them directly for more information.
Conclusion
This gaming facility is an exciting and entertaining casino located in Livingston. With a wide variety of gaming options to choose from, delicious food, and great entertainment, visitors are sure to have an enjoyable experience at this grand establishment.
So start packing and find your way to Naskila Gaming for a truly memorable experience. From the gaming floor to delicious food, you will surely have a great time at this casino.