Rosie's Gaming Emporium Hampton
Address: 1996 Power Plant Pkwy, Hampton, VA 23666
Phone Number: +1 804-557-5600
Website: www.rosiesgaming.com/hampton
Hours: Rosie's Gaming Emporium Hampton is open Monday 8 AM – 4 AM, Tuesday 8 AM – 4 AM, Wednesday 8 AM – 4 AM, Thursday 8 AM – 4 AM, Friday 8 AM – 4 AM, Saturday 8 AM – 4 AM, Sunday 8 AM – 4 AM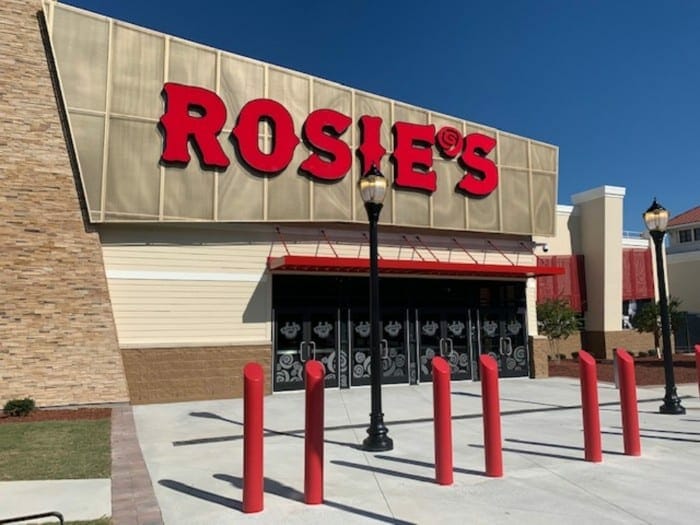 Rosie's Gaming Emporium Hampton opened in October 2019, becoming the fourth location for Rosie's gaming chain. The Hampton location is known for being the flagship of Rosie's Gaming empire, boasting state-of-the-art gaming machines and facilities.
The gaming portion of the property features more than 700 of the newest slot machines, ranging from classic favorites to the most unique, interactive games. The property also offers promotions and tournaments where players can win big by competing against each other.
And if you want to take a break from gaming, they also offer their original casual dining venue called Rosie's Kitchen. From salads to burgers and steak, Rosie's Kitchen is the perfect place to relax or refuel during gaming.
In addition to its large selection of games and food, they also offer live music and entertainment on select nights. With a wide range of local talent, there is sure to be something that everyone can enjoy.
On average, guests rate this casino highly, with an overall rating of 4.5 out of 5 stars. One guest said, "The Hampton location has great machines, and the staff is really friendly. The restaurant has some really delicious options too!"
Another guest remarked, "I'm new to gambling, and the staff was really friendly and helpful. I was able to learn a lot about how to play different games. The atmosphere was great too."
(Related reading: Virginia casinos)
Gaming
Their gaming floor comprises more than 700 slot machines and a variety of other gaming options. From classic favorites to the newest interactive games, there's something for everyone at this casino.
Table Games
This casino is the perfect place for inspiring a fun and exciting atmosphere. Whether you prefer classic slots or always stay on top of modern releases, they have something for everyone.
Unfortunately, they currently do not offer any table games such as poker or blackjack, but this doesn't take away from their gaming experience. You will surely find yourself captivated by their dazzling lights and music, keeping you entertained for hours on end.
Slots
Whether you're a beginner or a pro in playing slots, this casino in Hampton has all sorts of games for everyone to enjoy.
From the ever-popular Banking It, Battle Dragons and Beaver Bucks to the classic classics like The Big Easy Money and Blue Genie, it's easy to see why these machines remain popular favorites. If you prefer something more exotic, try your luck with Bombay or China Gold.
Looking for something with a bit of sparkle? Try out Diva Dollars or Enchanted Treasures for some glitzy spins. Finally, challenge your sea legs on The Enforcer and King Of The Deep.
Additionally, players can enjoy competitive payouts from the machines. Their expected minimum slot machine payback percentage is 84%, per Virginia's gambling laws.
Hotel/Resort
If you're coming to experience the thrills of this casino, you'll be glad to know that there are plenty of convenient and comfortable hotel accommodations nearby.
The Hilton Garden Inn, Embassy Suites by Hilton, and SpringHill Suites by Marriott all provide top-notch services designed to make your stay as pleasant as possible.
Whether you'd like to spend time in the heart of Hampton or find yourself a little bit outside the city limits, these hotels offer something perfect for everyone. Don't hesitate to book one today and enjoy your visit to this casino.
Restaurants & Buffets
Although they currently do not have a buffet option, they have a top-notch casual restaurant called Rosie's Kitchen. They have been serving delicious meals in a cozy yet exciting atmosphere for decades.
From tantalizing starters all the way to decadent desserts, guests can enjoy a wide variety of classic fare with a modern twist. No matter what the occasion, this casino has something for everyone – so come on by and see why it's become one of Hampton's favorite restaurants.
Pools
This casino is a great place for friends and family to game together, whether you're an experienced gamer or just starting out. If you're looking for good old-fashioned pool action, however, you'll need to look elsewhere – no pools are available onsite.
Thankfully, there are many public pools located nearby in Hampton. Whether you're looking for some aquatic fun with friends or just want to cool down after a long day of gaming, these pools offer something for everyone. So make sure to check them out and enjoy your time at this casino.
Rosie's Gaming Emporium Hampton, VA FAQ
Does Rosie's Gaming Emporium Hampton Have A Sportsbook?
Unfortunately, no. This casino does not have a sportsbook or any type of betting on sports. However, you can still have fun with all their other gaming options. From slots to table games, there is something for everyone here.
Is Poker Available At Rosie's Gaming Emporium Hampton?
No, unfortunately, there are no poker tables available at this casino. However, you may find some video poker machines available in some areas. Video poker is a great alternative to traditional poker that allows you to play against a machine instead of other players.
What Are The Age Requirements For Gambling At Rosie's Gaming Emporium Hampton?
All players must be 21 years of age or older to gamble at this casino. All guests are required to provide valid photo IDs upon entering the casino. Underage gambling is strictly prohibited, and violators may be subject to prosecution under Virginia law.
Does Rosie's Gaming Emporium Hampton Have An Online Casino?
Unfortunately, no. This casino does not offer any type of online gambling options at this time. All gaming activities must be done in person at the casino itself. However, with over 700 games, this casino offers plenty of action for guests in person.
Is There An Rosie's Gaming Emporium Hampton App?
No, there is not currently an app available for this casino. However, you can use their website to learn more about the games and promotions they offer. The website also provides details on upcoming events and tournaments so that you can plan your visit accordingly.
What Is The Dress Code At Rosie's Gaming Emporium Hampton?
The dress code at this casino is casual. Shorts and jeans are acceptable if they are not torn or frayed. Guests should avoid wearing offensive language or images on their clothing, and all guests must wear a shirt and closed-toe shoes while in the casino.
Is There An Airport Shuttle Available From Rosie's Gaming Emporium Hampton?
Unfortunately, no. This casino does not offer an airport shuttle service at this time. However, there are plenty of taxi and ridesharing services available in the area that can take you to the casino from the airport or any other destination.
What Is The Smoking Policy At Rosie's Gaming Emporium Hampton?
This casino is a fully non-smoking establishment. All guests must abide by this policy and refrain from smoking cigarettes, cigars, or any other tobacco products while in the casino. However, they have designated outdoor smoking areas available for guests who wish to smoke.
What Is The Pet Policy At Rosie's Gaming Emporium Hampton?
Unfortunately, pets are not permitted at this casino. Service animals are welcome, but all other pets must stay at home. This policy is strictly enforced to ensure the safety and comfort of all guests.
Is Wifi Available At Rosie's Gaming Emporium Hampton?
Unfortunately, you may need to rely on your personal data plan for internet access at this casino. Wifi is not available at this time. However, the casino does have plenty of outlets and charging stations so that you can stay connected while enjoying the gaming action.
What Is The Cancellation Policy For Rosie's Gaming Emporium Hampton?
As there is no hotel attached to this casino, there is no need for a cancellation policy.
However, the casino does offer special discounts and promotions from time to time that may be subject to a cancellation policy. Be sure to read the terms and conditions of any specials you book to understand the cancellation policies.
Conclusion
Rosie's Gaming Emporium Hampton has plenty of exciting gaming action and entertainment options for guests. Whether you want to play video poker, take in a show, or just have fun with friends, this casino will surely have something for everyone.
Be sure to follow their dress code and age requirements before entering the casino, and don't forget to check out their special promotions and discounts. With 700 games, there will surely be something for everyone at this gaming facility in Hampton, Virginia.