Suquamish Clearwater Casino Resort
Address: 15347 Suquamish Way NE, Suquamish, WA 98392
Phone Number: (360) 598-8700
Website: www.clearwatercasino.com
Hours: Suquamish Clearwater Casino Resort is open Monday 8 AM – 5 AM, Tuesday 8 AM – 5 AM, Wednesday 8 AM – 5 AM, Thursday 8 AM – 5 AM, Friday 8 AM – 12 AM, Saturday Open 24 hours, Sunday Open 24 hours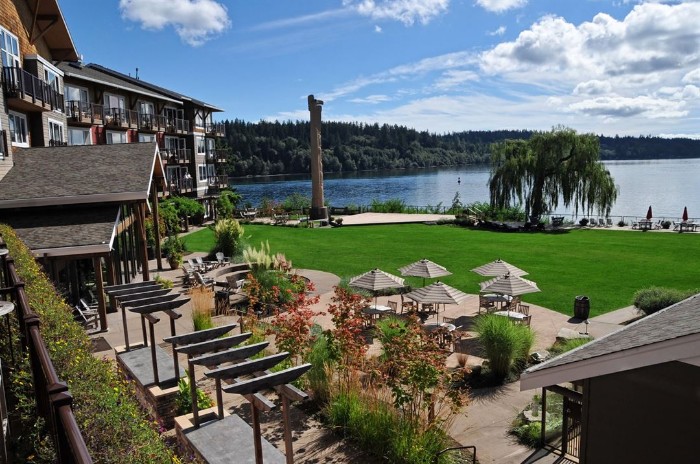 Suquamish Clearwater Casino Resort was opened in 1995 and is owned by the Suquamish Tribe. Since its opening, they have become the premier destination for gaming and entertainment in the Pacific Northwest.
The casino spans over 150,000 square feet of gaming space with 1,200 slot machines, blackjack tables and various other table games. There are several dining options onsite, including Agate Pass Deli, Seafood Bar and Beach Bru Coffee.
The resort also features a luxury boutique hotel that offers guests a serene atmosphere for relaxation, rejuvenation and recreation. Visitors can also take advantage of amenities such as a full-service spa, fitness center and an indoor pool.
This casino resort also hosts various entertainment events throughout the year, including live music, stand-up comedy and big-name acts. So no matter what time of year you visit, there is sure to be something fun and exciting going on.
On TripAdvisor, this casino resort has an average rating of 4.5 out of 5 stars from over 900 reviews. One guest said, "My wife and I recently visited Suquamish Clearwater Casino Resort, and it did not disappoint. The staff was very friendly, and the environment was super positive."
Another guest said, "This place is a hidden gem. We had such a great time playing all the games, and we loved all of the amenities. We will be back!"
(Related reading: Washington casinos)
Gaming
Their casino floor features 1,200 slot machines with classic favorites like Wheel of Fortune and the latest games. They also have table games, including blackjack, roulette, craps, three-card poker and more.
Table Games
At this casino, the options for fun table games are endless. If you're looking for a classic card game, try your luck at Blackjack or Three Card Poker.
Feeling lucky? Try the Roulette table or test your dice-rolling skills with Craps. For a bit more strategy involved, Emperor's Challenge Pai Gow and Fortune Pai Gow offer exciting twists on the traditional game.
And if you're looking for something new and exciting, High Card Flush is a fast-paced game that's perfect for beginners and veterans alike.
The minimums for all table games at this casino vary, depending on the game. However, most have a $5 minimum bet. But for a more accurate answer, it's best to contact the casino directly.
Slots
The slot machines at this casino offer a variety of fun and entertaining games to choose from. From classic favorites like Wheel of Fortune and Cleopatra to the latest video slots, you'll find something for everyone. A few popular titles include:
Colossal Wizards
A Night Of Mystery
Li'l Red
Spartacus Gladiator of Rome
100 Wolves
Forbidden Dragons
La Loteria Mexicana
Queen of the Wild II
Lazer Lock Ice Sapphire
Unfortunately, this casino does not publish its slot machine payback percentage. However, according to Washington state law, all casinos must have a minimum return-to-player rate of 75%.
Hotel/Resort
This casino features a luxurious boutique hotel with over 183 guest rooms and suites. All rooms feature chic decor, high-end furnishings, flat-screen TVs, mini-fridges, complimentary Wi-Fi and more.
Some of their room types include:
Value Rooms – features one king or two queen beds
Premium Rooms – features one king or two queen beds in a more spacious room
Value Suites – features one king bed and a jetted tub
Premium Suites – features one king bed and a jetted tub in a more spacious room
Additionally, guests can enjoy various amenities such as:
Wifi access
Parking onsite
24-hour front desk
Concierge services
RV park
A full-service spa
A zero-entry pool and jacuzzi
An art gallery
Banquet facilities
Onsite restaurants and bars
Fitness center
Live entertainment and shows
A sportsbook
The prices at this casino hotel vary, depending on the room type and season. Generally, rates start at $199 per night plus additional taxes and fees. They also have an online booking option where you can find the best deals.
Check-in time at Suquamish Clearwater is 4:00 pm
Check-out time at Suquamish Clearwater is 11:00 am
Restaurants & Buffets
If you're on the hunt for fine dining or just a quick bite during your stay at this casino resort, you won't be disappointed.
The resort boasts many culinary options, from The Clearwater, which features top-notch seafood and steak dishes with breathtaking waterfront views, to the Beach Glass Café, which offers a modern twist on classic dishes with locally sourced ingredients.
For those needing a caffeine fix, Beach Bru Coffee serves up everything from espresso to iced lattes, while the Agate Pass Deli provides guests with made-to-order sandwiches and snacks.
The Beach Rock Lounge offers a casual, fun atmosphere with a delicious selection of pub-style food and handcrafted cocktails. And seafood lovers won't miss the Seafood Bar, which serves fresh oysters, crab, and clams. With so many great options, you'll never go hungry at this casino.
Pools
Looking for a place to beat the summer heat and take a refreshing dip? Look no further than this casino in Washington State. This stunning resort boasts a beautiful zero-entry pool perfect for guests of all ages and swimming abilities.
Whether you want to sit poolside with a cool drink or splash around with your family and friends, this pool is the perfect spot to while away the hours on a sunny day. So come on down and dive in – the water's just right.
Suquamish Clearwater Casino Resort, WA FAQ
Does Suquamish Clearwater Casino Resort Have A Sportsbook?
They have the Fanduel Sportsbook, which offers guests the chance to wager on their favorite teams and sports. It features state-of-the-art technology, including a large video wall with HD TVs and one of the largest betting boards in Washington State.
Is Poker Available At Suquamish Clearwater?
Yes, they have poker available at the casino. Their poker tables feature cash games, tournaments and various yearly promotions. They also offer some of the best services in Washington State, with friendly dealers and comfortable seating.
What Are The Age Requirements For Gambling At Suquamish Clearwater Casino Resort?
Guests must be at least 21 to gamble at this casino resort. There are also occasional events that require all guests to be 18 or older. All guests must provide valid identification when entering the casino floor.
Does Suquamish Clearwater Have An Online Casino?
No, they do not have an online casino. You may only gamble at the physical casino located in Washington State. However, they do offer an online booking option where you can find the best deals for rooms and other amenities.
Is There An Suquamish Clearwater Casino Resort App?
Unfortunately, there is no app for this casino resort. However, they do have a website that includes all of the same amenities and services as the resort itself. Additionally, guests can book rooms and check out upcoming events on their website.
What Is The Dress Code At Suquamish Clearwater?
The dress code at this casino resort is casual and comfortable. However, guests must follow the age requirements when it comes to gambling, which means shirts and shoes must be worn at all times.
Is There An Airport Shuttle Available From Suquamish Clearwater Casino Resort?
Unfortunately, there is no airport shuttle service available from this casino resort. However, there are many ground transportation services in the area that can provide rides to and from the airport. Guests may utilize taxis, Ubers, or rental cars to get to and from the airport.
What Is The Smoking Policy At Suquamish Clearwater?
This casino resort is non-smoking. Smoking, including but not limited to cigarettes, cigars, pipes and electronic cigarettes, is prohibited inside the building or on the gaming floor. However, designated smoking areas are available outside of the building for guests who wish to smoke.
What Is The Pet Policy At Suquamish Clearwater Casino Resort?
Sadly, pets are not allowed at this casino resort. However, service animals are always welcome. All service animals must be properly identified and accompanied by their owners while on the property.
Is Wifi Available At Suquamish Clearwater?
Yes, free wifi is available throughout the casino resort. Guests can easily connect to the internet to stay connected and browse online during their stay. The speed can vary and depend on the number of guests connected simultaneously.
What Is The Cancellation Policy For Suquamish Clearwater Casino Resort?
Guests can cancel their reservations up to 24 hours before check-in. If a guest decides to cancel after the deadline, they will be charged for one night's stay plus taxes and fees. Guests should contact the hotel directly for more information about cancellation policies.
Conclusion
This casino hotel offers an exciting atmosphere and a variety of amenities and services. The age requirements must be followed at all times, and smokers must utilize designated smoking areas. Free wifi is available, as well as online booking options for rooms and other services.
So now that you know more about Suquamish Clearwater Casino Resort, why not book a stay and experience all of the fun for yourself? With comfortable rooms, friendly dealers and plenty of entertainment options, it's no wonder this casino resort is so popular.