Mardi Gras Casino & Resort Cross Lanes
Address: 1 Greyhound Dr, Cross Lanes, WV 25313
Phone Number: +1 304-776-1000
Website: www.mardigrascasinowv.com
Hours: Mardi Gras Casino & Resort is open Monday 9 AM – 4 AM, Tuesday 9 AM – 4 AM, Wednesday 9 AM – 4 AM, Thursday 9 AM – 4 AM, Friday 9 AM – 4 AM, Saturday 9 AM – 4 AM, Sunday 9 AM – 4 AM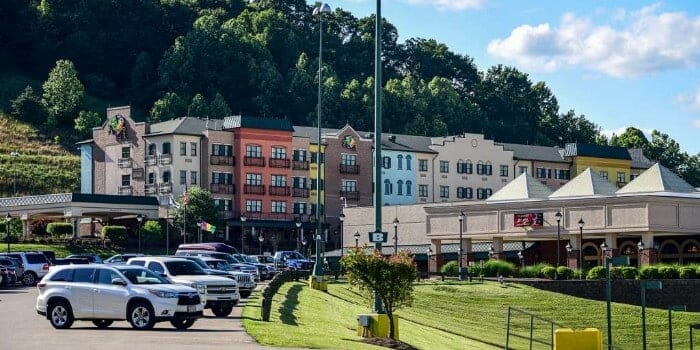 Mardi Gras Casino & Resort first opened its doors in 1985 as Tri-State Greyhound Park. The facility quickly became popular for offering various gaming, dining and entertainment options for guests at the local racetrack.
In 2018, the property is bought by Delaware North and is still serving guests from all over West Virginia and its surrounding areas. The casino gaming floor features over 700 slots and video poker machines, plus a variety of traditional table games such as blackjack, craps and roulette.
The resort also offers overnight accommodations in its luxurious hotel rooms, with all the amenities needed for a perfect stay. Guests staying at this casino resort are treated to live entertainment, fine dining and various other amenities.
Whether you're looking for fun at the casino or a relaxing stay in the hotel, this casino resort provides a memorable experience. With its convenient location close to Charleston and Huntington, it is easy to find something exciting to do here.
According to popular travel websites, this casino has received a 4.5-star rating out of 5 stars from its guests. One guest said, "The staff was friendly and accommodating. The casino was clean and well-maintained with plenty of machines."
Another guest said, "Mardi Gras Casino & Resort is a great place for an overnight getaway. The rooms are comfortable, and the casino offers a variety of games."
(Related reading: West Virginia casinos)
Gaming
The casino floor comprises more than 700 slots and video poker machines, as well as classic table games such as blackjack, craps and roulette. There are also live poker tournaments available weekly.
Table Games
At this casino in West Virginia, you'll find various table games. Whether you're a seasoned player or a newbie, there's something for everyone. You can roll the dice and try your luck at the fast-paced game of craps or maybe test your strategy skills with a hand of blackjack.
If you're feeling lucky, spin roulette or try crisis cross poker. For a quicker game, you can play 3 card poker, but if you want to take your time and enjoy the excitement, Louisiana Stud might be more your speed. And for those looking for a chance to win big, check out Super 4 Poker.
The table game minimums can vary depending on the type of game and time of day, but they generally range from $10-$15. Guests may ask the table attendant for specific information.
Slots
This casino resort features more than 700 slot machines, offering various gaming options for guests. Some popular slots include:
Lock it Link – Huff n' Puff
Ghost Busters
Egyptian Riches
Prince of Thieves
Sex and City
Cash Spin
Amazing Race
Wizard
According to West Virginia law, slot machines at this casino resort must have a minimum payback percentage of 80%. So even if you don't hit it big, you still have a decent chance of getting some returns.
Hotel/Resort
This casino resort also offers its guests over 150 luxurious hotel rooms. The guest rooms have flat-screen TVs, spacious bathrooms and complimentary Wi-Fi access.
Room types include:
Deluxe Rooms – features one king or two queen beds
Deluxe Junior Suites – features two queen beds and a spacious bathroom
Presidential Suites – features one king bed, a living area with a sofa bed and a dining area
Executive Suites – features one king bed, luxurious complimentary bathroom amenities and a dining area
Additionally, all guests at the resort are invited to enjoy some of its wonderful amenities. These include:
Wifi access
Parking onsite
24-hour front desk
Restaurants and bars
Business center
Fitness center
Swimming pool and hot tub
A sportsbook
Live entertainment and shows
Prices for overnight stays vary depending on the room type chosen and the time of year. Generally, guests may book a room for as low as $109 plus tax per night. Room rates may also be discounted for seniors, families, and military personnel.
Check-in time at Mardi Gras is 4:00 pm
Check-out time at Mardi Gras is 12:00 pm
Restaurants & Buffets
If you're planning a trip to this casino resort in West Virginia, you won't want to miss out on the fantastic dining options available. Whether you're craving classic American fare or Creole-inspired dishes, The French Quarter has something for everyone.
For sports fans, the lively atmosphere and delicious pub grub at the Sports Bar make it the perfect spot to catch the big game. And for a fine dining experience, don't miss The Grill at First Turn, where you can indulge in everything from succulent steaks to fresh seafood.
Finally, for a taste of Louisiana, head to Cafe Orleans for classic Creole and Cajun favorites. With so many mouthwatering options, you will surely find the perfect restaurant for your next meal at this casino resort.
Pools
If you're looking for a cool and refreshing way to beat the heat during your stay at this casino resort in West Virginia, look no further than their on-site swimming pool.
Perfect for lounging in the sun or taking a dip, this pool is just what you need to relax after a day of gaming or exploring the local area.
Whether you're a solo traveler or vacationing with family and friends, the pool at this casino is open to guests of all ages and is the perfect place to unwind during your stay.
Mardi Gras Casino & Resort, Cross Lanes, WV FAQ
Does Mardi Gras Casino & Resort Have A Sportsbook?
Yes, this casino has The Betly Sportsbook, which allows guests to bet on national and international sporting events. Plus, they also offer mobile betting so that you can make your bets from anywhere in West Virginia.
Is Poker Available At Mardi Gras Casino?
Yes, this casino offers live poker games with various stakes and buy-ins. Whether a beginner or an experienced poker player, there is something for everyone. There is also a tournament schedule so you can compete against other players in the casino.
What Are The Age Requirements For Gambling At Mardi Gras Casino & Resort?
This casino requires guests to be at least 21 years old to gamble. Guests must also provide valid identification upon entering the casino floor. Lastly, guests must abide by all state and local laws while gambling at this casino resort.
Does Mardi Gras Have An Online Casino?
Yes, through Lucky North Casino, this casino offers an online casino where guests can play various slots and table games. This includes blackjack, video poker, roulette, baccarat and more. Lucky North Casino is available to guests anywhere in West Virginia via a mobile or desktop.
Is There An Mardi Gras Casino & Resort App?
Yes, this casino resort has an app for iOS and Android devices. The app allows guests to book reservations, access promotions, play games, check their loyalty status and more. Additionally, the app is always up-to-date with the latest offers and news from the casino resort.
What Is The Dress Code At Mardi Gras?
At this casino resort, the dress code is upscale and casual. Guests are asked to avoid wearing athletic wear, beachwear, or offensive clothing. Additionally, guests must have a valid ID if they appear to be under 21.
Is There An Airport Shuttle Available From Mardi Gras Casino & Resort?
At this moment, they do not offer an airport shuttle service. Guests must make arrangements for transportation to and from the casino. However, there are other transportation options available for getting around the local area.
There are taxis and ridesharing services like Uber and Lyft that can be used for getting to the casino. Additionally, you can rent a car from several rental companies in West Virginia.
What Is The Smoking Policy At Mardi Gras?
This casino resort has a designated smoking area outside the casino. Guests must adhere to all state and local smoking laws while in the casino. Additionally, guests are not allowed to smoke in any of the hotel rooms or other public areas on the property.
What Is The Pet Policy At Mardi Gras Casino & Resort?
Sadly, no pets are allowed at this casino resort. However, service animals are permitted and must follow the guidelines set by the Americans with Disabilities Act (ADA). A valid service animal registration card must be shown upon check-in to verify its status.
Is Wifi Available At Mardi Gras?
Yes, this casino resort offers complimentary Wi-Fi to all guests. The Wi-Fi is available throughout the property and can be accessed via a secure network. Bring your device if you need internet access during your stay.
What Is The Cancellation Policy For Mardi Gras Casino & Resort?
Guests can cancel their reservation up to 24 hours before the check-in date for no charge. If guests cancel within 24 hours of the check-in date, they may be charged for one night's stay. Additionally, all deposits are non-refundable and must be paid in full upon check-in.
Conclusion
This casino resort is a great destination for anyone looking to enjoy a night of fun and excitement. From the various casino games to the upscale dining options, this casino resort will keep you entertained all night.
Remember to note all their policies listed above and adhere to the age and dress code requirements for gambling at Mardi Gras Casino & Resort. Start packing and planning your visit to this casino resort today and enjoy all that it has to offer!