The Casino Club at The Greenbrier White Sulphur Springs
Address: 101 W Main St, White Sulphur Springs, WV 24986
Phone Number: +1 844-837-2466
Website: www.greenbrier.com/Casino/Games.aspx
Hours: The Casino Club at The Greenbrier is open 24 hours a day, 7 days a week.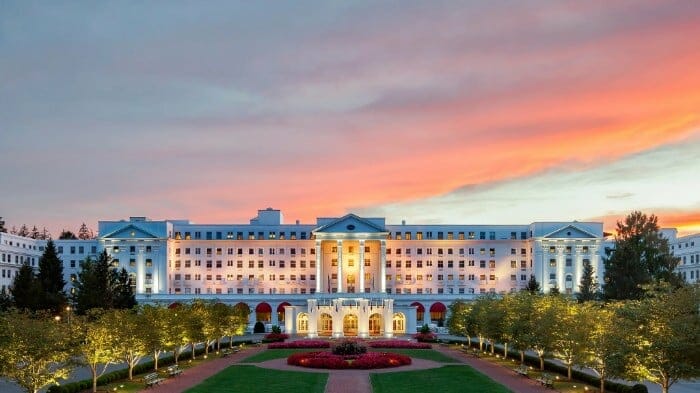 The Casino Club at The Greenbrier opened its doors in early 2010 to add a bit of excitement and luxury to The Greenbrier America's Resort. For over 200 years, The Greenbrier has welcomed guests worldwide with its legendary hospitality.
Now, with the addition of the casino, guests can enjoy thrilling gaming in a sophisticated setting surrounded by award-winning dining and entertainment.
From classic table games such as Blackjack and Poker to classic slots, and video poker, it offers thrilling gaming action for everyone. Since the casino is located within a luxurious resort, guests can enjoy an impressive range of amenities and services.
With luxurious accommodations, world-class spas, golf courses, shopping centers, and more, the casino provides a safe and secure gambling experience and unparalleled comfort and convenience.
Additionally, there are multiple restaurants and bars located within the casino to offer guests an enjoyable experience when they are not gaming. Whether looking for a fun night out or a relaxing getaway, this casino resort has something for everyone.
On popular websites like Yelp, this casino receives a rating of 4.5 stars out of 5 from reviewers. One guest commented, "The Casino Club at The Greenbrier is a great place for casino gaming and entertainment. I definitely recommend this casino to everyone."
Another guest said, "The Casino Club at The Greenbrier is a fantastic place to visit. It has a great atmosphere, and the staff is friendly and accommodating. I had an amazing time here!"
(Related reading: West Virginia casinos)
Gaming
Their gaming space features a variety of classic and video slots, video poker machines, and table games such as Blackjack and Poker. The casino offers high-limit gaming for those looking to take their experience up a notch.
Table Games
At this casino, you'll find various exciting table games to try. Blackjack is a classic favorite, where you can try to beat the dealer by getting a hand closer to 21 without going over.
For those looking for a different type of challenge, roulette offers the chance to bet on where a ball will land on a spinning wheel.
Three Card Poker, Texas Hold 'em, and Mini-Baccarat offer unique twists on classic poker games. And if you're feeling lucky, head over to the craps table, where you can roll the dice and hope for a big win.
Typically, the minimum bets at this casino are $15 for most tables. However, these amounts may change depending on special offers or promotions the casino is running at the time.
Slots
From classic slots to the latest video slots, you can find a wide range of games at this casino. Popular slot machines include:
Pinball
Colossal Wizards
Treasure Ball
Red Rooster
Queen of the Wild II
Spartacus Gladiator of Rome
Willy Wonka
Bear Money
Monkey Business
Top Dollar
According to West Virginia law, slot machines must pay at least 80% over their lifetime. At this casino, all slot machines must meet or exceed this requirement, ensuring that guests have a fair chance at winning.
Hotel/Resort
This resort is the home of this casino, and it offers luxurious amenities for guests. The resort has a diverse range of accommodations and amenities that will surely provide a memorable experience.
Their rooms and suites are divided into four categories; the Windsor Club, the Historic Suites, the Classic Suites, and the Guest Rooms. All rooms have free Wi-Fi, flat-screen TVs, and complimentary access to the resort's amenities.
The resort also offers various amenities and services to enhance guests' experience. Amenities include:
Wifi access
Valet and self parking
24-hour front desk
Concierge services
Onsite dining options
Swimming pools
Retail shops
Fitness center
Full-service salon and spa
Hot tubs and sauna
Golf courses
Live entertainment and shows
Gift shop
Banquet facilities
Business center
The cost to stay at this resort varies depending on the room type and the number of nights you will stay. Rates start from $309 per night for a standard guest room. For more information about pricing, please get in touch with the resort directly or visit their website
Check-in time at The Greenbrier is 4:00 pm
Check-out time at The Greenbrier is 11:00 am
Restaurants & Buffets
Currently, they do not offer any buffet meals. However, it has many on-site dining options that range from casual to fine dining.
Whether you're looking for a fine dining experience in the Main Dining Room or a more relaxed atmosphere at the Tree Tops Café, there's something for everyone. For a caffeine fix or sweet treat, head to The Greenbrier Gourmet & Coffee Bar.
If steak and seafood are your preferences, look no further than Prime 44 West. For a sporty vibe, check out Slammin' Sammy's, named after legendary golfer Sam Snead. In-Fusion offers Asian-fusion cuisine, while The Forum serves classic American dishes.
And if you want to experience history, dine at Draper's, named after Dorothy Draper, the interior decorator who helped transform The Greenbrier into the luxurious resort it is today. Whatever your culinary desires, this casino resort has got you covered.
Pools
Looking for a luxurious and refreshing way to beat the heat? Look no further than this resort's pools. With both an outdoor infinity pool and an indoor pool, there's something for everyone, no matter the weather or mood.
Take a dip in the serene outdoor pool surrounded by beautiful landscaping and relaxing lounge chairs, or opt for a more intimate swim in the cozy and chic indoor pool. Both options provide a serene and rejuvenating escape from the stresses of everyday life.
Whether you're a hotel guest or a day visitor, the pools at this resort are a must-visit destination for those seeking relaxation and pampering.
The Casino Club at The Greenbrier, WV FAQ
Does The Casino Club at The Greenbrier Have A Sportsbook?
If you're looking to place some bets on your favorite sporting events while staying at this casino resort, then you're in luck. They offer various sportsbook options, including the popular FanDuel Sportsbook and its accompanying app.
Plus, if you prefer BetMGM, you can also find that sportsbook app available at the casino. So whether you're into football, basketball, or any other sport, you can get in on the action during your stay at this resort.
Is Poker Available At The Casino Club at The Greenbrier?
Yes, this casino resort offers multiple Three Card Poker and Texas Hold 'em tables. Guests can join daily tournaments for a more thrilling experience. For those who are just learning, there are even free poker lessons offered.
What Are The Age Requirements For Gambling At The Casino Club at The Greenbrier?
At this casino resort, guests must be 21 or older to participate in gambling activities. Proof of age may be required upon entry into the casino. Those under 21 are not allowed inside the gaming area or on the casino floor.
Does The Casino Club at The Greenbrier Have An Online Casino?
No, this casino resort does not have an online casino. Those wishing to game must visit the casino in person and comply with the age requirements. Those who cannot make it to the physical location can check out various online gambling sites that offer gaming options.
Is There An The Casino Club at The Greenbrier App?
No, this casino resort does not have an app available now. However, guests can access the FanDuel Sportsbook and BetMGM apps for sports betting via their mobile devices.
And if you want to get updated on the latest events, promotions and offers at this casino resort, you can follow them on social media sites like Twitter and Facebook. With all these options, you can stay connected to this casino resort even from miles away.
What Is The Dress Code At The Casino Club at The Greenbrier?
For the main casino, guests are encouraged to dress in stylish attire. This includes collared shirts and slacks or jeans for men and sundresses, skirts and blouses, or pantsuits for women. Shorts, athletic wear, flip-flops and baseball caps are prohibited inside the casino.
Other areas of the property may have different dress codes, such as the pools requiring bathing suits or the restaurants requiring more formal attire. Be sure to check with each area before dressing for your visit.
Is There An Airport Shuttle Available From The Casino Club at The Greenbrier?
Yes, they offer an airport shuttle service for guests who fly into the local airports. Guests may contact the property for more information on this service. Additionally, taxis, ridesharing services and rental cars are all available options to get to the resort.
What Is The Smoking Policy At The Casino Club at The Greenbrier?
No smoking is allowed in the casino except for designated smoking areas. Electronic cigarettes and vaping are also prohibited inside the casino. Outside of the gaming area, guests are allowed to smoke and vape in other areas of the property.
What Is The Pet Policy At The Casino Club at The Greenbrier?
The resort offers designated pet-friendly cottages for you and your four-legged companion. For a non-refundable fee of $250 per bedroom per stay, your pet can enjoy a comfortable stay with you.
Is Wifi Available At The Casino Club at The Greenbrier?
Yes, complimentary wifi is available throughout the resort. Guests may access the wifi network anywhere on the property, including in guest rooms and public areas. Additionally, guests can access the fan-favorite premium streaming services with their complimentary wifi connection.
What Is The Cancellation Policy For The Casino Club at The Greenbrier?
The cancellation policy for this casino resort depends on the rate and reservation type you have booked. For all rooms, guests may cancel their reservations for at least 14 days before the arrival date.
Conclusion
This casino resort is the perfect destination for a fun and exciting casino getaway. With so many gaming and entertainment options, great amenities like pet-friendly cottages, complimentary wifi and an airport shuttle service, this is a top choice for your next vacation.
Keep in mind their policies before booking your stay. And don't forget to check out all their social media pages for the latest events, promotions and offers. Grab your lucky cards, roll the dice and enjoy an unforgettable experience at The Casino Club at The Greenbrier.