Wheeling Island Hotel Casino & Racetrack
Address: 1 S Stone St, Wheeling, WV 26003
Phone Number: +1 304-232-5050
Website: www.wheelingisland.com
Hours: Wheeling Island Hotel Casino & Racetrack is open Monday 8 AM – 4 AM, Tuesday 8 AM – 4 AM, Wednesday 8 AM – 4 AM, Thursday 8 AM – 4 AM, Friday 8 AM – 4 AM, Saturday 8 AM – 4 AM, Sunday 8 AM – 4 AM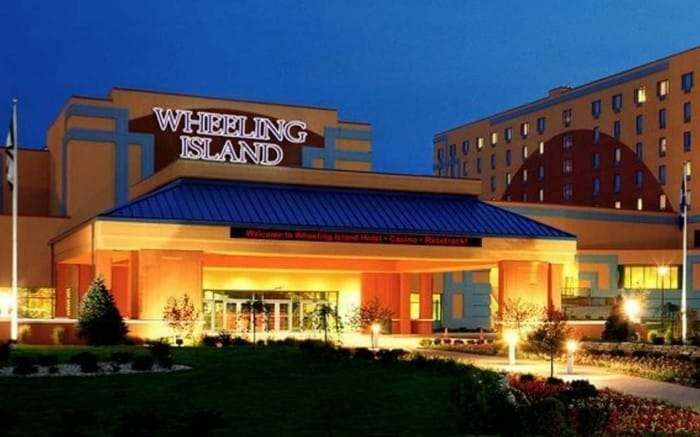 Wheeling Island Hotel Casino & Racetrack has been in business since 1866 when it opened as a greyhound racing track. In 2008, the facility was renovated and expanded to include slot machines, video lottery terminals (VLTs), table games, poker rooms and more.
Their casino floor features more than 1,100 slot machines and video lottery terminals, with new games being added regularly. The casino also offers live table games such as blackjack, roulette and craps.
They also have a hotel on-site, with rooms and suites that offer a range of services and amenities. Guests can enjoy the Betly Sportsbook, which allows them to place bets on sporting events, along with a selection of restaurants, bars and lounges.
The racetrack is home to greyhound racing throughout the year, with some of the most exciting racing events in the region. They also host a variety of live entertainment from time to time, as well as special events like tournaments and promotion days.
Whether you're looking to place a bet on the race, try your luck in the casino, or just relax and enjoy some great food and entertainment, you can find it all at this racino. With plenty of games, food, and entertainment, this is the perfect place for a fun night out.
On popular review websites, this casino typically receives 3.5 to 4-star ratings. According to one guest, "The casino has great games, friendly staff, and a nice atmosphere."
Another reviewer said, "The staff is polite, and the slots are great. I've been coming here for years, and it keeps improving. Highly recommend checking out this place if you're in the area."
(Related reading: West Virginia casinos)
Gaming
Their gaming space features over 1,100 slot machines and video lottery terminals. These games include favorites like Wheel of Fortune, Quick Hits and Hot Shots. They also offer a selection of table games such as blackjack, roulette and craps.
Table Games
At this casino, players can enjoy a variety of exciting table games. From classic favorites like craps, blackjack, and roulette to unique games like Criss Cross Poker and Hot Roller Craps, there's something for everyone.
The casino also offers a range of poker options, including Limit and No Limit Texas Hold 'Em, Seven-Card Stud, and Omaha. For those looking for a new challenge or wishing to try their luck with a different game, the casino has plenty of options to explore.
The minimum bet at this casino varies depending on the game, but most games have a starting bet of $5 or less. You may also inquire with the staff about the availability of high-roller tables for larger bets.
Slots
This racino offers a variety of slot machines with popular titles from leading providers. Some of the most popular slots at this casino are:
Wolf Legend Megaways
Hot Shot
Bar-X Hot Spins
Black Widow
Berry Berry Bonanza
Fishing Bob
Dead or Alive 2
Mega Vault
Egg Spendables
Bombs
100 Lions
As per West Virginia law, all casinos in the state are required to have a minimum payback of 80% on their slot machines. This casino has not made any public announcements about their actual payback percentages, but they likely meet or exceed this requirement.
Hotel/Resort
This racino is home to a 151-room hotel and resort. This facility is ideal for those who want to stay close to the action, with various services and amenities. Each room has complimentary Wi-Fi, a flat-screen TV and a Keurig coffee maker.
Room types include:
Deluxe Rooms – features one king or two queen beds
Queen Suite – features two queen beds, a living room with a sofa bed, a dining area and a bar
King Suite – features one king bed, a living room with a sofa bed, a dining area and a bar
The hotel and resort offer a variety of amenities for guests to enjoy. These include:
Wifi access
Parking on site
24-hour front desk
Concierge services
Business center and meeting rooms
A sportsbook
Restaurants and bars
Live and simulcast racing
Live entertainment and shows
Room rates at this hotel vary depending on the season and availability. Rates typically start from $109 per night plus taxes and fees. For special offers and discounts, please get in touch with the hotel directly.
Check-in time at Wheeling Island is 4:00 pm
Check-out time at Wheeling Island is 11:00 am
Restaurants & Buffets
If you're looking for a great dining experience during your visit to this casino in West Virginia, you're in luck. The resort offers a variety of restaurants sure to satisfy any craving. For an upscale atmosphere and exquisite cuisine, The Pointe is a perfect choice.
If you're looking for a buffet, then The Buffet won't disappoint, with prices starting at $29.99. Sports fans will enjoy the Sportsbar, where you can enjoy a drink and a meal while watching the latest game.
Finally, for those looking for a quick bite, the Food Court offers a variety of options to satisfy any hunger pangs. Whether you're in the mood for fine dining or a quick snack, this racino has something for everyone.
Pools
If you're looking for a refreshing dip on your next visit to this casino, you may be disappointed to learn that there are no swimming pools onsite. However, don't let that dampen your spirits!
The hotel is just a short drive from several public pools in the area, and their friendly staff would be happy to point you in the right direction.
Plus, with so many exciting entertainment options available at the casino and racetrack, who needs a pool? From thrilling table games to live entertainment, there's always something to do here.
Wheeling Island Hotel Casino & Racetrack, WV FAQ
Does Wheeling Island Hotel Casino & Racetrack Have A Sportsbook?
Yes, they have the Betly Sportsbook, which features a variety of sports betting options. It offers various betting markets, including futures and lives in-game wagering.
Additionally, the sportsbook has big-screen TVs where bettors can watch their favorite games while making bets. They also offer mobile sports betting through the Betly app.
Is Poker Available At Wheeling Island?
Yes, this casino has a large poker room with numerous tables available. Players can choose from popular varieties such as Texas Hold 'Em, Omaha and Seven Card Stud. The casino also hosts daily tournaments for players of all experience levels.
What Are The Age Requirements For Gambling At Wheeling Island Hotel Casino & Racetrack?
The minimum age for gambling at this casino is 21 years old. Guests under 21 cannot enter any gaming area and will be asked to leave if found in these areas. Identification is required before entering a casino or racetrack, so guests should bring valid identification when visiting this facility.
Does Wheeling Island Have An Online Casino?
Yes, they offer Lucky North Casino, which is an online casino with a variety of slots and table games. It has all the same games you would find at their land-based location, as well as exclusive promotions and bonus opportunities.
Is There An Wheeling Island Hotel Casino & Racetrack App?
This casino does not have an app in its own right, but the Betly Sportsbook app allows guests to wager on sports games. There's also a Lucky North Casino App available for their online casino. Guests can download these apps on their mobile devices to access the latest betting information.
What Is The Dress Code At Wheeling Island?
The dress code is casual, so guests should feel free to wear whatever makes them comfortable. However, the casino asks that visitors keep their clothing clean and neat and refrain from wearing cut-off jeans and flip-flops. Tank tops are also prohibited.
Is There An Airport Shuttle Available From Wheeling Island Hotel Casino & Racetrack?
No, there is no airport shuttle available from the casino. However, guests can use public transportation or book a taxi or car service to get to and from the airport. The hotel also offers free parking for guests who want to drive themselves.
What Is The Smoking Policy At Wheeling Island?
They offer both smoking and non-smoking areas throughout the facility. Each gaming area has designated smoking sections, so guests can choose which area to be in. The casino also has two outdoor patios that are exclusively reserved for smokers.
What Is The Pet Policy At Wheeling Island Hotel Casino & Racetrack?
Sadly, pets are not allowed in hotels or casinos. Service animals are welcome but must be properly identified before entering gaming areas. Guests with service animals should contact the hotel in advance to make arrangements.
Is Wifi Available At Wheeling Island?
Yes, wifi is available throughout the casino and hotel. Guests can access it for free by entering their room number and last name. Wifi is also available in the sportsbook, poker room and other gaming areas.
What Is The Cancellation Policy For Wheeling Island Hotel Casino & Racetrack?
Guests who want to cancel their reservation must do so at least 24 hours before arrival. Any cancellations made within 24 hours will incur a fee for one night's stay. Guests should also keep in mind that certain rates and packages are non-refundable.
Conclusion
So if you want to gamble, watch a race or simply enjoy the luxury of this racino, you'll find all your needs met here. They offer an array of gaming options and other services to make sure that their guests have a great time at the casino.
There's also plenty of entertainment on-site and nearby attractions and activities for visitors of all ages. So if you're looking for a fun and exciting experience, the Wheeling Island Hotel Casino & Racetrack is the perfect place to visit.