Bad River Lodge & Casino Ashland
Address: 73370 U.S. Rte 2, Ashland, WI 54806
Phone Number: +1 715-682-7121
Website: www.badriver.com
Hours: Bad River Lodge & Casino is open Monday 10 AM – 2 AM, Tuesday 10 AM – 2 AM, Wednesday 10 AM – 2 AM, Thursday 10 AM – 2 AM, Friday 10 AM – 2 AM, Saturday 10 AM – 2 AM, Sunday 10 AM – 2 AM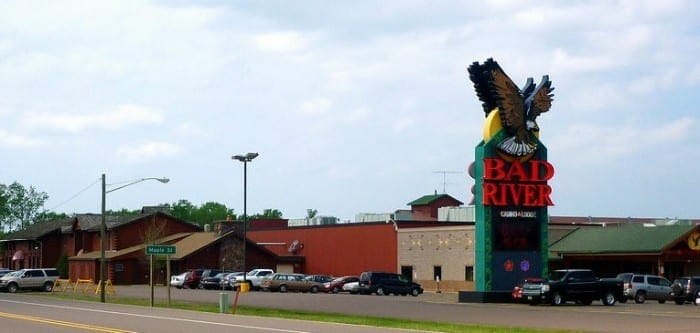 Bad River Lodge & Casino is owned and operated by the Bad River Band of Lake Superior Chippewa Indians on their reservation in Ashland County.
Since its opening, the casino has been devoted to being a positive force in the community, offering education and job opportunities and giving back through charitable giving.
Their casino floor features classic to cutting-edge slots, table games and various entertainment options. The lodge also offers guest rooms and suites for a comfortable stay. Guests can also use the on-site restaurant, lounge and event center.
Whether you're looking for a fun evening out or an unforgettable stay, this casino and lodge have something for everyone.
Guests rate this casino highly, with an average of 4 stars out of 5 on review sites. One guest said, "We had a great time at Bad River Lodge & Casino. The staff was friendly and helpful, the rooms were comfortable and clean, and the restaurant was delicious."
Another added, "The gaming floor at Bad River Lodge & Casino was one of the best I've experienced. The machines were up to date, and there was such a wide variety of games available."
(Related reading: Wisconsin casinos)
Gaming
Their gaming space offers a variety of classic slots and table games, along with more modern games like virtual roulette and blackjack. They also offer promotions for new and existing players, like daily drawings for free play.
Table Games
If you're looking for some fun and excitement, head over to this casino in Wisconsin. Inside, you'll find a variety of table games to choose from, including blackjack and poker.
Both games are popular and have been enjoyed by players for many years. If you're unfamiliar with how to play, don't worry; their friendly dealers are always happy to help show you the ropes
At this casino, the minimum bet for each table game may vary based on its type and current time. But, generally, most tables require a minimum bet of $5.
Slots
This casino offers a great selection of slots that will please any player. Popular slot machines include:
Li'l Red
Colossal Wizards
Spartacus Gladiator of Rome
Queen of the Wild II
Forbidden Dragons
Lazer Lock Ice Sapphire
Even though this casino does not disclose the exact percentages of slot machine payouts, it complies with all Wisconsin state laws, which require a minimum of 80% payout rate for slot machines.
Hotel/Resort
The lodge at this casino offers comfortable accommodations for guests. Rates vary depending on the type of room and amenities you're looking for.
As you plan your stay, they offer a variety of room types to fit your needs. Their King Room is perfect for couples seeking a cozy and intimate setting, while their Double Queen Room provides ample space for family or friends.
For a more luxurious stay, their Super King Suite offers extra amenities and room for entertainment. And for the ultimate in relaxation, the Jacuzzi Suite features a private Jacuzzi tub to soak away your cares.
Additionally, this casino offers a variety of amenities to enhance your stay. Some of them include:
Wifi access
Parking on site
24-hour front desk
Concierge services
Onsite restaurant and bar
Live entertainment
Meeting facilities
The cost of your stay at this casino will depend on the type of room you choose and any additional amenities you want. Room rates vary from $99-$119 per night, with lower prices for extended stays.
Check-in time at Bad River Lodge & Casino is 4:00 pm
Check-out time at Bad River Lodge & Casino is 11:00 am
Restaurants & Buffets
If you find yourself at this casino in Wisconsin, you won't want to miss out on the dining experience at the Manomin Restaurant. Despite the remote location, the food at Manomin will surely impress.
From burgers to steaks, seafood to pasta, their menu has something for everyone. Don't overlook their desserts, either; many visitors rave about their homemade pies and cakes.
The friendly staff will make you feel right at home and are always willing to offer suggestions or answer any questions. Add Manomin to your list of must-visit restaurants in this casino!
Pools
While this casino has no swimming pools on-site, there are still plenty of opportunities to enjoy the great outdoors in the area. With Lake Superior just a short drive away, visitors can dip in the refreshing water or lounge on the sandy beaches.
Additionally, the nearby Chequamegon National Forest offers numerous bodies of water for swimming and other water activities, such as fishing and canoeing. The friendly staff at this casino are happy to provide recommendations and insider tips to help guests maximize their stay.
Bad River Lodge & Casino, Ashland, WI FAQ
Does Bad River Lodge & Casino Have A Sportsbook?
No, there is no sportsbook at this casino. However, with so many other exciting amenities and activities, guests won't miss out on the excitement of sports betting. Additionally, there are plenty of nearby casinos in Wisconsin that do offer sportsbook services if you're looking to place a bet.
Is Poker Available At Bad River Lodge & Casino?
Yes, this casino offers poker rooms with various games and stakes. Whether you're a beginner or an experienced player, there's something for everyone. The tables also feature daily tournaments and promotions to make your experience more enjoyable.
What Are The Age Requirements For Gambling At Bad River Lodge & Casino?
At this casino, guests must be at least 21 years old to gamble. Guests under 21 are not allowed in the casino gaming areas, and those under 18 must be accompanied by an adult. Additionally, proof of age is required for all customers upon check-in.
Does Bad River Lodge & Casino Have An Online Casino?
No, this casino does not currently offer an online casino. You must visit the physical location to enjoy their games and amenities. From slots to poker, there's something for everyone at this casino.
Is There An Bad River Lodge & Casino App?
No, there is no official app for this casino. However, the casino does have a mobile-friendly website that allows customers to access information about their services and amenities. They also have social media accounts where users can follow updates and stay in the loop.
What Is The Dress Code At Bad River Lodge & Casino?
The dress code at this casino is casual. However, it is recommended to dress in comfortable clothing and shoes as you walk around the casino floor. For those wishing to visit the on-site restaurants, please note that guests must wear shirts with sleeves and footwear at all times.
Is There An Airport Shuttle Available From Bad River Lodge & Casino?
No, there is no airport shuttle service from this casino. However, guests can take advantage of the taxi and rideshare services available in the area. The friendly staff at the casino will be more than happy to provide directions or assistance with booking a ride.
What Is The Smoking Policy At Bad River Lodge & Casino?
The casino and lodge are 100% non-smoking. There are designated areas outside of the building for smoking, so please be sure to follow all rules and regulations. For those wishing to enjoy a cigar or cigarette, there is a tobacco shop on the property that offers a variety of products.
What Is The Pet Policy At Bad River Lodge & Casino?
Sadly, this casino does not allow pets. However, service animals are permitted and must be registered with the front desk. The casino also recommends contacting local pet boarding centers in case you wish to bring a pet on your visit.
Is Wifi Available At Bad River Lodge & Casino?
Yes, wifi access is available for all guests at this casino. Their wifi connection is secure and fast, allowing you to make the most out of your stay. For further assistance, the friendly staff at the casino will be more than happy to help with any issues or questions you may have.
What Is The Cancellation Policy For Bad River Lodge & Casino?
This casino has a 24-hour cancellation policy. If you cancel within 24 hours of your check-in date, you will not be charged for the first night's stay. After that, any additional nights will be forfeited, and no refund is available.
Conclusion
Overall, this casino is a great place to stay and gamble. With plenty of gaming options, entertainment amenities, and convenience services, you'll find everything you need for an enjoyable trip.
Whether you're looking for a quick getaway or a long stay, this casino has something for everyone. Be sure to review their policies before booking and enjoy your stay.