Grindstone Creek Casino Hayward
Address: 13394 W Trepania Rd, Hayward, WI 54843
Phone Number: +1 715-634-2430
Website: www.sevenwindscasino.com/grindstone-creek-casino/
Hours: Grindstone Creek Casino is open Wednesday 12 – 8 PM, Thursday 12 – 8 PM, Friday 12 – 8 PM, Saturday 12 – 8 PM, Sunday 12 – 8 PM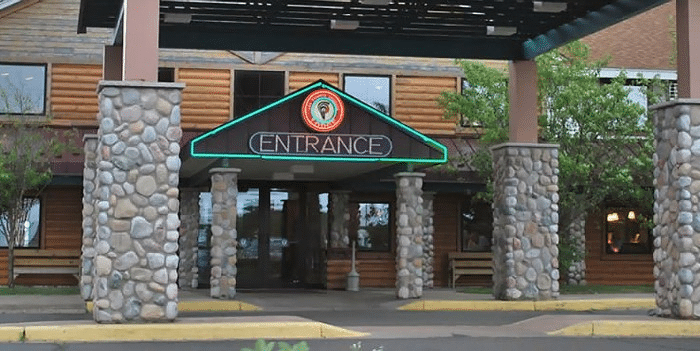 Grindstone Creek Casino has been a staple in the Hayward area since its opening. However, when the coronavirus pandemic hit, the casino was forced to close its doors and suspend operations.
Today, it is now located inside the LCO commercial district and is still operated by the Lac Courte Oreilles Band of the Lake Superior Chippewa tribe. Their gaming floor consists of multiple slot and video poker machines.
They also have a brand new cafe for guests to enjoy, along with a bar & lounge and special events center. All of the casino's gaming machines are connected to a wide area progressive jackpot system.
Whether you are a local or just visiting the Hayward area, this casino is where to go for exciting gaming and fun. With so much to offer, this casino will keep you entertained for hours.
According to several guest reviews, this casino has been given an overall rating of 4.5 out of 5 stars. One guest said, "The staff was very friendly, and the gaming floor was clean. The cafe was great, too, with delicious food and drinks."
Another guest said, "The casino was great. Lots of action and the machines were working perfectly. The bar & lounge had a nice atmosphere too."
(Related reading: Wisconsin casinos)
Gaming
The gaming floor features classic slots, video poker and a progressive jackpot system. They also offer exciting promotions and giveaways throughout the week.
Table Games
While this casino may not have an extensive selection of table games, they offer plenty of entertainment from their vast array of slot machines to keep guests entertained.
The casino floor is lively and exciting, with slot machines offering various themes and denominations to play. Whether you're a seasoned gambler or a first-time visitor, you will surely find something that piques your interest
Slots
This casino in Wisconsin has a variety of popular slot machines that are sure to excite any gambler. One fan favorite is Colossal Wizards, which features stunning graphics and a unique bonus round.
Another must-try is Li'l Red, a classic fairytale-themed game with the potential for big wins. For those who enjoy ancient history, Spartacus Gladiator of Rome captures the essence of the gladiatorial games with its thrilling features.
Forbidden Dragons bring a fiery, mystical element to the casino floor, while Queen of the Wild II immerses players in a jungle adventure. And if you're seeking something different, check out Lazer Lock Ice Sapphire, a futuristic game with a frozen twist.
Even though this casino does not offer any information about the slot machine payback percentage, the law requires it to be at least 80%. This means that, on average, for every $100 wagered, the player can expect to win at least $80 in return.
Hotel/Resort
If you're planning a visit to this casino in Wisconsin and need a place to stay, don't worry. Although there isn't a hotel directly attached to the casino, there are several nearby options to choose from.
If you want to stay close to the action, the Sevenwinds Casino, Lodge & Conference Center is a great choice. Or perhaps you're seeking a waterfront retreat, in which case the Legendary Waters Resort & Casino might be the perfect fit.
For those wanting a bit more space or traveling with a larger group, the Comfort Suites Johnson Creek Conference Center is a great option. No matter which nearby hotel you choose, rest assured that you'll enjoy your time here and in the comfort of a nearby hotel to rest and recharge.
Restaurants & Buffets
If you find yourself at this casino, you won't be disappointed by the selection of dining options. In particular, the café offers classic American cuisine that satisfies any cravings. With a friendly atmosphere and helpful staff, you'll feel at home while sitting down to enjoy your meal.
From juicy burgers to crispy fries, the café has something for everyone. So next time you're looking for a bite to eat at this casino, look no further than the delicious offerings of the café.
Pools
While this casino in Wisconsin may not have any swimming pools on-site, there are still plenty of ways to cool off and enjoy the beautiful outdoors during your stay.
The casino is near several lakes and rivers, making it a great destination for fishing, boating, and other water-based activities. Additionally, there are plenty of hiking and biking trails nearby that will take you through the lush scenery of the surrounding forests.
Whether you prefer to spend your time on the water or land, there are plenty of options and opportunities to create memorable experiences during your visit to this casino.
Grindstone Creek Casino, Hayward, WI FAQ
Does Grindstone Creek Casino Have A Sportsbook?
No, this casino in Wisconsin does not offer sports betting. However, they offer a wide array of slots and video poker machines. Plus, with numerous promotions and rewards, players can enjoy a range of other exciting gaming options.
Is Poker Available At Grindstone Creek?
No, this casino does not offer poker games. However, there are plenty of other options, such as slots and video poker machines, for players to enjoy. This casino offers several promotions and rewards that make the gaming experience even more exciting.
What Are The Age Requirements For Gambling At Grindstone Creek Casino?
The legal gambling age at this casino is 21 years or older. Guests under the age of 21 are not allowed to enter the gaming floor, and anyone suspected of being underage will be asked for a valid form of photo identification.
Does Grindstone Creek Casino Have An Online Casino?
No, they do not have an online casino. Guests will need to visit their physical location to take part in any of their gaming activities. For those who can't make it to the casino, there are plenty of other online casinos available for players to enjoy from the comfort of home.
Is There An Grindstone Creek Casino App?
No, there is no official app associated with this casino. However, you can stay up-to-date with their promotions and events by following their social media accounts or visiting their website regularly.
What Is The Dress Code At Grindstone Creek Casino?
There is no formal dress code at this casino, but they ask that all guests maintain an appropriate level of attire while on their premises. For example, swimwear and offensive clothing are not allowed. Additionally, masks or bandanas must be worn in certain areas of the property.
Is There An Airport Shuttle Available From Grindstone Creek?
No, they do not offer an airport shuttle service. However, several transportation services in the area can provide guests a ride to and from the casino. There are also ridesharing apps like Uber and Lyft that can be used to get to the casino.
What Is The Smoking Policy At Grindstone Creek Casino?
Smoking is not permitted inside the casino, but there are designated smoking areas outside of the building. In addition, all guests are expected to be respectful and considerate of those around them when smoking in public areas.
What Is The Pet Policy At Grindstone Creek Casino?
Sadly, pets are not allowed at this casino. However, service animals are welcome on the premises and must be controlled at all times. Guests with pets should make alternate arrangements for their furry companions while visiting the casino.
Is Wifi Available At Grindstone Creek?
Unfortunately, guests might need to bring their wifi source as this casino might not have free wifi available. However, since the property is located within the LCO commercial district, there might be public wifi available in the vicinity.
What Is The Cancellation Policy For Grindstone Creek Casino?
Since no hotel is attached to the casino, there is no specific cancellation policy. However, it's always best to check with their customer service team for any last-minute changes or cancellations for events or promotions.
Conclusion
This casino offers a wide range of gaming options for guests to enjoy, from slots and video poker machines to promotions and rewards. Although there is no official app for the casino, guests can stay in touch with their latest events through their website or social media accounts.
So if you happen to be in the area and looking for a fun and exciting gaming experience, Grindstone Creek Casino is the perfect destination. Just remember to stay mindful of their age requirements and dress code while onsite. With that in mind, you'll surely have an amazing time!