Ho-Chunk Gaming Madison
Address: 4002 Evan Acres Rd, Madison, WI 53718
Phone Number: +1 608-223-9576
Website: www.ho-chunkgaming.com/madison/
Hours: Ho-Chunk Gaming Madison is open Monday 8 AM – 2 AM, Tuesday 8 AM – 2 AM, Wednesday 8 AM – 2 AM, Thursday 8 AM – 2 AM, Friday 8 AM – 12 AM, Saturday Open 24 hours, Sunday Open 24 hours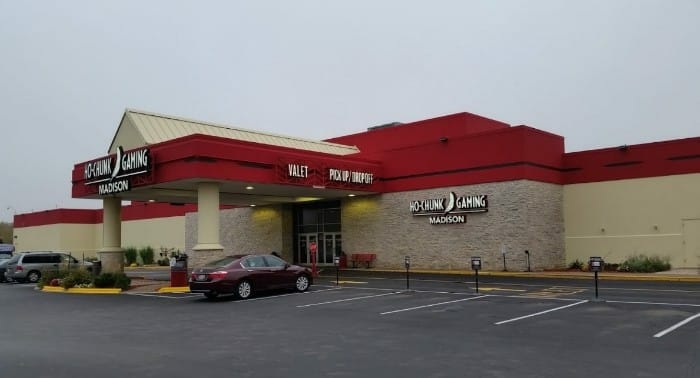 Ho-Chunk Gaming Madison is a gambling facility owned and operated by the Ho-Chunk Nation. The casino opened for business with a limited selection of slot machines and video poker games and has expanded ever since.
Over the years, this casino in Madison has become one of the most popular casinos in Wisconsin, offering a wide variety of games, including slots, video poker and keno.
In addition to gaming, the casino also offers onsite dining through a cafe, restaurant, and bar. Live entertainment is also available at the casino, and there are often special promotions or events held throughout the year.
This casino has become a popular destination for visitors to Wisconsin and continues to be a leader in providing great gaming opportunities and experiences for its guests. Whether you're looking for fun and entertainment or a great place to gamble, they have something for everyone.
On several major review websites, including Yelp and Trip Advisor, this casino has consistently been rated 4.5 out of 5 stars. One guest commented, "This place is great. The staff is friendly, the slots are fun, and the atmosphere is good."
Another reviewer wrote, "I love this place. The staff is very friendly and helpful. I always have a great time when I'm here. And their food is really good too!"
(Related reading: Wisconsin casinos)
Gaming
Their gaming space includes slots, video poker, and keno machines. They offer a wide selection of games constantly updated with the latest offerings.
Table Games
While this casino is known for its impressive selection of slot machines, unfortunately, they do not offer any traditional table games. However, don't let that discourage you from visiting this popular entertainment destination.
With over 1,300 electronic gaming machines, including video poker and reels, there is still plenty of excitement and fun. Their friendly staff is always available to answer questions and make your gaming experience enjoyable.
Slots
If you're searching for exciting slot machines in the Madison area, this casino has plenty of popular options. The King Of Africa slot machine brings the thrill of the safari with exciting symbols and bonus rounds.
For a mystical experience, try the Colossal Wizards game, filled with magical creatures and powerful features. For a classic tale with an updated twist, check out the Li'l Red slot machine, where the big bad wolf can lead to big wins.
The Crazy Money Deluxe game offers a unique experience with its interactive bonus round and cash-grabbing opportunities. History buffs will enjoy the Spartacus Gladiator of Rome, featuring symbols from the Roman empire and exciting gladiator battles.
Forbidden Dragons, Wild Fury Jackpots, Queen of the Wild II, Lazer Lock Ice Sapphire, and Betti the Yetti are just a few more popular slot machines available at this casino.
This casino promises a high payout percentage on its slot machines. Slots pay an average of 95%, significantly higher than the industry average. This means you have a better chance to win more often when playing slots at this casino.
Hotel/Resort
If you plan to visit this casino, you might wonder where to stay. While there is no hotel directly attached to the casino property, there are several nearby options that are worth considering.
The Magnuson Grand Madison offers spacious rooms and a convenient location just a short drive from the casino. The Grand Hotel Madison, located in the heart of downtown, offers luxurious accommodations and easy access to Madison's many attractions.
And for travelers on a budget, the Valued Stay Madison is a great choice, with clean and comfortable rooms at an affordable price. No matter which hotel you choose, you will surely enjoy your stay in Madison.
Restaurants & Buffets
Although they do not have any buffet offerings, the casino does have a casual dining option on site. If you find yourself at this casino, you won't want to miss trying out Hahnee Goottay.
This restaurant has been a popular spot for visitors and locals, offering a unique and authentic dining experience. The menu features a selection of traditional dishes that will tantalize your taste buds, including wild rice soup, grilled bison burger, and venison stew.
You'll also find some classic American dishes and vegetarian options. The friendly staff and welcoming atmosphere make this restaurant a great place to grab a bite to eat while you're enjoying all the other offerings at this casino.
Pools
Although this casino is known for its exciting casino and gaming options, unfortunately, there are no swimming pools available on the property. However, the friendly staff at this casino is always on hand to provide helpful suggestions on local pools and water parks in the area.
With their vast knowledge of the surrounding neighborhoods and attractions, they can point you in the right direction for a refreshing and fun-filled day out. So, don't hesitate to ask for their recommendations and maximize your stay in Madison.
Ho-Chunk Gaming Madison, WI FAQ
Does Ho-Chunk Gaming Madison Have A Sportsbook?
No, they do not have a sportsbook. However, this casino does offer many other gaming options, such as slots, video poker, and keno. Plus, they have a casual dining restaurant and can provide helpful information on local pools and water parks.
Is Poker Available At Ho-Chunk Madison?
Unfortunately, there are no live poker tables available at this casino. However, this casino does offer video poker machines, so you can still play your favorite card game. Additionally, there are many other gaming options, such as slots and video keno.
What Are The Age Requirements For Gambling At Ho-Chunk Gaming Madison?
The minimum age for gambling at this casino in Madison is 18 years old. This rule applies to all casino games, such as slots, video poker, and keno. Players must provide valid government identification when entering the casino floor for proof of age.
Does Ho-Chunk Gaming Madison Have An Online Casino?
No, they do not currently have an online casino. This casino is a land-based casino that only offers gaming on its physical property. Players can visit the casino in person to participate in slots, video poker, and keno games.
Is There An Ho-Chunk Gaming Madison App?
No, this casino does not have an app. However, their official website is mobile-friendly and offers all the information you need if you plan on visiting the casino.
Additionally, they provide easy access to their calendar of events and promotions, plus helpful information about local attractions in Madison.
What Is The Dress Code At Ho-Chunk Madison?
The dress code at this casino is casual. However, it's always a good idea to dress clean and presentable when visiting the casino. This will help ensure all visitors have an enjoyable experience there.
Is There An Airport Shuttle Available From Ho-Chunk Gaming Madison?
No, they do not offer any airport shuttle services. However, they can provide helpful information on the local taxi and ride-sharing services in Madison. Additionally, there are various parking options available onsite at this casino.
What Is The Smoking Policy At Ho-Chunk Gaming Madison?
The casino strictly enforces its smoking policy. Smoking is only allowed in specific areas of the property designated for that purpose and not inside any gaming areas. Furthermore, smoking areas are off-limits to children under 18.
What Is The Pet Policy At Ho-Chunk Gaming Madison?
Sadly, no pets are allowed on the premises. They ask that all visitors leave their beloved companions at home and enjoy their time in a pet-free environment.
Service animals are allowed, provided they have the appropriate documentation. All visitors with service animals must provide proof of their animal registration and certification when entering the casino. This policy is strictly enforced for the safety of all guests.
Is Wifi Available At Ho-Chunk Gaming Madison?
Yes, free WiFi is available at this casino. Just ask a staff member for the access code, and you're good to go. Plus, there are plenty of other amenities, such as complimentary coffee and soft drinks, in the lobby. So, you'll be able to enjoy your stay here with all the modern conveniences.
What Is The Cancellation Policy For Ho-Chunk Gaming Madison?
Since no hotel is attached to this casino, there is no cancellation policy. However, if you have a reservation for a special event, it's always best to contact the casino directly for more information about their cancellation policies.
Conclusion
This casino is a great destination for anyone looking to enjoy casino gaming. They offer many gaming options, such as slots, video poker and keno machines.
And if you want to take a break from gaming, they also have a variety of other amenities, such as free WiFi and complimentary coffee.
Plus, there's plenty to do in Madison, so you can make the most of your visit while staying at Ho-Chunk Gaming Madison. So what are you waiting for? Visit this casino today and enjoy all it has to offer.