Ho-Chunk Gaming Tomah
Address: 27867 WI-21, Tomah, WI 54660
Phone Number: +1 866-880-9822
Website: www.ho-chunkgaming.com/tomah/
Hours: Ho-Chunk Gaming Tomah is open Wednesday 9 AM – 12 AM, Thursday 9 AM – 12 AM, Friday 9 AM – 12 AM, Saturday 9 AM – 12 AM, Sunday 9 AM – 12 AM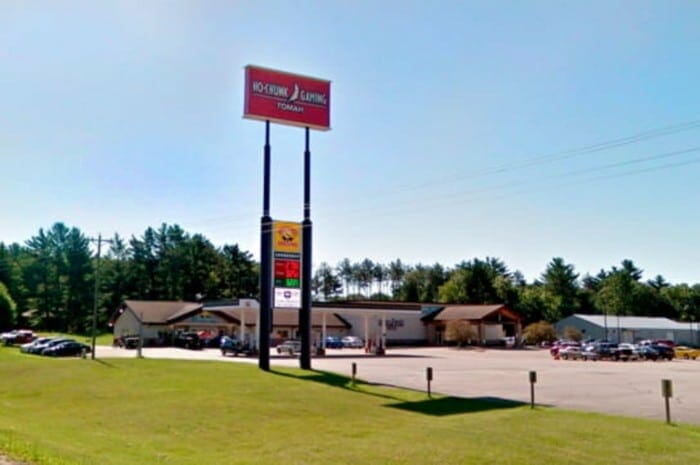 Ho-Chunk Gaming Tomah was formerly known as the Whitetail Crossing Casino. In 2010, Ho-Chunk Nation changed the name to reflect its ownership better and more accurately describe the gaming offerings and amenities offered at this location.
This casino mainly offers slot and video poker machines, ranging from traditional reel-style slots to some of the newest and most popular video poker games. Even though they do not have any table games, they make up for it in other areas.
They also have a convenience store where you can pick up snacks, drinks and other items when needed. Whether you are playing slots or just want to take a break from the gaming floor, this casino offers plenty of ways to relax and enjoy yourself.
On average, this casino is rated 4 stars on various online review sites. One guest shared, "The slots are fun, the staff is friendly and attentive, and the place was clean. I would definitely recommend it to anyone looking for a fun time."
Another guest said, "It's a great place to go and play slots and just have fun. The staff is friendly and helpful. I will definitely be coming back here again."
(Related reading: Wisconsin casinos)
Gaming
Their gaming space includes slot machines, as well as video poker games. Guests can also take advantage of a variety of promotions and rewards programs.
Table Games
Although this casino is a hub for endless entertainment, table games are not currently offered here. However, the casino boasts an impressive collection of slot machines. From classic favorites to the latest releases, there are games to cater to every taste and preference.
Whether you are a seasoned player or just starting, the friendly and attentive staff are always on hand to ensure an enjoyable gaming experience.
Slots
If you're looking for some exciting slot machine action at this casino, there are a few popular options you won't want to miss. First up is Colossal Wizards, which features an oversized reel set and plenty of mystical creatures to match the theme.
Li'l Red is another popular choice, based on the beloved fairy tale and featuring free spins and multipliers to keep things interesting. Spartacus Gladiator of Rome is perfect for history buffs, with symbols representing the famous gladiator and other Roman icons.
Forbidden Dragons have an Asian-inspired theme and offer a unique 5×4 and 5×12 reel layout. Queen of the Wild II is another nature-themed slot with stunning graphics and a jungle-inspired soundtrack.
Finally, Lazer Lock Ice Sapphire is the perfect choice for sci-fi fans looking for exciting bonus features and a futuristic atmosphere.
As per Wisconsin state law, this casino must keep its slot machines and video poker games at a minimum payback rate of 80%. This means players have an average return on their wagers of some degree. The exact payout percentage for each game is not available information.
Hotel/Resort
If you're planning a visit to this casino, consider your lodging options. While there isn't a hotel attached to the property, there are several nearby options available to choose from.
The Microtel Inn & Suites, Hampton Inn, Best Western, and AmericInn Lodge & Suites are all great choices that offer comfortable accommodations and a variety of amenities. Whether traveling solo or with a group, you will find a hotel that suits your needs and budget.
Don't hesitate to ask their staff for recommendations or guidance as you book – they're always happy to help make your visit to the casino as enjoyable and stress-free as possible.
Restaurants & Buffets
If you're looking for a delicious meal at this casino, you won't find a restaurant or buffet. However, they have a well-stocked convenience store that offers a variety of items, including snacks, beverages, and pre-packaged meals.
Whether between gaming sessions or looking for a quick bite, their convenience store is a great option. With friendly staff and helpful service, you will surely find something satisfying to eat.
Pools
While this casino offers a wide range of exciting activities and amenities, including a top-notch casino, delicious dining options, and cozy hotel rooms, unfortunately, they do not have any swimming pools onsite.
While this may be disappointing news for some, fear not – plenty of other things to do in and around Tomah to cool off during the hot summer months.
From local lakes and rivers perfect for swimming and boating to nearby water parks and splash pads, their friendly staff can point you in the right direction to beat the heat and make the most of your stay.
Ho-Chunk Gaming Tomah, WI FAQ
Does Ho-Chunk Gaming Tomah Have A Sportsbook?
No, they do not have a sportsbook onsite. However, they offer many other gaming options, including slots, video poker, and more. Additionally, they have an onsite convenience store and friendly staff to help you find nearby sportsbooks if you want sports betting action in the area.
Is Poker Available At Ho-Chunk Gaming?
Live poker is not available at this casino. However, the casino does offer video poker machines with a variety of games and denominations to suit your budget and gaming style. Video poker is great for those looking for the thrill without facing other players.
What Are The Age Requirements For Gambling At Ho-Chunk Gaming Tomah?
At this casino, all guests must be at least 21 years of age to gamble. Guests under the age of 18 are allowed on the property but are not permitted in any gaming areas. Additionally, anyone under 21 must be accompanied by an adult over 25.
Does Ho-Chunk Gaming Tomah Have An Online Casino?
No, this casino does not have an online casino. However, they do offer a variety of traditional gaming options onsite, including slots, video poker, and more. Additionally, several other online casinos in the state may offer what you're looking for.
Is There An Ho-Chunk Gaming App?
No, this casino does not have an app available at this time. Guests may only experience their gaming options onsite, and with so many offerings, there's something for everyone. From slots and video poker to convenience store snacks and friendly staff, you won't miss out on any action.
What Is The Dress Code At Ho-Chunk Gaming Tomah?
There is no strict dress code at this casino. Guests are encouraged to wear comfortable clothing appropriate for the weather, but jeans, shorts, and other casual attire are accepted. However, they do not allow swimwear or any clothing items with explicit language or graphics on them.
Is There An Airport Shuttle Available From Ho-Chunk?
No, there is no airport shuttle available from this casino. However, they do offer free parking on-site and are located near several airports. Guests may always look into renting a car or arranging for a taxi ride if necessary.
What Is The Smoking Policy At Ho-Chunk Gaming Tomah?
This casino is a non-smoking facility, meaning all smoking is prohibited in any gaming area or near the entrance. Guests are asked to go outside of the building for their smoking needs. Additionally, vaping and e-cigarettes are not permitted either.
What Is The Pet Policy At Ho-Chunk Tomah?
Sadly, this casino does not allow any pets on the premises. This includes both the gaming areas and the hotel rooms. However, service animals are permitted for those with disabilities or special needs.
Is Wifi Available At Ho-Chunk?
Guests might need to bring their own wifi devices to the casino, as there is no free wifi available on-site. However, they do offer a variety of gaming options that can be enjoyed without an internet connection.
What Is The Cancellation Policy For Ho-Chunk Gaming Tomah?
Cancellation policies do not apply for this casino as no hotel is on-site. However, for any special events or rooms booked through the casino, it is best to contact them directly to discuss cancellations.
Conclusion
This casino is a great option for gaming action without traveling too far. They offer a variety of games and options, from slots and video poker to convenience store snacks and friendly staff.
Make sure to abide by their age requirements, dress code, and smoking policy for a comfortable experience. Start packing now and enjoy a memorable gaming trip at Ho-Chunk Gaming Tomah!