Ho-Chunk Gaming Wittenberg
Address: N7198 US-45, Wittenberg, WI 54499
Phone Number: +1 715-253-4400
Website: www.ho-chunkgaming.com/wittenberg/
Hours: Ho-Chunk Gaming Wittenberg is open Monday 8 AM – 2 AM, Tuesday 8 AM – 2 AM, Wednesday 8 AM – 2 AM, Thursday 8 AM – 2 AM, Friday 8 AM – 4 AM, Saturday 8 AM – 4 AM, Sunday 8 AM – 2 AM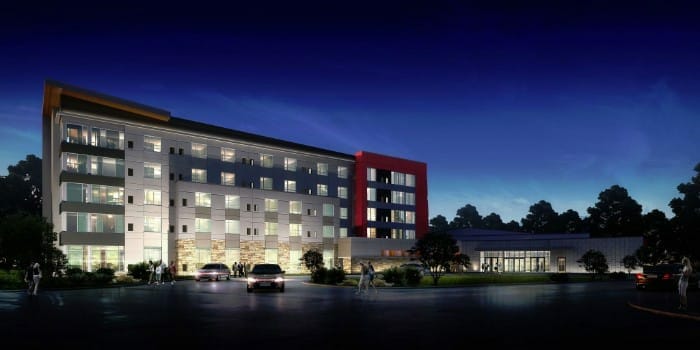 Ho-Chunk Gaming Wittenberg has been providing guests with the best in gaming and entertainment since 2008. The facility is owned and operated by the Ho-Chunk Nation of Wisconsin, making it a unique destination for both locals and visitors alike.
Their gaming space features over 500 slot machines, along with electronic gaming machines for Blackjack, Roulette, Craps and more. And with several promotions and special offers at all times, there is always something fun to do.
Additionally, the facility also offers lodging in their hotel, with over 70 rooms and suites. Guests can also enjoy several dining options at the facility, including a full-service restaurant and several snack bars.
For entertainment, the facility hosts various events throughout the year, including live music, comedians and other performances. And with a large event center, they also hold special functions like weddings and corporate meetings.
Whether you're looking for a great night of gaming or an event to remember, this casino will surely provide the best entertainment.
Most guests give the facility an average of 4 stars out of 5. One guest said, "I've been to the casino several times, and it's always been a great experience. The staff is friendly and accommodating, the games are enjoyable, and the food is good."
Another said, "The overall layout of this casino was beautiful. There were plenty of different gaming options with lots of promotions going on. The restaurants had a great variety too. The staff was really friendly and helpful."
(Related reading: Wisconsin casinos)
Gaming
Their casino floor offers over 500 slot machines, with games ranging from classic reel slots to the latest and greatest video slots. They also have electronic gaming machines for Blackjack, Roulette and more.
Table Games
Looking to play some exciting table games at this casino? Unfortunately, you won't find traditional table games like blackjack or poker at this location. However, don't let that discourage you from having a great time.
With over 500 state-of-the-art slot machines and electronic gaming tables, there's something for every type of player. The friendly staff and comfortable environment make it a top spot for gaming enthusiasts looking to strike it big.
Slots
If you're looking for exciting slot machines to play at this casino, you're in luck. There are plenty of popular options to choose from that are sure to keep you entertained. Rakin' Bacon is a fun and quirky machine that features dancing pigs and lots of bonus features.
For those who love mythical creatures, Colossal Wizards is a great choice with its magical imagery and big payouts. Li'l Red is a classic fairytale-themed slot with free spins and expanding wilds, while Dragon Link takes you on an adventure to collect pearls for even bigger rewards.
Spartacus Gladiator of Rome lets you spin for glory with a Colossal Reels feature and expanding wilds, while Forbidden Dragons offer a fiery twist with a unique Reel Blast feature. Queen of the Wild II is a visually stunning jungle-themed game with stacked symbols and bonus rounds.
For those looking for something extra fancy, Lazer Lock Ice Sapphire is a shiny and sparkly machine with a futuristic feel.
This casino abides by Wisconsin gaming regulations and offers its slot machines in accordance with the State of Wisconsin's legal requirement. According to the law, all slot machines must have a minimum payout of 80%.
Hotel/Resort
The casino also has a hotel and resort, offering over 70 rooms and suites perfect for staying the night. The hotel features all the amenities you'd expect, including free Wi-Fi, flat-screen TVs, and coffeemakers in each room.
Room types include:
Standard Rooms – features one king or two queen beds
Bay Suites – features one king bed, a living area, a kitchenette, a waterfall shower and a bathtub
Additionally, guests of this casino can enjoy a wide range of amenities, such as:
Wifi access
Parking on site
24-hour front desk
Concierge services
Onsite dining options
Live entertainment and shows
ADA amenities
Shuttle service
Banquet facilities
This casino hotel offers competitive rates and packages that make staying here affordable. The standard room rate starts at $99 per night, while the bay suites start at $129 per night.
Check-in time at Ho-Chunk Gaming Wittenberg is 4:00 pm
Check-out time at Ho-Chunk Gaming Wittenberg is 11:00 am
Restaurants & Buffets
Even though they currently do not have any buffet-style restaurants, they offer plenty of dining options. Guests can enjoy a variety of dishes from the eateries located onsite.
For a snack or light meal, head to the Forest Lodge Snack Bar, which serves tasty hot dogs, nachos, and other quick bites.
River's Edge offers a more upscale menu, with seafood and steak dinners that are sure to impress, while the cozy Village Bar is the perfect spot to grab a drink and some comfort food after a long day at the slots.
So whether you're looking for a quick bite, a romantic dinner, or just some drinks with friends – there's something to suit every taste at this casino.
Pools
While this casino offers a variety of amenities for visitors to enjoy, unfortunately, swimming pools are not currently available. However, there are still plenty of ways to cool off and have fun during your visit.
One option is to visit the on-site bar and try refreshing cocktails or cold drinks. Another is to take a break from the gaming floor and explore the surrounding area, which boasts beautiful lakes and rivers perfect for swimming and other water activities.
The helpful staff at this casino is always available for suggestions and assistance in planning your perfect visit.
Ho-Chunk Gaming Wittenberg, WI FAQ
Does Ho-Chunk Gaming Wittenberg Have A Sportsbook?
No, this casino does not currently have a sportsbook. Instead, the casino offers a variety of slot machines and other gaming options for visitors to enjoy. For more information on bets, odds, and payouts, please get in touch with the customer service team at this casino.
Is Poker Available At Ho-Chunk Gaming Wittenberg?
Only electronic poker is available at this casino. There are no live poker tables, but visitors can enjoy video-style poker machines with various winning options. The casino also hosts Texas Hold'em tournaments on select days and times.
What Are The Age Requirements For Gambling At Ho-Chunk Gaming Wittenberg?
To gamble at this casino, you must be 21 or older. If you're under 18, you must be with an adult all the time. People who haven't reached the legal gambling age will be prohibited from entering the gaming area or participating in any gaming activities.
Does Ho-Chunk Gaming Wittenberg Have An Online Casino?
No, they do not currently have an online casino. However, they do offer a variety of slot machines and other gaming options for visitors to enjoy at the physical location. With so many options, there is something for everyone at this casino.
Is There An Ho-Chunk Gaming Wittenberg App?
No, they do not have an app. However, they have a website with information about the gaming options, amenities and events at the casino. Their social media accounts are also regularly updated with announcements, promotions and special offers.
What Is The Dress Code At Ho-Chunk Gaming?
The dress code at this casino is casual. However, visitors should avoid wearing clothing with offensive images or slogans, as this will not be allowed on the premises. The staff reserves the right to ask anyone wearing inappropriate attire to leave the casino.
Is There An Airport Shuttle Available From Ho-Chunk Gaming Wittenberg?
This casino has a shuttle service, but it does not go to the airport. However, several taxi and rideshare services offer transportation to and from the casino. The staff can provide more information on these options if needed.
What Is The Smoking Policy At Ho-Chunk Gaming?
The property is 100% smoke-free. This includes cigarettes, cigars, pipes and e-cigarettes. Any visitor found smoking on the premises will be asked to leave the casino and may be subject to further disciplinary action.
There are designated smoking areas located outside the casino for smokers to use. These areas are clearly marked and away from entrances, exits and game areas.
What Is The Pet Policy At Ho-Chunk Gaming Wittenberg?
Currently, the casino does not allow pets on the premises. However, they do allow service animals with proper documentation. All service animals must be clearly marked and visibly identifiable and accompanied by the person they are assisting at all times.
Is Wifi Available At Ho-Chunk Gaming?
Yes, free wifi is available throughout the casino. Visitors can connect to the network and access the internet for free in any designated area. The staff is also happy to assist with any technical issues.
What Is The Cancellation Policy For Ho-Chunk Gaming Wittenberg?
Any cancellations must be made 48 hours before the scheduled arrival time. Otherwise, visitors will be charged a cancellation fee for one night's stay. The staff can provide more information on any additional policies or fees related to booking rooms.
Conclusion
Overall, this casino is a great place to visit for a night of fun and entertainment. With plenty of gaming options, great customer service and convenient amenities, it's no wonder why this casino has become so popular.
From delicious dining options to gaming tournaments, Ho-Chunk Gaming Wittenberg has something for everyone. Whether you're looking for a night of entertainment or just want to relax and unwind, this casino is the perfect destination.