Irene Moore Activity Center Green Bay
Address: 2100 Airport Drive, Green Bay, WI
Phone Number: 1.800.238.4263
Website: www.oneidacasino.net/locations/imac/
Hours: Irene Moore Activity Center is open Monday 8 AM – 12:30 AM, Tuesday 8 AM – 1 AM, Wednesday 8 AM – 1 AM, Thursday 8 AM – 1 AM, Friday 8 AM – 2 AM, Saturday 7:30 AM – 2:30 AM, Sunday 8 AM – 12:30 AM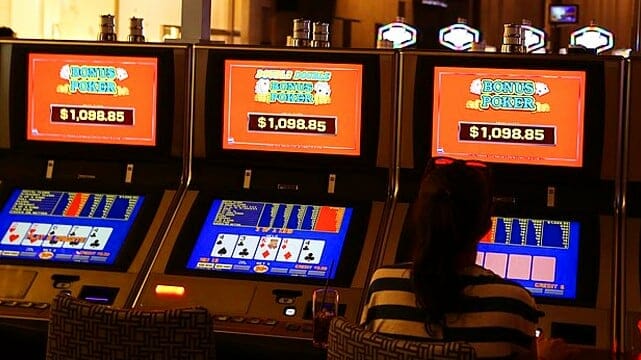 Irene Moore Activity Center is a part of Oneida Nation of Wisconsin. The property is situated inside the Oneida Casino in Green Bay, Wisconsin. Since its opening, the facility has been a popular destination for locals and tourists alike.
Their gambling floor offers classic and modern slot machines with various game titles. The casino also features a bingo hall and regular tournaments for patrons. They also have a player's club, which gives rewards for playing at the casino.
For guests looking for a place to eat, the gambling facility serves lunch and dinner from the bingo hall. Whether it's a quick bite or a full dinner, many options are available.
So if you find yourself in Green Bay, check out this gambling facility. With its wide range of gambling and dining options, it's a great place to spend some time and enjoy the local atmosphere.
On several review websites, guests of this casino have rated the facility with 4.6 stars out of 5 based on their experiences. One guest said, "This casino has been a great place to go to have some fun and win some money. The staff is friendly, and the games are enjoyable."
Another guest said, "The casino is clean, and the staff is friendly. The slot machines are updated regularly, so there's always something new to try out. There's also a great selection of food for those who want to grab a bite before or after playing."
(Related reading: Wisconsin casinos)
Gaming
Their gambling floor has classic and modern slot machines, video poker, bingo, tournaments, and a player's club.
Table Games
While this casino is a great destination for gaming enthusiasts, those looking for table games might have to look elsewhere. The center primarily focuses on slot machines, with various themes and styles available to play.
While some may be disappointed by the lack of traditional table games like poker, craps, or blackjack, the center's slot machines offer endless possibilities for entertainment and potential winnings.
Slots
Are you seeking the hottest and most popular slot machines at this casino in Wisconsin? Look no further, as their slot floor is always exciting, and they have a diverse lineup of machines.
With games like Colossal Wizards, Li'l Red, and Spartacus Gladiator of Rome, you will surely find something piques your interest. If you're feeling adventurous, try your luck on Forbidden Dragons or Queen of the Wild II.
And for those who love a little extra sparkle, don't miss out on Lazer Lock Ice Sapphire. With such various slot machines, you'll have endless hours of fun and plenty of chances to hit that big jackpot.
As per Wisconsin law, this casino should have a minimum payback percentage of 80%. This means that the casino has to return at least 80% of all money wagered on slot machines back to players as winnings.
Hotel/Resort
While no hotel is attached to this casino in Wisconsin, visitors need not worry about finding a comfortable place to stay nearby. Fortunately, there are a few hotels located just a stone's throw away, providing easy access to the activity center.
For those who prefer a cozy stay, the Country Inn & Suites provide all the amenities necessary to make your stay peaceful and relaxing.
Quality Inn and Cambria Hotel Appleton are also great options for those searching for comfort, convenience and excellent service during their visit to this casino.
Restaurants & Buffets
If you're looking for a spot to grab a meal in this casino, you're in luck. While there may not be a full-service restaurant or buffet, you can still enjoy tasty lunches and dinners in the bingo hall.
So whether you're stopping by for a quick bite or settling in for a longer game, you won't have to worry about going hungry. And if you're in the mood for something else, never fear – there are plenty of other great restaurants in the area that you can check out.
Pools
This casino is a fantastic community hub that offers various programs and events for people of all ages. While there may not be any swimming pools on-site, there are still plenty of ways to stay active and have fun.
The property is near various outdoor recreational spots, so if you're looking for a place to cool off and catch some sun, there's never a shortage of options.
Irene Moore Activity Center, Green Bay, WI FAQ
Does Irene Moore Activity Center Have A Sportsbook?
No, they do not have a sportsbook. However, they do offer various gaming options, such as slots and bingo, to enjoy. For those looking for more traditional betting experiences, many other casinos in Wisconsin may offer a sportsbook.
Is Poker Available At Irene Moore Activity Center?
Live poker is not available at this casino. However, the center offers various video poker machines with plenty of options. Additionally, there are plenty of other casinos in Wisconsin where you can enjoy traditional table games like poker.
What Are The Age Requirements For Gambling At Irene Moore Activity Center?
At this casino, patrons must be 21 years or older to participate. Minors are not allowed in the gaming areas and will be asked to leave if found there. Additionally, a valid government-issued ID is required for all visitors to gain entry into the casino.
Does Irene Moore Activity Center Have An Online Casino?
No, they do not have an online casino. Guests are welcome to enjoy the various gaming options available in-house only. Those looking for online casinos must look elsewhere, as this casino only offers a physical space for gambling.
Is There An Irene Moore Activity Center App?
No, they do not have an app available. However, they provide information on their website about upcoming events, gaming options and other details. Visitors can also follow the center on social media to stay up-to-date on promotions, special offers and more.
What Is The Dress Code At Irene Moore Activity Center?
The dress code at this gambling facility is relaxed, with no specific requirements. There is no need to dress up or wear a certain type of attire while visiting the casino. Comfortable clothing and footwear are recommended for an enjoyable experience.
Is There An Airport Shuttle Available From Irene Moore Activity Centre?
No, they do not offer an airport shuttle service. However, the casino is close to various transportation options, including car rentals, taxi services and public buses.
For those looking for a more convenient option, several hotels in the area provide complimentary shuttles to and from the local airports.
What Is The Smoking Policy At Irene Moore Activity Center?
This gambling facility does not allow smoking indoors due to local health regulations. However, there are designated outdoor areas for smokers to enjoy their cigarettes. Patrons must remain in these areas and outside the casino walls at all times while smoking.
What Is The Pet Policy At Irene Moore Activity Center?
Sadly, pets are not allowed inside the gambling floor. The casino does not provide pet-friendly services or amenities of any kind. Any visitors found to have brought along their furry friends will be asked to leave immediately.
Is Wifi Available At Irene Moore Activity Center?
Unfortunately, there is no wifi available at this casino. Guests can purchase data plans or use their mobile hotspots to stay connected while visiting the facility. Additionally, many of the nearby restaurants and hotels may offer complimentary wifi access as well.
What Is The Cancellation Policy For Irene Moore Activity Center?
Since there is no physical ticketing system or reservations required, this casino does not have a cancellation policy. Guests may come and go as they please, with no need to cancel beforehand. However, any special events or tournaments may require advance notice of cancellation.
Conclusion
Overall, this casino is a great place for gambling enthusiasts to enjoy their favorite games. The casino has many gaming options, including slots, video poker and more. Guests must meet the age requirement and abide by the dress code before entering.
So, if you're looking for a place to have some fun and get in on the action, Irene Moore Activity Center is definitely worth a visit. With these details in mind, you can surely have an enjoyable experience when visiting this casino.