Lake of the Torches Lac Du Flambeau
Address: 510 Old Abe Rd, Lac Du Flambeau, WI 54538
Phone Number: +1 715-588-7070
Website: www.lakeofthetorches.com
Hours: Lake of the Torches is open 24 hours a day, 7 days a week.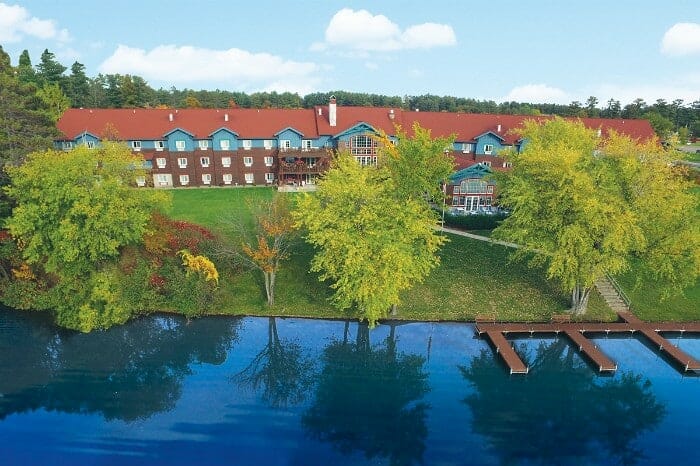 Lake of the Torches Resort Casino was established in 1996 by the Lac Du Flambeau Band of Lake Superior Chippewa Indians. It didn't take long for the casino, which featured slot machines and blackjack tables, to become a popular destination for visitors from all over Wisconsin and beyond.
Today, it is a premier entertainment destination in Northern Wisconsin, featuring more than 800 of the latest slot machines and blackjack and poker tables. With several promotions, giveaways, and events throughout the year, it's easy to see why this is a must-visit destination.
In addition to all the gaming options, it offers guests several onsite dining options. From traditional favorites like burgers and fries to signature dishes like slow-roasted prime rib and seafood, there is something to suit everyone's tastes.
They also offer accommodations for visitors who wish to stay overnight. The resort offers standard rooms and luxury suites in the adjoining hotel, making it an ideal spot for a weekend getaway or a longer vacation.
For entertainment, the casino offers a variety of live music and comedy shows. The schedule of events is constantly changing, so check the website before visiting for more information about upcoming performers.
So whether you're looking for a night out with friends or an entertaining weekend getaway, this casino has something for everyone.
According to customer reviews and ratings, guests rate this casino with an average of 4 out of 5 stars. One customer commented, "It has a nice selection of slots, and the staff was friendly. Highly recommend it for a fun night out."
Another customer commented, "The casino is well-maintained, and the staff is helpful and friendly. I had an enjoyable experience here and will definitely return in the future."
(Related reading: Wisconsin casinos)
Gaming
Their gaming space includes 800 slot machines, progressive slots and various popular video poker games. They also feature gaming tables, offering blackjack and poker.
Table Games
Whether you are a seasoned gambler or a first-time visitor to this casino in Wisconsin, you can enjoy various exciting table games. One of the most popular options is blackjack, a game of skill and chance that pits you against the dealer in a race to reach 21.
If you prefer a more social experience, you can join a lively poker game and try your luck at bluffing your opponents. With a range of betting options and friendly dealers, you will have a great time at this casino.
The minimum bet for most table games at this casino is $5. However, some of their more exclusive tables can require a higher minimum bet.
Slots
At this casino, you can find many popular slot and video poker machines. Some of their top-rated games include:
5 Dragon Grand
5 Frogs
5x Pay Lucky 7
Bars Vs 7's
Bier Haus 200
Catch A Kamillion
Celestial Moon Riches
Cherry Mischief
Diamond Solitaire Deluxe
Dragon Link
Enchanted Darkness
Enchanted Unicorn
Fortune Celebration
Fortune Of Atlantis
Fu Daole
Wild Ameri Coins
Wild And Crazy
Wolf Run
Wonder 4 Boost
Even though this casino does not disclose its actual slot machine payback percentage, Wisconsin requires all casinos to maintain a minimum payout of 80%. This means that, on average, you can expect to be paid out at least 80% of what you bet.
Hotel/Resort
This casino has an adjoining hotel for visitors who wish to stay overnight. It offers standard rooms and larger luxury suites, making it a great spot for a vacation or weekend getaway. Each room includes amenities such as a mini-fridge, microwave and high-speed wifi.
Some of their room types include:
Standard Two-Queen Beds – features two queen beds
Pokegama Suite – features one king bed, a sleeper sofa, a jetted tub and a view of the lake
Lakeside Deluxe – features two queen beds with a view of the lake
King With Deck – features one king bed, a recliner and a deck with a view of the lake
Choice King – features one king bed and a sleeper sofa
Additionally, this casino hotel offers a variety of amenities and services to make your stay comfortable. These include:
Wifi access
Parking on site
24-hour front desk
Laundry services
Business center with computers and printers
On-site restaurants and bars
Indoor pool and whirlpool
Live entertainment
A convention center
Fitness center
Banquet facilities
The cost to stay at the hotel varies depending on the room type, view, and season. Since they do not offer any information about pricing on their website, guests will need to call the hotel directly to inquire about current room rates.
Check-in time at Lake of the Torches is 4:00 pm
Check-out time at Lake of the Torches is 11:00 am
Restaurants & Buffets
Nestled in the heart of this casino are some amazing dining options, perfect for foodies everywhere. One of these dining options is The Eagle's Nest, which offers breakfast, lunch, and dinner buffets, with prices ranging from 7.50 to 19.95.
With a wide variety of foods on offer, there's something for everyone's tastes here. For those looking for something different, there's Woody's Bar & Grill, a unique spot where you can grab a delicious burger, some wings, or even a salad.
Additionally, the Dancing Waters Lounge is perfect for those looking for a more subdued vibe. No matter what you're looking for, this has a restaurant that will appeal to your senses.
Pools
If you're looking for a refreshing and relaxing swim, look no further than the indoor swimming pool at this casino. Whether visiting for business or pleasure, taking a dip in the pool is a great way to unwind and decompress.
It's the perfect activity for those rainy or chilly days when you want to stay indoors. Plus, the pool is a great option for families with children who need to burn off some energy.
Lake of the Torches, Lac Du Flambeau, WI FAQ
Does Lake of the Torches Have A Sportsbook?
No, they do not have a sportsbook at this time. They specialize in casino gaming and do not offer other gambling activities. If you are looking for a sportsbook, other casinos in Wisconsin may have one.
Is Poker Available At Lake of the Torches?
Yes, this casino offers poker on its gambling floor. The room has several tables and offers various tournaments with varying buy-in levels. Additionally, the casino has daily promotions and rewards for those who sign up to become members of its loyalty program.
What Are The Age Requirements For Gambling At Lake of the Torches?
This casino allows players over the age of 21 to gamble. All guests must present valid ID when entering the casino floor and may be asked for proof of age at any time.
Minors are not permitted on the gaming floor but may be allowed in certain areas, such as restaurants and gift shops, with an adult accompaniment.
Does Lake of the Torches Have An Online Casino?
Yes, they do offer an online casino. Players can access it through their website, where they can play various slots, table games, and video poker. They also have weekly promotions and bonuses available to players who sign up for the online casino.
Is There An Lake of the Torches App?
Yes, this casino has an app for iOS and Android devices. The app allows customers to access their loyalty rewards, check in on hotel reservations, and take advantage of exclusive offers and promotions.
What Is The Dress Code At Lake of the Torches?
The dress code at this casino is casual, but guests are advised to wear neat and appropriate clothing. Shirts must have sleeves, and no offensive graphics or language should be present on any clothing.
Is There An Airport Shuttle Available From Lake of the Torches?
No, they do not offer an airport shuttle service. However, there are several transportation options from nearby airports, including taxi and ride-sharing services. Additionally, some car rental companies offer shuttle services to and from the casino.
What Is The Smoking Policy At Lake of the Torches?
The casino has designated smoking areas that are clearly marked. Guests must remain within the designated area while smoking. Electronic cigarettes and vaping devices are not allowed inside the casino.
What Is The Pet Policy At Lake of the Torches?
Unfortunately, they do not allow pets in the casino. Service animals are allowed with valid documentation. Additionally, guests may board their pets at a nearby kennel or pet hotel while visiting the casino.
Is Wifi Available At Lake of the Torches?
Yes, free wireless internet is available throughout the casino. Guests can access it with their own devices or by using the computers located in the lobby. Additionally, guests can find a selection of free newspapers and magazines in the lobby.
What Is The Cancellation Policy For Lake of the Torches?
Guests must cancel their reservation at least 24 hours before the scheduled check-in time to receive a refund. Cancellations made after this time frame will be charged one night's stay and any taxes or fees associated with the reservation.
Conclusion
This casino offers a variety of gaming options and amenities for guests to enjoy. Whether you are looking for poker, slots, or other gaming activities, it will surely have something for everyone.
If you find yourself in Wisconsin and seeking a fun gaming experience, then be sure to check out Lake of the Torches. With its convenient location, great amenities, and friendly staff, this casino will surely provide an entertaining and enjoyable experience.