Legendary Waters Resort & Casino Bayfield
Address: 37600 Onigamiing Dr, Bayfield, WI 54814
Phone Number: +1 800-226-8478
Website: www.legendarywaters.com
Hours: Legendary Waters Resort & Casino is open Monday 8 AM – 12 AM, Tuesday 8 AM – 12 AM, Wednesday 8 AM – 12 AM, Thursday 8 AM – 12 AM, Friday 8 AM – 2 AM, Saturday 8 AM – 2 AM, Sunday 8 AM – 12 AM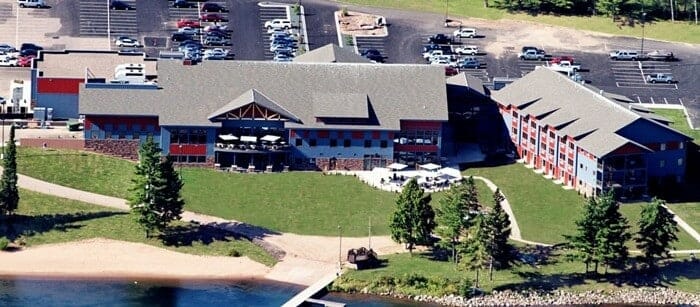 Legendary Waters Resort & Casino was built by the Red Cliff Band of Lake Superior Chippewa in 2011. Located on a stunningly beautiful peninsula at the mouth of Chequamegon Bay, this resort & casino offers top-notch entertainment and amenities.
The casino floor features over 300 slot machines ranging from classic games to the latest video poker and other electronic gaming options. And with so many promotions and bonuses, this casino is a great place to try your luck.
They also have a hotel onsite that offers 47 beautifully appointed rooms and suites. Each room has breathtaking lake views, a flat-screen television, free Wi-Fi access, and more.
The resort also features a restaurant that offers a delicious array of cuisine ranging from casual fare to fine dining. From burgers to seafood and everything in between, you can find something for everyone.
For entertainment, this casino has an amazing selection of shows and events. From live music to comedy acts and cabaret performances, there is something for everyone.
Whether you're looking for a fun night out or a weekend getaway, this casino is the place to be. With its amazing amenities and stunning views of Lake Superior, this casino resort will surely make your trip unforgettable.
On average, guests rate this casino with 4.5 stars out of 5. According to one guest, "The casino floor was clean and inviting, the food at the restaurant was excellent, and I had a great time overall. The staff was friendly and helpful in answering any questions we had."
Another guest said, "I absolutely loved staying at Legendary Waters Resort & Casino! Everything was perfect – from the rooms to the show, it felt like a little mini-vacation."
(Related reading: Wisconsin casinos)
Gaming
The gaming floor comprises over 300 slot machines, ranging from classic games to the latest video poker and electronic gaming options.
Table Games
If you're looking for a resort and casino that offers a variety of table games, unfortunately, this casino in Wisconsin won't be able to meet your needs. This report focuses mainly on slot machines and doesn't offer table games.
However, if you're a fan of slot machines, you won't be disappointed as they offer a wide range of options. The friendly staff will be more than happy to assist you and ensure you have a great experience.
Slots
If you're looking to try your luck at slot machines, this casino in Wisconsin has a great selection for you to choose from. One popular option is Colossal Wizards, which offers big paying symbols and exciting bonus features.
Li'l Red is another crowd-pleaser, based on the fairy tale of Red Riding Hood with its expanding reels and the chance to win up to 500 free spins. For those who like ancient Rome and gladiators, Spartacus Gladiator of Rome is the go-to game with 5×4 and 5×12 reel sets.
Forbidden Dragons, an Asian-themed game with dramatic music and animation, offers a unique "Reel Surge" feature where a sixth reel appears to increase your chances of winning.
If you're looking for something more nature-focused, Queen of the Wild II offers a jungle setting with stacked symbols and a free spins bonus. Lastly, Lazer Lock Ice Sapphire is a newer addition to the casino that offers a modern, futuristic feel with its neon graphics and multipliers.
The payback percentage for slot machines at this casino is not publicly available. However, the law in Wisconsin sets a minimum payback percentage of 80%. This is the same across all casinos and gaming centers in the state.
Hotel/Resort
In addition to gaming, this casino also provides guests with a hotel onsite. The resort has 47 beautifully appointed rooms and suites, each featuring breathtaking lake views, flat-screen televisions with cable channels, free Wi-Fi access, and more.
Room types include:
Deluxe Room – features one king or two queen beds
King Suite – features one king bed, a whirlpool and a view of the lake
Premier Suite – features two bedrooms, a fireplace, a whirlpool, and a kitchenette
Additionally, this casino offers a range of amenities to ensure your stay is truly memorable. Guests can make use of the following:
Wifi access
Parking on site
24-hour front desk
Meeting facilities
Spa, sauna and hot tubs
Onsite restaurant
Live entertainment and shows
A campground
Room rates at this casino and resort vary depending on the room type, season, and availability. Prices generally start from $109 per night. Guests can also take advantage of special offers and discounts when they book in advance.
Check-in time at Legendary Waters is 3:00 pm
Check-out time at Legendary Waters is 11:00 am
Restaurants & Buffets
At this casino, there's no shortage of delicious dining options. The Legends Sports Grill is a lively spot perfect for grabbing a bite while taking in the big game.
With a menu that offers everything from classic bar food to signature dishes, there's something for every palate. They also offer a buffet for special occasions and holidays. From prime rib to sushi, the buffet is sure to satisfy.
So whether you're looking to play a few games, enjoy a relaxing stay or just have some delicious food, this casino in Wisconsin has something for everyone.
Pools
If you're heading to this casino in Wisconsin, you're in luck – they have an indoor swimming pool right on site. Whether you're here to gamble, enjoy the beautiful natural scenery, or simply lounge poolside, this pool is a great bonus to your trip.
With comfortable temperatures all year round, this indoor pool can provide the perfect respite from the chilly Wisconsin weather. Get your exercise in with a few laps, or simply float around and relax.
Legendary Waters Resort & Casino, Bayfield, WI FAQ
Does Legendary Waters Resort & Casino Have A Sportsbook?
No, this casino does not currently offer a sportsbook. However, it features many other gaming and entertainment options for guests to enjoy. Additionally, the casino offers an onsite restaurant and bar where you can watch your favorite sporting events on big-screen TVs.
Is Poker Available At Legendary Waters?
No, they do not have any live poker tables. However, they do have a variety of video poker machines that players can enjoy. This is a great option for players looking for a less expensive alternative to playing traditional poker.
What Are The Age Requirements For Gambling At Legendary Waters Resort & Casino?
To gamble at this casino, one must be 21 or over. Players under the legal gambling age can still enter the casino but cannot play any games offered. All players must provide a valid photo ID upon entry to verify their age.
Does Legendary Waters Have An Online Casino?
No, they do not currently have an online casino. They only offer gaming and entertainment options at their resort in Bayfield, Wisconsin. However, they do provide guests with access to free Wi-Fi so that they may enjoy some of the best online casinos from the comfort of their rooms.
Is There An Legendary Waters Resort & Casino App?
No, there is no app for this casino. However, guests can stay updated with the latest offers and promotions by visiting the casino's website or following them on social media. The website also provides detailed information about the games, amenities, and services available at the resort.
What Is The Dress Code At Legendary Waters?
This casino has no strict dress code; however, shirts and shoes must be worn at all times. Generally, guests should dress in comfortable but neat attire to ensure everyone can enjoy their visit. Revealing or provocative clothing is not permitted on the casino floor.
Is There An Airport Shuttle Available From Legendary Waters Resort & Casino?
No, they do not offer an airport shuttle. However, many alternatives are available such as taxis, public transportation, and ride-sharing services. Guests should contact their preferred option to ensure they arrive at the casino on time.
What Is The Smoking Policy At Legendary Waters?
The hotel and casino are both 100% non-smoking. However, there is a designated outdoor smoking area for guests who need it. This area is closely monitored to ensure the safety and comfort of all visitors to the resort.
What Is The Pet Policy At Legendary Waters Resort & Casino?
If you plan a trip to this casino, you'll be pleased to know that your furry friend is more than welcome to join you. They allow one or two dogs up to 50 lbs each per room. And the best part? They only charge a $25.00 per dog per night fee, which is a steal in pet-friendly accommodations.
Is Wifi Available At Legendary Waters?
Yes, complimentary wifi is available throughout the resort. Guests can connect to the network with smartphones and tablets for convenient high-speed internet access. Plus, secure encryption ensures your data remains safe and protected.
What Is The Cancellation Policy For Legendary Waters Resort & Casino?
The cancellation policy for the casino varies depending on your booking method and reservation type. Generally, if you book directly through their website or call center, you can cancel up to 48 hours before check-in with no penalty fee.
Conclusion
This casino hotel is a great destination for those looking for a fun and relaxing getaway. With its luxurious accommodations, a wide selection of gaming options, and convenient amenities like complimentary wifi, this casino has something for everyone.
Whether you want to gamble or just relax by the lake, this resort will provide an unforgettable experience. Start planning your visit today to experience all that Legendary Waters Resort & Casino has to offer.