Menominee Casino Resort Keshena
Address: N277 WI-47, Keshena, WI 54135
Phone Number: +1 800-343-7778
Website: www.menomineecasinoresort.com
Hours: Menominee Casino Resort is open 24 hours a day, 7 days a week.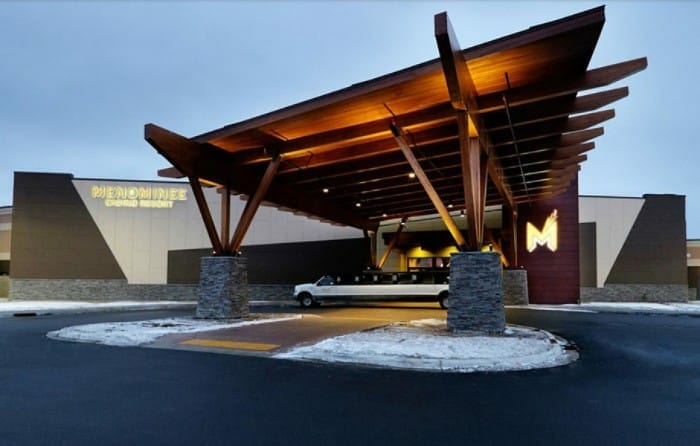 Menominee Casino Resort is in the heart of Wisconsin's Northwoods, in the beautiful Menominee Valley. The resort was established in 1987 and has since become a popular destination for entertainment and gaming.
The casino features several electronic games, including slots and video poker machines, along with popular table games like blackjack, poker and bingo. Plus, with many promotions and giveaways, you can always find great ways to have fun and win big.
They also feature a hotel with modern amenities, full-service restaurants and bars, and an event center for special events. The casino hosts live entertainment shows such as bands and comedians annually.
So whether you're looking for a great night out or just want to have fun, this casino resort is the place to go in Wisconsin.
On several review websites, this casino resort is rated highly, with 4 to 5 stars in most reviews. One guest mentioned, "We spent 6 days at Menominee Casino Resort and had a great time. The rooms were clean and comfortable, and the casino was well maintained."
Another traveler said, "The staff was super friendly. We had a great time playing slots, and the restaurant food was awesome. Highly recommend."
(Related reading: Wisconsin casinos)
Gaming
Their gaming floor consists of a wide range of new and traditional games. Slots, video poker, and table games like blackjack, craps and roulette are all available. Plus, they also offer several progressive jackpots awaiting lucky winners.
Table Games
At this casino in Wisconsin, players have a variety of options when it comes to table games. Whether you're a seasoned gambler or a beginner, you'll find something that suits your preferences.
For those who enjoy the classic blackjack card game, the casino offers multiple tables with varying minimum and maximum bets. If you're feeling lucky and want to try your hand at poker, it also offers Ultimate Texas Hold'em and Mississippi Stud.
Typically, the minimum bets for most table games at this casino range from $5-$10. However, the limits vary based on which game and table you're playing at.
Slots
The casino offers multiple slot machines, including classic 3-reel and the newest video slots. Some of their most popular games include:
Colossal Wizards
Fortunes Ablaze
Li'l Red
Double Blessings
Spartacus Gladiator of Rome
Queen of the Wild II
Triple Fortune Dragon Unleashed
Lazer Lock Ice Sapphire
Forbidden Dragons
This casino does not offer information about the average slot machine payback percentage. However, casinos in Wisconsin tend to offer at least 80% payback for their slot machines.
Hotel/Resort
The lodging at this casino resort is modern, comfortable and spacious. All rooms have amenities such as coffee makers, irons and ironing boards, flat-screen TVs, Internet access and more.
Room types include:
Standard Rooms – features one king bed or two queen beds
Deluxe Suites – features one king bed, a whirlpool, a loveseat sofa and a shower
Additionally, the resort offers several amenities to make your stay more enjoyable. The hotel has the following amenities:
Wifi access
Free parking
24-hour front desk
Meeting rooms
Fitness center
Business center
Indoor heated pool
Banquet facilities
Onsite dining options
A bingo hall
A gas station
A convenience store
A gift shop
Live entertainment
The pricing at this hotel varies based on the season and availability. To check availability and current rates, guests are advised to contact the resort directly.
Check-in time at Menominee is 4:00 pm
Check-out time at Menominee is 11:00 am
Restaurants & Buffets
Even though they do not have any buffet or all-you-can-eat restaurants, the casino resort does offer several great options for dining. From casual to fine dining, there is something for everyone.
The Forest Island Restaurant offers a menu of delicious cuisine, ranging from fresh seafood dishes to hearty steak options. If you're in the mood for a drink, head to the Spirit Island Lounge, where you can relax with a cocktail and enjoy the soothing atmosphere.
And if you're looking for a quick bite, The Thunderbird has you covered with various grab-and-go options. No matter what your taste buds are in the mood for, this casino resort has a delicious option.
Pools
If you're looking for a splash-tastic adventure while staying at this casino in Wisconsin, look no further. The resort has an indoor heated pool perfect for a relaxing soak or a refreshing swim.
Whether you're looking to cool off after a long day in the sun or for some aquatic fun, the pool at this is the perfect place to unwind. Don't forget that the pool is heated so that you can enjoy a dip no matter the temperature outside.
Menominee Casino Resort, Keshena, WI FAQ
Does Menominee Casino Resort Have A Sportsbook?
No, they do not have a sportsbook. However, they have various other gaming options, such as slots, table games and bingo. Additionally, they offer various restaurant and bar options to enjoy while at the casino.
Is Poker Available At Menominee Casino?
Yes, they do offer poker games at this casino. The casino offers various types of poker, including Texas Hold'em and Stud. Plus, their staff is always available to answer any questions and help you start playing.
What Are The Age Requirements For Gambling At Menominee Casino Resort?
At this casino, guests must be 21 or older to gamble. Anyone under 21 is not permitted to enter the casino floor, with no exceptions. Guests who appear to be younger than 21 will be asked for a valid ID before entering the premises.
Does Menominee Casino Have An Online Casino?
No, they do not offer an online casino. Instead, guests can visit their physical location in Keshena, Wisconsin, to experience the casino games and activities offered. With slots, table games, bingo and more available at the property, there is something for everyone to enjoy.
Is There An Menominee Casino Resort App?
No, they do not have an app. However, guests can stay updated with the latest events and promotions through their website or social media accounts. Additionally, they offer a text alert service to keep you informed of special offers and announcements.
What Is The Dress Code At Menominee Casino?
The dress code at this casino resort is generally casual. Clothing deemed inappropriate, such as revealing clothing, is not allowed. Guests are expected to wear clothing and footwear suitable for a public setting. Additionally, guests must remove any headgear while on the casino floor.
Is There An Airport Shuttle Available From Menominee Casino Resort?
No, they do not offer an airport shuttle from the casino resort. However, various nearby transportation services can be utilized to travel to and from the resort. Guests are encouraged to contact the resort directly for more information.
What Is The Smoking Policy At Menominee Casino?
The smoking policy at this casino resort is subject to change. Currently, their gaming floor and hotel are completely smoke-free. However, they offer designated smoking areas for guests who wish to smoke.
What Is The Pet Policy At Menominee Casino Resort?
Sadly, only service animals are allowed on the property. All other pets must remain at home while guests visit the casino resort. If you are bringing a service animal, don't hesitate to contact the resort ahead of time for additional information.
Is Wifi Available At Menominee Casino?
Yes, complimentary wifi is available throughout the resort. Guests can access the network by entering using the credentials provided by the resort staff. Additionally, they offer a business center that provides computers with internet access for guests.
What Is The Cancellation Policy For Menominee Casino Resort?
Guests must provide at least 24 hours cancellation notice before arrival. If guests fail to cancel within the given time frame, they may be subject to fees and penalties. For more information on their cancellation policy, guests can contact the casino resort directly.
Conclusion
This casino resort is the perfect destination for a fun-filled escape. With slots, table games, bingo, poker and more available, there's something for everyone to enjoy. Plus, their staff can always answer questions and help you get started.
Stay updated on special offers, events and other announcements through their website or social media before your visit. Menominee Casino Resort offers an unforgettable experience that every gambler can enjoy!