Mole Lake Casino & Lodge Crandon
Address: 3084 WI-55, Crandon, WI 54520
Phone Number: +1 877-478-5772
Website: www.molelakecasino.com
Hours: Mole Lake Casino & Lodge is open Monday 8 AM – 2 AM, Tuesday 8 AM – 2 AM, Wednesday 8 AM – 2 AM, Thursday 8 AM – 2 AM, Friday 8 AM – 2 AM, Saturday 8 AM – 2 AM, Sunday 8 AM – 2 AM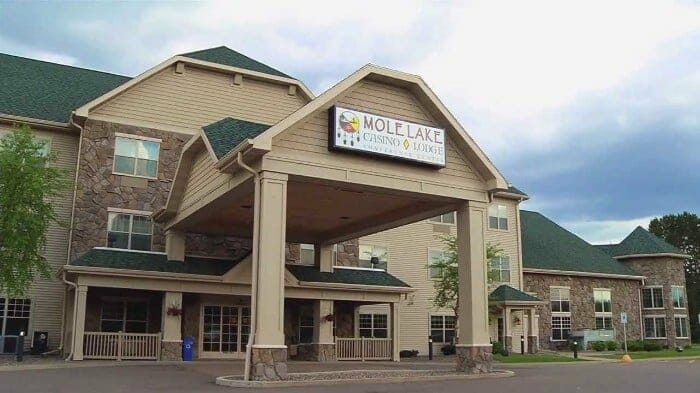 Mole Lake Casino & Lodge is a casino in the beautiful Mole Lake area of Crandon. It is owned and operated by the Sokaogon Chippewa Community. This exciting gaming facility opened in 1992 and has provided guests with a unique casino experience.
Their gaming floor offers over 250 slots ranging from penny slots to high-limit games. Even though they do not offer any live table games, they have plenty of video poker and other gaming options.
Their accommodations include rooms, suites, and villas with modern amenities like free Wi-Fi, mini-fridges, microwaves, flat-screen TVs and more. They also offer onsite dining options, including a full-service restaurant and bar.
For entertainment, visitors can join in on their exciting promotions and events held throughout the year. Additionally, they have a conference center and meeting space for private events or corporate retreats.
Whether you're coming to this casino for gaming, entertainment, or just a relaxing getaway, you are sure to have an unforgettable experience.
On popular online review sites, this casino has generally positive reviews and is rated 4 out of 5 stars. One guest said, "My family and I had a great time at Mole Lake Casino & Lodge. The room was clean, and the staff was friendly. We also enjoyed all of their gaming options."
Another guest commented, "The food was good, and the casino had lots of promotions going on throughout our stay. Would definitely come back again!"
(Related reading: Wisconsin casinos)
Gaming
The gaming floor features various slots, with over 250 machines. Machines range from penny slots to high-limit games.
Table Games
At this casino resort, you'll find an excellent selection of slot machines that will keep you entertained for hours. However, if you're looking for traditional table games, you might want to try another casino.
This casino does not offer table games, but with over 250 slot machines, you'll find plenty of options to try your luck and potentially win big. Their friendly staff is always available to assist you with any questions you may have and ensure that you have a memorable gaming experience.
Slots
If you're wondering what the most popular slot machines are at this casino in Wisconsin, you're in luck. Here are a few of the top-rated games that are sure to provide you with a thrilling gaming experience.
Colossal Wizards is an exciting game with larger-than-life symbols and a mystical fantasy theme that will transport you to another world. Li'l Red is a fun slot machine based on a famous fairy tale and features exciting bonus rounds that can increase your winnings.
Spartacus Gladiator of Rome is another popular choice, with its epic Roman gladiator theme and lucrative free spin feature. Forbidden Dragons is a dragon-themed game with stunning graphics and unique gameplay mechanics.
Queen of the Wild II is an African safari-inspired game with big wins and a free spin feature with increasing multipliers. Lastly, Lazer Lock Ice Sapphire is a game that has a futuristic feel and unique features that are sure to keep you playing for hours.
As per the law in Wisconsin, all slot machines at this casino must have a minimum payback percentage of 80%. This means that over time, players will receive a return of at least 80% on every dollar wagered.
Hotel/Resort
This casino is the perfect place to stay while enjoying all that northern Wisconsin offers. The hotel offers comfortable rooms, suites, and villas with modern amenities such as free Wi-Fi, mini-fridges, microwaves, flat-screen TVs and more.
Room types include:
Standard Rooms – features one king or two queen beds
King Suites – features one king bed and a sofa sleeper
Family Suites – features two bedrooms with a king-sized bed in one room
Whirlpool Suites – features one king bed, a sofa sleeper and a whirlpool tub
At this casino, guests can enjoy various amenities to make their stay even more comfortable. These include:
Wifi access
Parking on site
24-hour front desk
Concierge services
An indoor pool
Business center
Fitness center
A game room
Meeting facilities
A gift shop
Onsite restaurants and bars
Live entertainment and shows
The cost of staying at this casino resort varies depending on the room type and time of year. Standard rooms start at around $92 per night, while whirlpool suites can go for up to $150 per night during peak season.
Check-in time at Mole Lake is 3:00 pm
Check-out time at Mole Lake is 11:00 am
Restaurants & Buffets
Although they do not have buffet-style restaurants, this casino offers several different dining options to satisfy everyone's tastes. For delicious Mexican food, look no further than Casa Mexicana.
They offer a variety of classic dishes like tacos and enchiladas, as well as house specialties like fajitas and chimichangas. Ban'gi Bistro is another popular option, serving American-style cuisine focusing on fresh ingredients and local products.
And for those looking for a place to catch the big game, Gametime Sportsbook offers a casual atmosphere and plenty of TVs to watch your favorite teams.
Need a quick pick-me-up? Swing by The Coffee Pot for various freshly brewed coffee drinks and pastries. No matter what you're craving, this has you covered with its diverse selection of restaurants.
Pools
Whether you're planning a family getaway or a solo trip, this casino in beautiful Wisconsin has got you covered. Boasting an array of top-notch amenities, one standout feature of the lodge is its indoor pool.
So, no matter what the weather outside is like, you and your loved ones can soak up some fun and relaxation in this inviting, heated oasis. And don't forget to take advantage of the other exciting offerings at this casino, from gaming and dining to live entertainment and more.
Mole Lake Casino & Lodge, Crandon, WI FAQ
Does Mole Lake Casino & Lodge Have A Sportsbook?
This casino features Gametime Sportsbook, a great place to watch your favorite sports teams. This bar and grill offer casual seating, plenty of TVs, and delicious food and drinks. The perfect spot for a game-day gathering or hanging out with friends.
Is Poker Available At Mole Lake Casino?
No, they do not have any live poker tables or tournaments. However, they do offer a variety of other gaming options, such as slots and bingo. Guests can also enjoy various amenities, including restaurants, bars, a fitness center and an indoor swimming pool.
What Are The Age Requirements For Gambling At Mole Lake Casino & Lodge?
At this casino, guests must be at least 18 years old to enter the premises and play any of their gaming options. Guests under 18 are prohibited in the casino area and must show valid identification before entering.
Does Mole Lake Have An Online Casino?
No, they do not currently have an online casino. However, they do offer a variety of gaming options at their onsite location, including slots, bingo and more. Guests can also enjoy various amenities such as restaurants, bars and a fitness center while they are there.
Is There An Mole Lake Casino & Lodge App?
No, they do not currently have a mobile app. However, they offer an easy way to book rooms and view upcoming events through their website. They also provide helpful information such as directions, hours of operation and more.
What Is The Dress Code At Mole Lake Casino?
The dress code at this casino is generally casual. Guests are encouraged to wear comfortable clothing that is appropriate for the weather. Swimwear and attire featuring offensive language or graphics are not permitted in any areas of the casino.
Is There An Airport Shuttle Available From Mole Lake?
No, they do not currently offer an airport shuttle service. However, they are conveniently located near several popular airports, and public transportation is available. Guests can also easily get to and from the casino using a taxi or rideshare services.
What Is The Smoking Policy At Mole Lake Casino & Lodge?
The property is a nonsmoking facility. Guests cannot smoke anywhere on the premises, including inside their rooms and in public areas. Designated smoking areas are available outside of the property for guests who wish to smoke.
What Is The Pet Policy At Mole Lake Casino?
Sadly, pets are not allowed at this property. However, service animals are welcome onsite. Guests must provide proof of their animal's certification before checking in, or they might be asked to leave.
Is Wifi Available At Mole Lake?
Yes, free wifi is available throughout the property for all guests. The wifi is accessible in all guest rooms, as well as public areas. The speed and reliability of the connection can vary, so it is recommended that guests bring their hotspots if they need a more reliable connection.
What Is The Cancellation Policy For Mole Lake Casino & Lodge?
The cancelation policy for this property requires guests to give 24 hours' notice before their check-in date. If guests do not cancel within the required time frame, they may be subject to additional fees and penalties. Guests should contact the hotel directly for more information.
Conclusion
This casino resort offers guests an unforgettable experience with many gaming options, amenities and activities. Guests should be aware of the age requirements for gambling and the dress code policies before visiting, as well as any other applicable rules.
Whether you're looking for a place to relax and have some fun, or an exciting night out, Mole Lake Casino & Lodge is sure to provide the perfect atmosphere. With great gaming options, amenities and more, this resort has something for everyone.