Oneida Bingo Casino (IMAC) Green Bay
Address: 2100 Airport Dr, Green Bay, WI 54313
Phone Number: +1 800-238-4263
Website: www.oneidacasino.net/locations/imac/
Hours: Oneida Bingo Casino (IMAC) is open Monday 8 AM – 12:30 AM, Tuesday 8 AM – 1 AM, Wednesday 8 AM – 1 AM, Thursday 8 AM – 1 AM, Friday 8 AM – 2 AM, Saturday 7:30 AM – 2:30 AM, Sunday 8 AM – 12:30 AM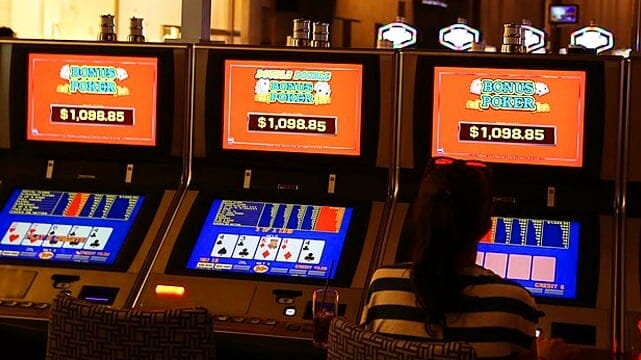 The Oneida Bingo Casino (IMAC) has been providing gaming entertainment for the Green Bay area for more than two decades. The casino is a part of Oneida's larger family of gaming and entertainment properties, which includes seven other casinos across Wisconsin.
The casino floor offers over 400 thrilling slot machines, ranging from traditional favorites like Double Diamonds and Red Hot Sevens to the latest progressive slots. You'll also find a high-stakes bingo hall for all your bingo needs.
Plus, if you want to take a break from the slots, there are plenty of other options for entertainment. The casino offers live music, comedy events and more, so you can always find something fun to do.
They also serve lunch and dinner daily in their bingo hall, so you can stay and make a night of it. Whether you're looking for a night of entertainment or want to try your luck at the slots, this casino has something for everyone.
On several review sites, including Google, Yelp and TripAdvisor, this casino has a rating of 4.3 out of 5 stars. One guest said, "I had a great time here. The staff was incredibly friendly, the machines were fun, and they had an impressive variety of games."
Another guest said, "The atmosphere was great. The slots were always up-to-date, and the bingo hall was exciting. I also loved the live music they had on weekends."
(Related reading: Wisconsin casinos)
Gaming
Their gaming floor offers over 400 slot machines and a high-stakes bingo hall. And with several promotions running throughout the year, you will surely find something to keep your luck in the game.
Table Games
This casino is a great destination for guests to play casino games. However, the casino does not offer traditional table games on the gaming floor. But don't let that stop you from having a great time.
Instead of table games, they offer a variety of exciting slot machines and bingo games that will keep you entertained. Their friendly staff and welcoming atmosphere make this casino a great place to visit with friends or family.
Slots
If you're looking for the most popular slot machines at this casino, you won't be disappointed with the selection.
Some of the most beloved games include Colossal Wizards, Spartacus Gladiator of Rome, Queen of the Wild II, and Lazer Lock Ice Sapphire. These games offer exciting features and unique themes that keep players returning for more.
According to Wisconsin law, the minimum return to the player is 80%. The slot machine payback percentage at this casino varies from game to game and is subject to change without notice.
Hotel/Resort
While there is currently no hotel attached to their property, they want to ensure their guests have the best experience possible. Fortunately, there are several nearby hotels to choose from, each offering a unique experience.
For those looking for a lakeside escape, Legendary Waters Resort & Casino offers stunning views of Lake Superior. For those who want to stay close to the action, Potawatomi Hotel & Casino is less than 30 minutes away.
Finally, Mole Lake Casino Lodge is perfect for those seeking a quieter, more relaxed atmosphere. Whichever hotel you choose, you will surely enjoy the casino and nearby amenities.
Restaurants & Buffets
If you enjoy a bingo or casino game at this casino in Wisconsin, fear not, for you will not go hungry. The casino offers a selection of lunch and dinner items, perfect for when you need a quick bite in between games.
While there is no full-service restaurant or buffet available at the hall, the food options they do provide are satisfying and delicious. Whether you're in the mood for a juicy burger or some crispy fries, you'll be able to find something on the menu that fits your cravings.
Pools
While this casino in Wisconsin may not have swimming pools onsite, there are still plenty of ways to beat the heat and have fun. From the excitement of the casino games to the delicious dining options, there's something for everyone.
Plus, the beautiful natural surroundings and nearby attractions offer opportunities for outdoor activities and adventure. So, while you may not be able to take a swim, you can still enjoy a refreshing and memorable experience at this casino.
Oneida Bingo Casino (IMAC), Green Bay, WI FAQ
Does Oneida Bingo Casino (IMAC) Have A Sportsbook?
Unfortunately, this casino does not have a sportsbook. However, it offers over 400 slot machines and a high-stakes bingo hall for guests to enjoy. Additionally, the nearby Potawatomi Hotel & Casino has an impressive selection of sports betting options.
Is Poker Available At Oneida Bingo Casino (IMAC)?
Currently, they do not offer traditional poker games at their casino. However, they do have video poker machines with various games. This is a great alternative for those looking to enjoy the thrill of poker without the pressure of playing against other players.
What Are The Age Requirements For Gambling At Oneida Bingo Casino (IMAC)?
At this casino, you must be 21 or older to participate in gaming activities. Guests under 18 may enter the casino but are not eligible to gamble. Additionally, all guests must show valid proof of age and identity upon entry into the facility.
Does Oneida Bingo Casino (IMAC) Have An Online Casino?
No, they do not currently have an online casino. To experience their gaming facilities, guests must visit the casino in person. However, they do offer special promotions and discounts available both online and in-person throughout the year.
Is There An Oneida Bingo Casino (IMAC) App?
No, they do not have an app. However, they do have a mobile-friendly website that allows guests to learn more about the casino and its offerings. Additionally, they have a loyalty program in which members can receive exclusive discounts, bonuses, and rewards.
What Is The Dress Code At Oneida Bingo Casino (IMAC)?
All visitors must dress in appropriate attire while on the gaming floor. This includes clothing that covers most of the body, such as long pants and shirts with sleeves. Additionally, backpacks and other large bags are not allowed inside the casino.
Is There An Airport Shuttle Available From Oneida Bingo Casino (IMAC)?
No, they do not offer an airport shuttle from the casino. However, there are many alternatives for getting to and from the casino. Guests can take a taxi or rideshare or rent a car to and from the nearby Austin Straubel International Airport.
What Is The Smoking Policy At Oneida Bingo Casino (IMAC)?
The casino is 100% smoke-free, and smoking of any kind is not allowed in the gaming areas. However, there are designated outdoor smoking areas for those who wish to smoke while on the premises.
What Is The Pet Policy At Oneida Bingo Casino (IMAC)?
At this time, they only allow service animals on the gaming floor. Pets of any kind are not allowed in the casino. Additionally, all service animals must be registered with Madison County before entering the premises.
Is Wifi Available At Oneida Bingo Casino (IMAC)?
Unfortunately, there is no wifi available at the casino. Guests are encouraged to bring their mobile data plans to stay connected while on the premises. With so much to offer, this is a great destination for a night out or an exciting weekend getaway.
What Is The Cancellation Policy For Oneida Bingo Casino (IMAC)?
Since no hotel is attached to the casino, there is no need for a cancellation policy. The only exception is for guests who have booked an event at the casino. In this case, guests must contact the casino before canceling to avoid any possible penalties.
Conclusion
Overall, Oneida Bingo Casino (IMAC) is a great destination for an exciting night out or a weekend getaway. With over 400 slot machines and a high-stakes bingo hall, guests will surely have a great time.
If you are in the Green Bay area, check out this casino! With its great gaming options, dedicated staff, and comfortable atmosphere, it is a great way to relax and have fun. Be sure to go with friends or family for an extra special experience.