Oneida Main Airport Casino Green Bay
Address: 2020 Airport Dr, Green Bay, WI 54313
Phone Number: +1 800-238-4263
Website: www.oneidacasino.net/locations/main-airport/
Hours: Oneida Main Airport Casino is open Monday 8 AM – 4 AM, Tuesday 8 AM – 4 AM, Wednesday 8 AM – 4 AM, Thursday 8 AM – 4 AM, Friday 8 AM – 4 AM, Saturday 8 AM – 4 AM, Sunday 8 AM – 4 AM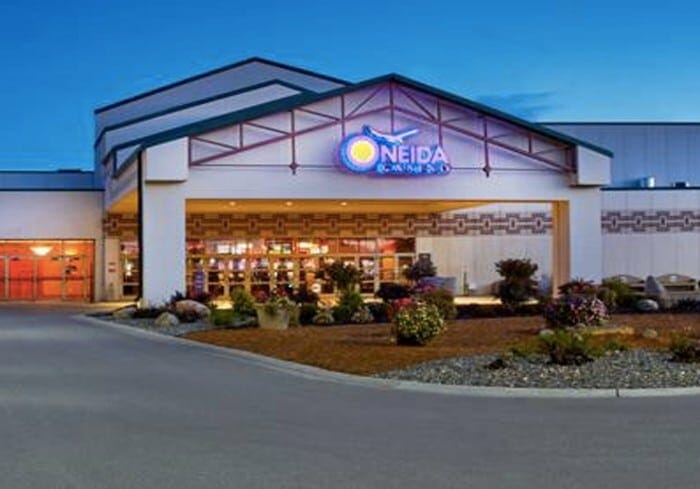 Oneida Main Airport Casino is opened and operated by the Oneida Nation of Wisconsin, one of the only federally-recognized Indian tribes in the state. The casino has served the Green Bay area since its opening, providing guests with various gaming and entertainment options.
Their casino features over 1,100 slot machines and video poker games, as well as table games such as blackjack, baccarat, roulette, and more. They also offer promotions, tournaments, and special events throughout the year.
They also have onsite dining options on their property. Their Sports Bar also features twenty HDTVs, where guests can watch the latest sporting events while playing their favorite games.
Whether you're looking for a fun night out or an exciting gaming experience, this casino is the perfect place. With various games and entertainment options, this casino will surely provide both casual gamers and experienced players with an unforgettable experience.
On several review platforms, this casino has received a rating of 4 out of 5 stars from guests. According to one guest, "Their gaming and entertainment options are top-notch, along with their staff who are always willing to help. I would recommend this place."
Another guest commented, "The staff at Oneida Main Airport Casino is very friendly and accommodating. The gaming selection is good, and the atmosphere is inviting. It's a great place to spend an evening."
(Related reading: Wisconsin casinos)
Gaming
Their gaming floor includes over 1,100 slot machines and video poker games, as well as various table games such as blackjack, roulette, baccarat, craps, and more.
Table Games
When it comes to table games at this casino, there are plenty of options to choose from. Whether you're a seasoned pro or a beginner just getting started, there's a game that'll suit your style.
For classic card game enthusiasts, blackjack is a popular choice, as is the newer four-card poker and the exciting Royal Match 21. If you're lucky, you might try roulette or craps with its bonus craps side bet.
And for those looking for something different, there's Three Card Poker and Mississippi Stud to add to the mix.
Table game minimums vary depending on the day and time you visit. Generally, the table game minimums start at $5 and rise as high as $100, depending on the game, day and time.
Slots
The casino features over 1,100 slot machines, including various classic and modern video slots. They also have progressive jackpots that can reach up to $1 million. Some of the most popular slot machines at this casino include:
Smokin Hot Stuff Wicked Wheel Fire & Ice
88 Link Wild Duels – Lion Vs Shaolin Monk
Gold Inferno
Buffalo Link
Cash Express Luxury Line
Wild Wild Buffalo
This casino follows the Wisconsin slot machine payback percentage standards, which require that all gaming machines must return at least 80% of wagers back to players. This is monitored by the Gaming Commission and enforced through their rigorous inspection process.
Hotel/Resort
If you want to stay near this casino, there isn't a hotel attached to the property. However, don't worry, as there are some great options nearby. One is the Legendary Waters Resort & Casino, which is only a short drive away.
Perhaps you'd prefer to stay at the Potawatomi Hotel & Casino, a luxurious option just 20 minutes away. Another nearby option is the Menominee Casino & Resort. These hotels offer great amenities and accommodations, so you'll find the perfect fit for your stay.
Restaurants & Buffets
If you're planning a trip to this casino, make sure you make some time to check out the amazing selection of restaurants available. Whether you're in the mood for some classic pub fare or something exotic, there's something here for all tastes.
Not sure where to start? The Sports Bar is a great place to cozy up with a drink and catch the game. Meanwhile, the Noodle Bar offers delicious, authentic Asian cuisine to spice things up.
And if you need something quick and satisfying, the Food Court has you covered with Grill Masters, Wild Card Deli and Chicken Fry Fry. Whatever your craving, you'll find something to love at this casino.
Pools
While this casino may not have any swimming pools, fear not! There are plenty of other amenities and attractions to enjoy at this exciting destination. From the numerous gaming options and dining experiences, there is truly something for everyone.
Plus, the airport location allows easy travel and access to even more activities in the surrounding area. So, even though you won't find any pools, your time at this casino is sure to be a memorable one.
Oneida Main Airport Casino, Green Bay, WI FAQ
Does Oneida Main Airport Casino Have A Sportsbook?
Yes, they do offer a sportsbook. Guests may place their bets on various professional and collegiate sporting events. There is also a mobile sportsbook that can be accessed through their website, so guests can place wagers even when away from the casino.
Is Poker Available At Oneida Main Airport Casino?
They have several poker tables offering various games such as Texas Hold 'Em, Omaha, and Seven Card Stud. Regardless of your skill level, whether you're a beginner or an experienced player, there's a game suitable for you.
What Are The Age Requirements For Gambling At Oneida Main Airport Casino?
To be able to gamble at this casino, you must be at least 21 years of age. All players and guests must present valid identification before they can enter the casino floor and play any game. Guests under 21 are allowed in the casino but cannot participate in gaming activities.
Does Oneida Main Airport Casino Have An Online Casino?
No, they do not have an online casino. They are strictly a physical location. However, they have a mobile sportsbook that can be accessed through their website for placing bets even when away from the casino.
Is There An Oneida Main Airport Casino App?
No, there is not a dedicated Oneida Main Airport Casino app. However, if you want to stay updated on their events and promotions, you can check out their website, which features news about the casino.
What Is The Dress Code At Oneida Main Airport Casino?
The dress code for the casino is mostly informal, but guests are advised to dress in a tidy and appropriate manner. Guests should refrain from wearing outfits that are too revealing or have offensive words or graphics.
Is There An Airport Shuttle Available From Oneida Main Airport Casino?
Yes, they offer a free shuttle service to their guests. The shuttle runs from the casino to the local airport, with pick-up and drop-off at designated areas. This is a great way for visitors to enjoy their stay without worrying about getting around town.
What Is The Smoking Policy At Oneida Main Airport Casino?
The smoking policy at this casino is that all areas are non-smoking, except designated outdoor smoking areas. Guests must abide by these policies to ensure everyone has a pleasant experience in the casino.
What Is The Pet Policy At Oneida Main Airport Casino?
Only service animals are allowed in the casino. Pets are not permitted inside the building except for special events where they may be present with prior approval from management. Guests should contact the casino for more information about their pet policy.
Is Wifi Available At Oneida Main Airport Casino?
Guests might need to bring their own wifi sources since there is no public wifi available at this casino. However, they do offer free wifi to their hotel guests in the lobby area. Guests should inquire with the front desk staff for more information on their wifi policy.
What Is The Cancellation Policy For Oneida Main Airport Casino?
There is no cancellation policy at this casino. There is no hotel or accommodation on the property, so guests can arrive and go as they, please. However, if you booked a package or tour through their website, you should refer to the applicable policy before canceling any reservations.
Conclusion
This casino is a great destination for those looking to try their luck at the casino tables. They offer a range of gaming options, from slots and table games to sports betting.
Guests must be 21 or over and adhere to the dress code and smoking policy to ensure everyone has an enjoyable experience. So whether you're an experienced player or a novice, Oneida Main Airport Casino is the perfect place for you to put your luck to the test.