St Croix Casino Danbury
Address: 30222 WI-35 #77, Danbury, WI 54830
Phone Number: +1 800-238-8946
Website: www.stcroix-casinos.com/hotels/danbury
Hours: St Crois Casino Danbury is open Monday 7 AM – 3 AM, Tuesday 7 AM – 3 AM, Wednesday 7 AM – 3 AM, Thursday 7 AM – 3 AM, Friday 7 AM – 3 AM, Saturday 7 AM – 3 AM, Sunday 7 AM – 3 AM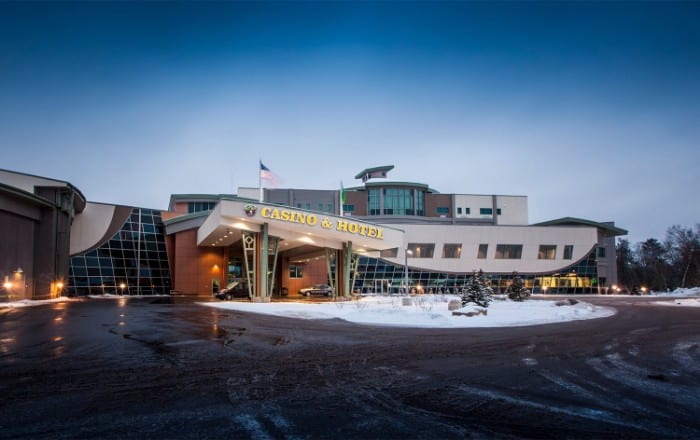 The St Croix Casino Danbury is located in the heart of Northwest Wisconsin. The casino has operated since 2010, providing gaming and entertainment for visitors to the area. It is owned and operated by the St. Croix Chippewa of Wisconsin, a sovereign nation recognized by the US.
The casino's primary offerings are slots, poker, blackjack and other gaming options. And with different promotions and rewards programs, there's something for everyone.
The casino also has an on-site hotel with comfortable rooms, perfect for a weekend getaway. Other amenities include multiple restaurants, bars and live entertainment.
This casino also works to benefit the local community. The casino offers donations to charities and other events throughout the area. It is an important part of the local economy, bringing in jobs and revenue that help support northwest Wisconsin.
So if you're looking for a fun time, this casino is the perfect place. With plenty of gaming options, great amenities and live entertainment, it's sure to provide an enjoyable experience.
On popular review sites, guests rate this casino with 4.5 out of 5 stars. One guest said, "St Croix Casino Danbury was an awesome place to visit. The staff was friendly, the food delicious, and the entertainment was top-notch."
Another guest said, "This is a great place to visit and have fun. The slot machines were loose, and the atmosphere was friendly. We had a wonderful time!"
(Related reading: Wisconsin casinos)
Gaming
Their gaming space features 500 machines and multiple table games. Gaming options include slots, blackjack, poker, and other games.
Table Games
At this casino, you'll find various exciting table games to play. Blackjack is a timeless classic that is always a hit, as players try to beat the dealer to 21 without going over. Roulette offers the chance to bet on a number or color and watch as the ball spins around the wheel.
Craps is a game that moves quickly and requires players to place bets on the result of dice rolls. On the other hand, Let it Ride is a game based on poker and involves making the best possible hand using three cards dealt to each player and two communal cards.
And if you're feeling lucky, Fortune Pai Gow combines traditional Pai Gow with bonus payouts for certain hands.
The minimums at this casino vary depending on the game. But generally, the table minimums range from $5 to $10. Some games may have higher minimums, so check with the pit boss before starting play.
Slots
At this casino, you'll find a wide variety of slot machine options. Popular games include:
Colossal Wizards
Spartacus Gladiator of Rome
Li'l Red
Forbidden Dragons
Lazer Lock Ice Sapphire
Queen of the Wild II
According to Wisconsin law, the minimum slot machine payback percentage for casinos in the state is 80. The exact percentages are not disclosed, but it's safe to assume that the payouts at this casino are in line with this minimum requirement.
Hotel/Resort
If you're planning a visit to this casino in Wisconsin, you may wonder about lodging accommodations. While the main hotel is closed, don't let that deter you from a comfortable and enjoyable stay.
The Lodge, situated near the casino, is open and waiting for your reservation. Choose from a selection of standard rooms and suites, each featuring a luxurious bed that will have you feeling right at home.
Additionally, the Lodge features additional amenities such as:
Wifi access
Parking on site
24-hour front desk
Concierge services
A swimming pool
A campground
A sportsbook
Arcade room
Live entertainment and shows
Onsite restaurants and bar
Banquet facilities
No information is available on the exact cost of staying at this casino hotel, as rates vary depending on your stay. Guests will need to contact the hotel directly for more details.
Check-in time at St Croix is 3:00 pm
Check-out time at St Croix is 11:00 am
Restaurants & Buffets
There is no buffet at this casino, but it does offer a couple of excellent restaurants, each with its own unique atmosphere. In particular, the Waabani-Noodin Dining Room and Giiwedi-Noodin Deli are two great options you definitely won't want to miss.
The Waabani-Noodin Dining Room features upscale dining with a mouth-watering menu that includes American grill classics, seafood specialties, and more.
Meanwhile, the Giiwedi-Noodin Deli offers quick bites to satisfy your cravings on the go, including sandwiches, burgers, and pizza. No matter what you're in the mood for, this casino has got you covered.
Pools
If you're visiting this casino in Wisconsin, you'll be pleased to know that the property features a great swimming pool. After a day of gaming, dining, or exploring the area, there's nothing better than cooling off in a refreshing pool.
The pool at this casino is perfect for both relaxation and exercise, with plenty of space for swimming laps and a spacious deck for lounging. Whether traveling with family, friends, or solo, you'll find that the pool area is a welcome respite from the hustle and bustle of the casino floor.
St Croix Casino Danbury, WI FAQ
Does St Croix Casino Danbury Have A Sportsbook?
Yes, they do have a sportsbook. Whether you're a fan of football, basketball, hockey, or any other sport, the sportsbook at this casino has it all. You can place your bets on the big games and follow the action from anywhere in the room on one of their many TVs.
Is Poker Available At St Croix Casino Danbury?
Yes, this casino does offer live poker tables. Whether you're a beginner or an experienced player, there are plenty of tables available to suit all levels of expertise.
The poker tables also offer tournaments with different buy-ins daily, so guests can find the game that best suits their budget and skill level.
What Are The Age Requirements For Gambling At St Croix Casino Danbury?
At this casino, you must be at least 21 years old to enter and gamble. Guests under 21 are not permitted in certain casino areas due to Wisconsin state gambling laws. All guests must provide a valid ID upon entry for age verification purposes.
Does St Croix Casino Danbury Have An Online Casino?
No, they do not have an online casino. Instead, guests must visit the physical casino in Wisconsin to enjoy its gaming options. That being said, there are plenty of online casinos available for those who wish to play from home or on the go.
Is There An St Croix Casino Danbury App?
No, there is no St Croix Casino Danbury app available. However, the casino does have an online presence where guests can learn more about the property and its offerings. Guests can also visit the official website or social media pages to stay up-to-date with their promotions and events.
What Is The Dress Code At St Croix Casino Danbury?
The dress code at this casino is casual but neat. Shirts must have sleeves, and pants or shorts are required; no sandals, flip-flops, or cutoffs are allowed.
Guests should avoid wearing hats, sunglasses, athletic wear, and overly revealing clothing to ensure a comfortable gaming environment.
Is There An Airport Shuttle Available From St Croix Casino Danbury?
No, they do not have an airport shuttle available. However, there are plenty of taxi services and car rental places located near the casino for guests' convenience. Guests can also utilize public transportation to get to and from the casino.
What Is The Smoking Policy At St Croix Casino Danbury?
Smoking is only allowed in designated areas of this casino. All other areas are non-smoking, and guests found smoking inside the building will be asked to leave. The property does have a designated smoking area outside for those who wish to indulge in nicotine while at the casino.
What Is The Pet Policy At St Croix Casino Danbury?
Unfortunately, pets are not allowed inside the casino. Service animals are welcome, but all other animals must stay at home. Guests who bring their pets will be asked to leave and will not be admitted into the building.
Is Wifi Available At St Croix Casino Danbury?
Yes, free wifi is available to guests in the casino. The wifi network is secured with up-to-date encryption technology to ensure guests' privacy and safety while connected. Guests can access the wifi anywhere in the building for a seamless gaming experience.
What Is The Cancellation Policy For St Croix Casino Danbury?
All reservations must be canceled at least 24 hours before the scheduled arrival date. Guests who do not cancel their reservation within this time frame will be charged a cancellation fee equal to one night's stay plus taxes.
Conclusion
This casino and hotel in Wisconsin offer various gaming options, from slots and table games to live poker. Whether you're a beginner or an experienced player, there are plenty of tables available to suit all levels of expertise.
Keep in mind all their rules and regulations, such as the age requirement, dress code, and pet policy, before visiting. With everything St Croix Casino Danbury has to offer, it's sure to be a great experience, regardless of your budget and skill level.