St Croix Casino Hertel
Address: 4348 WI-70, Webster, WI 54893
Phone Number: +1 715-349-5658
Website: www.stcroix-casinos.com/hotels/hertel
Hours: St Croix Casino Hertel is open Monday 8 AM – 12 AM, Tuesday 8 AM – 12 AM, Wednesday 8 AM – 3 AM, Thursday 8 AM – 12 AM, Friday 8 AM – 3 AM, Saturday 8 AM – 3 AM, Sunday 8 AM – 12 AM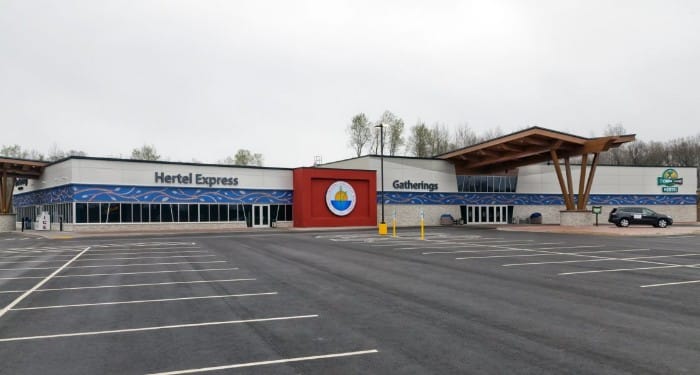 The St Croix Casino Hertel is a part of the casinos owned and operated by the St. Croix Chippewa Indians of Wisconsin. Since its opening in 2017, the casino has become a popular destination for visitors to the area.
This casino offers over 250 gaming machines, ranging from classic slots to more modern video reels. They also have several promotions and daily tournaments to keep guests entertained.
In addition, the casino has a trucker's lounge for travelers and an RV park with camping sites and pull-thru lots. So even if they do not have a hotel on-site, guests can stay in the area.
The casino also boasts a variety of entertainment options, including live music and special events like bingo and trivia nights. There are also several restaurants located on the property, as well as a bar/lounge area to relax after your long day at the slots.
No matter what brings you to this casino, you are sure to find something fun and exciting to do. Whether testing your luck at the gaming machines or socializing with friends at the bar/lounge area, there is something for everyone here.
On several review websites, guests rate this casino with an average of 4.1 out of 5 stars. One guest said, "The staff was friendly, the variety of gaming machines was great, and the food in their restaurants tasted amazing. Highly recommend."
Another said, "I had a great time here with my friends. We played slots all night and won some money too! The atmosphere was great, and the staff was friendly."
(Related reading: Wisconsin casinos)
Gaming
The casino floor has more than 250 gaming machines, which feature both classic slots and modern video reels. Daily tournaments and promotions are also available to keep guests entertained.
Table Games
While this casino in Wisconsin is a great place to try your luck on slot machines, unfortunately, they do not offer any table games. If you are an avid fan of classic casino games like blackjack, craps, or roulette, you may have to look elsewhere.
However, the casino does host various events and promotions, including slot tournaments and giveaways. Plus, their Player's Club rewards program offers rewards and benefits for frequent visitors.
Slots
If you're looking for fun at this casino, you'll want to check out its popular slot machines. The Colossal Wizards game features magical graphics and symbols that can lead to big wins.
Li'l Red puts a playful twist on the classic fairy tale, allowing you to join the adventure with this charming character. Spartacus Gladiator of Rome is a thrilling slot inspired by the ancient Roman arena, with powerful gladiator symbols and exciting bonus rounds.
Forbidden Dragons add mystical intrigue with their fire-breathing dragons and potential for major payouts. And if you're a fan of the jungle, Queen of the Wild II lets you explore the rainforest with vivid graphics and special features.
For those seeking something different, Lazer Lock Ice Sapphire offers a futuristic twist on traditional slots.
As per the Wisconsin Gaming Commission, this casino should adhere to at least a minimum payback percentage of no less than 80%. Slot machines at this casino are equipped with advanced systems to ensure fair gaming and impart accurate results.
Hotel/Resort
If you're planning a trip to this casino in Wisconsin and looking for a place to stay, don't worry – there may not be a hotel attached to the property, but there are plenty of nearby options.
The Best Western Northwoods Lodge and The Lodge at Crooked Lake Hotel are both located within a short driving distance and offer comfortable accommodations with various amenities.
Another option is the St. Croix Casino Turtle Lake Hotel, which not only offers a place to rest your head but also features a range of gaming activities to enjoy during your stay. So no matter which lodging option you choose, you'll have a great time at this casino in Wisconsin.
Restaurants & Buffets
There are no buffet offerings at this casino, but the casino houses a restaurant that offers a variety of delicious snacks and meals. At this casino, there is no shortage of dining options, and Gatherings Restaurant is a must-visit for anyone looking for a delicious meal.
This restaurant boasts a menu filled with locally sourced ingredients, and the talented chefs prepare every dish with care and attention to detail. Whether you're in the mood for something light, like a fresh salad, or craving a hearty burger, Gatherings has you covered.
Pools
Although this casino doesn't have any swimming pools on-site, there are still lots of exciting activities to enjoy during your stay. Stroll around the surrounding area and explore the beautiful scenery, or try your luck at the casino and see if you can hit the jackpot.
If you're in the mood for relaxation, why not head to the sauna or indulge in a spa treatment? The staff at this casino are always on hand to offer help and advice, so feel free to ask them for tips on the best nearby amenities and attractions.
St Croix Casino Hertel, WI FAQ
Does St Croix Casino Hertel Have A Sportsbook?
No, this casino does not have a sportsbook. Instead, it offers a wide variety of slots and regular events and promotions. The casino also houses the Gatherings Restaurant, which provides delicious snacks and meals.
Is Poker Available At St Croix Casino Hertel?
No, there are no live poker tables at this casino. Even other card games, such as blackjack and baccarat, are unavailable. However, there is an electronic poker game provided in this casino, offering an interactive and fun gaming experience for all players.
What Are The Age Requirements For Gambling At St Croix Casino Hertel?
The legal age for gambling at this casino is 21 years old. Players under 21 cannot enter or place a bet in casino games, including slots and electronic poker. Those violating this rule will be asked to leave and may face further penalties.
Does St Croix Casino Hertel Have An Online Casino?
No, they do not have an online casino. Instead, they offer a variety of slot machines and ongoing events and promotions at their brick-and-mortar casino in Wisconsin. Players must be 21 or older to enter the casino and participate in gaming activities.
Is There An St Croix Casino Hertel App?
No, there is no app for this casino. However, players can access the website and check out promotions, events, and other information about the casino. They can also sign up for mobile notifications to stay informed of news or updates.
What Is The Dress Code At St Croix Casino Hertel?
The casino has no strict dress code. However, visitors are encouraged to dress in neat and comfortable attire. Avoid wearing clothes with offensive images, slogans or messages, as this type of clothing is not allowed. Sandals and flip-flops are also not permitted in the casino.
Is There An Airport Shuttle Available From St Croix Casino Hertel?
No, there is no airport shuttle service available from this casino. However, many taxi and car rental services can be hired to get you to and from the airport. There are ridesharing services and public transportation options available as well.
What Is The Smoking Policy At St Croix Casino Hertel?
The casino has designated outdoor smoking areas for visitors who wish to smoke. These sections are clearly labeled and have separate ventilation systems to ensure the safety of other players. Smoking is not allowed in any other part of the casino.
What Is The Pet Policy At St Croix Casino Hertel?
Currently, they only allow service animals at the casino. All other pets must stay home or with a pet sitting/boarding service. Animals left in vehicles may be subject to fines and/or removal by law enforcement authorities.
Is Wifi Available At St Croix Casino Hertel?
Yes, free wifi is available throughout the casino. Visitors can easily connect to the network and enjoy their devices while gaming or relaxing. The network is secure, so guests don't have to worry about their personal data being compromised.
What Is The Cancellation Policy For St Croix Casino Hertel?
Since there is no hotel or accommodation attached to the casino, there is no cancellation policy. However, reservations for events and promotions can be canceled in advance and will be refunded if applicable.
Conclusion
This casino offers a great gaming experience for visitors of all ages. With its wide selection of slots, electronic poker, and regular events and promotions, players can find plenty to entertain them.
Just be mindful of the age requirements and dress code, and remember to provide documentation if you need to bring a service animal. With some planning and preparation, your visit to St Croix Casino Hertel will be enjoyable and memorable.