Little Wind Casino Ethete
Address: 800 Blue Sky Hwy, Ethete, WY 82520
Phone Number: +1 307-438-7000
Website: www.littlewindcasino.com
Hours: Little Wind Casino is open 24 hours a day, 7 days a week.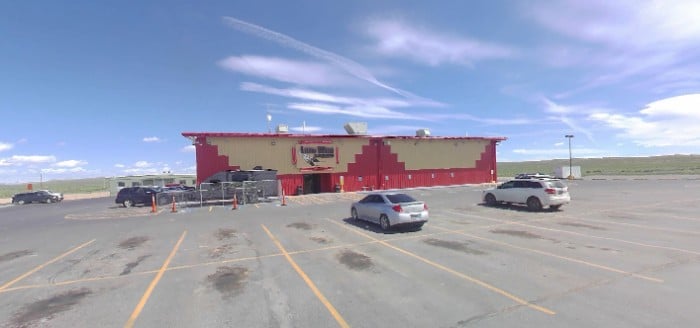 Little Wind Casino is a tribal casino owned and operated by the Northern Arapaho Tribe. Since its opening, the casino has provided guests with high-quality gaming and entertainment experiences for over two decades.
Their gaming space consists of over 160 slot machines, ranging from classic to modern titles. And with so many promotions and specials, you will surely find something that suits your style.
They also have a restaurant on-site, serving up delicious food and drinks for guests to enjoy. Plus, you can catch live entertainment at the casino's bar on select nights. Whether you're looking for a fun night out or a casual gaming experience, this casino has something to offer everyone.
On many review sites, this casino has an overall rating of 4.5 stars out of 5. One guest said, "This is a great place to come and relax after a long day. The staff was friendly, and the atmosphere was top-notch. We had a wonderful time!"
Another commented, "I've been to this casino many times before, and it is always a good experience."
(Related reading: Wisconsin casinos)
Gaming
Their casino offerings include over 160 slot machines with classic, modern, and progressive jackpot titles. They also offer promotions and rewards for loyal players.
Table Games
While this casino in Wyoming offers an excellent experience, they don't have any table games. Instead, their casino floor is full of slot machines of every variety.
From classic three-reel slots to modern video slots with themed bonus rounds and free spins, there is something for everyone. So, if you're looking for a thrilling and entertaining casino experience, come and play the slot machines at this casino.
Slots
Some of the most popular slot machines at this casino include Colossal Wizards, which features mystical creatures on a larger-than-life screen, and Li'l Red, which puts a playful twist on the classic fairy tale.
If you're a fan of ancient Rome, you'll love Spartacus Gladiator of Rome, which has epic battles and thrilling bonuses. Forbidden Dragons is another exciting option, with fiery graphics and the chance to win big.
Queen of the Wild II is a nature-themed game that takes you through the jungle to uncover treasures. Lastly, Lazer Lock Ice Sapphire is a cool and futuristic slot with an icy theme that will keep you spinning for hours.
Unfortunately, no data is available for the exact payback percentage of slot machines at this casino. Players may ask the staff for more information about their slot machines and payback percentages.
Hotel/Resort
If you're looking for a comfortable stay at this casino in Wyoming, you won't find a hotel on the property. However, there are several great options nearby that you can choose from.
The Shoshone Rose Casino & Hotel is just a short drive away and offers plenty of amenities to make your stay enjoyable, including a restaurant, fitness center, and complimentary breakfast.
Another nearby option is the Wind River Hotel & Casino, which boasts an on-site restaurant, indoor pool, and complimentary shuttle to and from the airport. Alternatively, the Comfort Inn & Suites is just a short distance away and offers affordable rates and comfortable rooms.
Restaurants & Buffets
If you're visiting this casino in Wyoming and looking for a great spot to grab a bite, look no further than the Morning Star Restaurant. This restaurant is the perfect option for those who enjoy home-cooked meals and want to indulge in some comfort food.
You'll find a variety of dishes on the menu, ranging from hearty breakfast options to filling lunch and dinner plates. Whether you're in the mood for a classic American burger or something more exotic, like their tasty Mexican specialties, the Morning Star Restaurant has got you covered.
There is no buffet in this casino, but their restaurant serves an array of deliciously prepared dishes that will satisfy any appetite.
Pools
While this casino doesn't have swimming pools on its premises, there are still plenty of options nearby for those looking to take a dip. The nearby hotels mentioned above offer pools that you can use, or you can check out the local public pools.
And the location of the casino in Wyoming makes it easy to enjoy the natural beauty of the area. There are plenty of nearby lakes and rivers that offer swimming, fishing, boating, kayaking, and other outdoor activities.
Whatever your preference is, take advantage of the great opportunities for swimming and relaxing in Wyoming's beautiful outdoors.
Little Wind Casino, Ethete, WY FAQ
Does Little Wind Casino Have A Sportsbook?
Unfortunately, they do not have a sportsbook at this casino. However, their range of slots and other gaming options make for an entertaining casino experience. Additionally, there are plenty of nearby casinos with sportsbooks that can be visited if you wish to bet on sporting events.
Is Poker Available At Little Wind?
No, there are no live poker tables at this casino. However, there are video poker machines available for those wanting to enjoy the game. This is a great option for those who want the classic poker experience with some modern twists.
What Are The Age Requirements For Gambling At Little Wind Casino?
The legal age for gambling at this casino is 21. All patrons must present a valid ID or driver's license to be allowed in the casino. Minors are not permitted on the grounds of the casino, even if they are accompanied by an adult.
Does Little Wind Have An Online Casino?
No, they do not have an online casino at this time. Players must visit the physical casino in Ethete, Wyoming, to enjoy their gaming selection. However, there are plenty of online casinos available for those who wish to play from home.
Is There An Little Wind App?
No, they do not have a mobile app. However, their official website can be found on mobile devices, allowing players to keep abreast of the latest promotions and gaming offerings.
Their social media accounts are also great resources for keeping updated on the casino's news and updates.
What Is The Dress Code At Little Wind Casino?
The dress code at this casino is pretty casual for both guests and staff. Those looking for a more formal atmosphere should look elsewhere, as they do not enforce strict dress code rules.
However, it's always best to avoid wearing overly revealing clothing or anything inappropriate in a public setting.
Is There An Airport Shuttle Available From Little Wind?
No, they do not offer an airport shuttle service. However, public transportation is available from nearby towns and cities to take visitors to this casino. Visitors can also rent a car from the airport or use ride-hailing services like Uber and Lyft to get to the casino.
What Is The Smoking Policy At Little Wind Casino?
The smoking policy at this casino is strictly enforced. Smoking is not allowed in any indoor areas, including gaming tables and restaurants. However, there are designated outdoor smoking areas for those who wish to smoke while visiting the casino.
What Is The Pet Policy At Little Wind?
Pets are not allowed on the casino property except for service animals. If you plan to visit the casino, leave your pets at home or with a pet-sitting service.
This policy is in place to ensure all guests feel safe and comfortable while visiting, as well as to protect any vulnerable animals from potential harm.
Is Wifi Available At Little Wind Casino?
Unfortunately, guests may need to bring their own wifi device as this casino does not offer free wifi. However, there are plenty of local restaurants and cafes nearby that offer free internet access.
What Is The Cancellation Policy For Little Wind Casino?
There is no cancellation policy in place at this casino since they do not offer any accommodations. However, visitors should check with the casino in advance if they need to make any changes to their reservation or have any other concerns.
Conclusion
This casino is a great destination for those looking to enjoy the classic experience. With plenty of gaming options, delicious food, and friendly staff, this is one of the best casinos in Wyoming.
The casino has several policies to ensure every visitor is safe and comfortable, such as the age requirement, smoking policy, and pet policy. Visitors should also know the dress code and wifi availability when planning their trip.
With all these factors taken into consideration, this casino is sure to provide an enjoyable experience for anyone passing through Ethete, Wyoming.