Shoshone Rose Casino & Hotel Lander
Address: 5690 US-287, Lander, WY 82520
Phone Number: +1 307-206-7000
Website: www.shoshonerose.com
Hours: Shoshone Rose Casino & Hotel is open 24 hours a day, 7 days a week.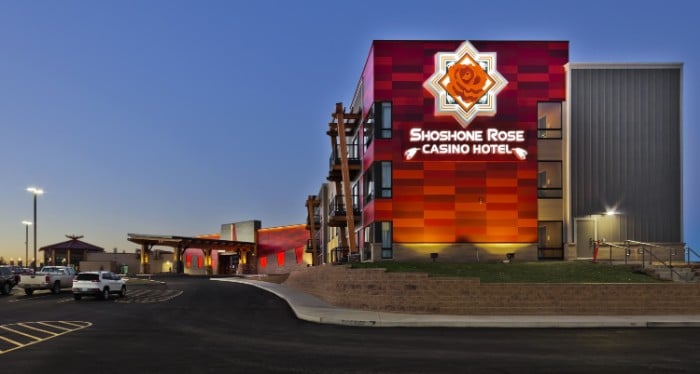 The Shoshone Rose Casino & Hotel is located in Lander, Wyoming and has been a part of the local community since 2007. It was founded by the Eastern Shoshone Tribe to help bring economic development and employment opportunities to its members.
The casino offers traditional slots and video poker machines for players to enjoy, with various games and promotions. There are no live table games available, but the casino does offer a variety of electronic table games.
The hotel portion is equally impressive. The property houses 60 comfortable guest rooms decorated in Native American-inspired décor to reflect its tribal heritage. The hotel also has a pool and spa, as well as several restaurants on-site for guests to enjoy.
They also have a restaurant that serves classic American cuisine, Mexican favorites, and traditional Native American dishes. The hotel also hosts special events and offers packages that can help make visiting this casino in Lander more memorable.
So if you're looking for a great place to stay and play in Lander, Wyoming, you should check out this casino. Whether you come for gaming or want a comfortable stay in beautiful Wyoming, this casino will surely be a great choice.
On popular travel websites, this casino has an average rating of 4.5 stars out of 5. One guest commented, "The staff was very friendly and helpful, the rooms were comfortable and clean, and the restaurant had delicious food."
Another reviewer wrote, "I had a great time at this casino. The staff was friendly and helpful, and the gaming experience was enjoyable. Highly recommend it."
(Related reading: Wisconsin casinos)
Gaming
The gaming space at this casino has traditional slots and video poker machines, along with a variety of electronic table games. The casino offers various promotions, and players can also take advantage of their Players Club to earn rewards for their play.
Table Games
While this casino hotel has many slot machines, they do not offer traditional table games. However, they have electronic table games, which are just as exciting as the traditional ones.
They also have a wide range of slot machines for players to choose from, and the casino offers various promotions that can help players get a good deal on their gaming experience.
Slots
When it comes to the popular slot machines at this casino, several options keep players coming back for more.
One of the top choices is Big Red, a game that features a kangaroo theme and offers up to 255 free spins. Wonder 4 Tower is another favorite, allowing players to choose from four games simultaneously.
Lightning Link – Magic Pearl offers unique features like the Hold & Spin, and Buffalo Stampede keeps players engaged with its 1024 ways to win. Ocean Magic and Fu Gui Ji Li offer chances at big jackpots, while Fortune Horse immerses players in ancient Chinese culture.
Unfortunately, no information is available about the payback percentages for slots at this casino. However, if you are looking for a great gaming experience with chances of winning big jackpots, then this is a great place to start.
Hotel/Resort
The hotel at this casino offers 60 comfortable guest rooms decorated in Native American-inspired décor. Each room has a private balcony, and guests can enjoy complimentary Wi-Fi, cable TV, and air conditioning.
Room types include:
Standard Rooms – features one king or two queen beds
Deluxe Rooms – features one king or two queen beds and a sitting area
Suites – features one bedroom, a living room, a sleeper sofa, a dry bar, a balcony and a jacuzzi tub
The hotel also offers a variety of amenities to make guests' stay more comfortable and enjoyable. These amenities include:
Wifi access
Onsite parking
24-hour front desk
Laundry facilities
An indoor swimming pool and hot tub
Business center and meeting rooms
Pet-friendly accommodations
Onsite dining
Live entertainment
Nearby local attractions and activities
The rates for rooms vary depending on the type of room and season. Room rates usually start at $90 per night and can go up to $145 or more. For specific rates and availability, please check the casino's website for more information.
Check-in time at Shoshone Rose is 4:00 pm
Check-out time at Shoshone Rose is 11:00 am
Restaurants & Buffets
If you're planning a trip to this casino in Wyoming, you won't have to go far to find delicious food. The casino offers a variety of dining options, including the popular Deka-Guy Hee restaurant.
This eatery features a mouth-watering menu of classic American dishes, as well as traditional Native American cuisine.
Whether you're in the mood for a juicy steak, fresh seafood, or a hearty burger, you will surely find something to satisfy your cravings. Plus, the friendly staff will make you feel right at home while you dine.
Pools
This casino hotel in Wyoming is an amazing place to unwind and relax, and what better way to do that than by going for a swim? Their indoor pool is the perfect way to get in a little exercise or splash around for some fun.
The pool is just the right temperature, making it perfect for all ages. Whether you're traveling through Wyoming or looking for a little staycation, this casino is worth checking out. So why not make a splash and dive on in?
Shoshone Rose Casino & Hotel, Lander, WY FAQ
Does Shoshone Rose Casino & Hotel Have A Sportsbook?
No, this casino does not have a sportsbook. Instead, guests will find a variety of slots and live entertainment and other amenities like an indoor pool and hot tub. Guests can also take advantage of the onsite dining options and nearby local attractions for more fun during their stay.
Is Poker Available At Shoshone Rose Casino?
Currently, this casino does not have any live poker tables. However, you may find video poker machines in the casino, which allow players to win real money prizes. Video poker is great for players who want to experience the thrill of poker without competing against other players.
What Are The Age Requirements For Gambling At Shoshone Rose Casino & Hotel?
At this casino, the minimum age for gambling is 21 years old. Guests must present a valid form of ID when entering the casino floor to verify their age. If any guest appears to be under 21, they will be asked to leave the casino immediately.
Does Shoshone Rose Have An Online Casino?
No, there is no online casino associated with this casino. You must visit the physical location to experience any of its gaming options. However, you can check out the casino's website for information about room rates, amenities, restaurants and more.
Is There An Shoshone Rose Casino & Hotel App?
No, they do not currently offer an app. However, guests can go to the casino's website for all the information about their stay, including room rates and availability, amenities, restaurants and more.
What Is The Dress Code At Shoshone Rose Casino?
The dress code at the casino is casual. However, guests are asked to wear appropriate clothing for a family-friendly environment. They should not wear any items with offensive language or images, and they must be fully clothed at all times while in the casino.
Is There An Airport Shuttle Available From Shoshone Rose?
No, they do not have an airport shuttle service. However, there are other transportation options available, such as taxis and rental cars. Guests should inquire with the hotel front desk for more information on these services.
What Is The Smoking Policy At Shoshone Rose Casino & Hotel?
This casino is a non-smoking facility. Smoking is prohibited in public areas or guest rooms, and there are no designated smoking areas on the property. Guests who wish to smoke must do so outside the premises.
What Is The Pet Policy At Shoshone Rose?
To maintain a clean and comfortable environment for all their guests, they require a non-refundable daily deposit of $20 for pets. However, if you plan an extended stay for more than three days, the deposit increases to $40.
Is Wifi Available At Shoshone Rose Casino & Hotel?
Yes, complimentary wifi is available in all guest rooms and public areas of the hotel. Guests will be provided with a password for access upon check-in. WiFi is also available in most restaurants and other onsite amenities.
What Is The Cancellation Policy For Shoshone Rose?
If you wish to cancel your reservation, you must do so at least 24 hours before the scheduled arrival time. If a cancellation is made within 24 hours of the scheduled arrival time, guests will be charged for one night's stay.
Conclusion
This casino hotel is an exciting and luxurious destination for travelers looking to enjoy the casino experience. Guests will find various gaming options, including slots, video poker and live entertainment.
There are also plenty of other amenities, including onsite dining, an indoor pool, a hot tub and more. So no matter what you're looking for, Shoshone Rose Casino & Hotel has something that will suit your needs. Start planning your trip to this amazing destination today!