By Steve Beauregard
Oregon's largest city and boasts a mild climate, busy marine terminals, two universities and reputation for roses.
What it doesn't have however, is a full-fledged casino.
There are of course, video lottery terminals found in lots of places around Portland, as well as some poker rooms and horse racing, however if you're looking for table games and more real casino experience, you'll find a couple of Indian casinos within a short drive, including a large, shiny still-new casino just 25 miles from downtown.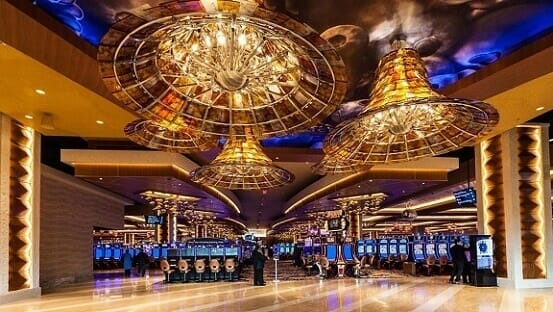 Here we'll focus on the two main casinos near Portland, and some cardrooms nearby as well, however we won't cover Portland's thriving poker room market in this article.
Ilani Casino
(Red star on map)
Located across the border into Washington State, the shiny new half-billion dollar Ilani Casino is the centerpiece of gambling in the area. Since its April 2017 opening, the casino has been a huge success. Between 7,000 to 11,000 customers visit the casino daily, according to The Daily News newspaper.
It helps that it is, (by far), the closest casino to Portland.
In fact, the Ilani is located just 25 miles north of downtown Portland in La Center, Washington. The drive on Interstate 5 can take anywhere from a half hour to an hour, depending on traffic.
Once there, you'll find a true Las Vegas style resort. The property is large, with 380,000 total square feet. The casino floor itself has 100,000 square feet, which means it's similar in size to many of the famous large casinos on the Las Vegas Strip.
On this spacious casino floor, you'll find 2,500 slot machines. As with Oregon's Video Lottery Terminals, (or VLT's), these look like Las Vegas style slots, however they are not the random number generator based slots you find in Nevada.
(Each star represents a casino or card room near Portland.)
What's more traditional are Ilani's roundup of 75 table games.
These include all of the usual favorites, including blackjack, dice-based craps, baccarat, Pai Gow, roulette, along with some carnival games like 3 Card Poker and Let-it-Ride.
You won't find a poker room here, nor is there a bingo hall.
Restaurants at the Ilani Casino
The lineup of dining options here range from quick-service burger joints to Starbucks to a sports bar to upscale seafood restaurants to a Michael Jordan's Steakhouse.
In addition to three bars, the casino's large Cowlitz Ballroom seats 2,500 people, and the venue hosts big-name concerts and comedy acts.
Address & Phone:
1 Cowlitz Way
Ridgefield, WA. 98642

(877)GO.ILANI
Ilani Casino Notes
* Although you only have to be 18 to gamble in Washington State, the Ilani has chosen to only allow those 21 and older to gamble.
* The Ilani Casino also has a free casino shuttle that departs daily from the Gateway Transit Center (among other stops).
* Parking is free here, although there is a modest fee for valet ($4 I believe). Although more parking construction is in the works, the currently lot can get crowded, even though it has spaces for 3,000 vehicles. There are free electric car charging stations.
* There is currently not a hotel here, although there is talk of adding one in the future.
Spirit Mountain Casino (Orange star)
Until the Ilani opened, this casino, 70 miles southwest of downtown, had the distinction of being the closest casino to Portland.
Unlike its casino rival in southern Washington State, Spirit Mountain has a poker room, bingo, a buffet and hotel.
The casino's selection of table games include dice craps, blackjack, roulette, Pai Gow and the like. The poker room has nine tables.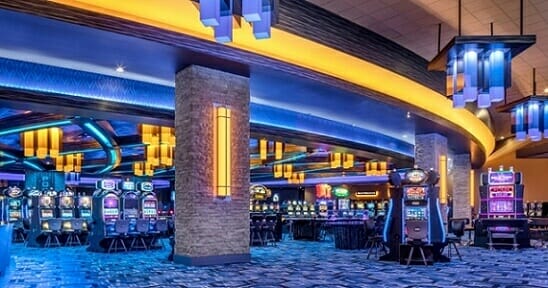 There are four onsite restaurants here, including the Cedar Plank Buffet. In addition to bars and its 254 room hotel, Spirit Mountain has a large entertainment venue, with acts like Jeff Foxworthy, Peter Cetera, Three Dog Night and the like.
Address & Phone:
27100 SW Salmon River Highway
Grand Ronde, OR. 97347

(503) 879-2350
The casino is open 24 hours a table and you have to be 21 years old to play here.
Casinos Near Portland Without Slot Machines
Palace Casino (purple star)
Open 24 hours a day, this small casino in La Center offers baccarat, double-deck blackjack, Spanish 21, Pai Gow, blackjack variants, and Ultimate Texas Hold'em.
They have their Lucky Dragon restaurant and a Seafood and Sushi Bar. And while players are comped drinks, they do receive discounts on alcoholic beverages while playing.
You can play here at age 18, however you still have to be 21 or older to drink.
Address & Phone:
318 NW Pacific Highway
La Center, WA. 98629

(360) 263-2988
The Last Frontier (purple star)
Also in La Center, the Las Frontier is just across the street from the Palace Casino.
The poker room has five tables and there is a small selection of table games, including double deck blackjack, some other blackjack variants and baccarat. There's also a restaurant here as well.
Address & Phone:
105 W. 4th Street
La Center, WA. 98629

(503) 281-0932
Other Notes about Casinos Near Portland
* In addition to the two casinos close to Portland, there is the Chinook Winds Casino at Lincoln City on the Pacific coast, 90 miles southwest of downtown Portland.
* Portland Meadows Racing also offers gambling options to Portland residents. In addition to wagering on live horse races, they offer simulcast betting on different greyhound and horse races at various tracks around the country.
* In addition to horse betting, Portland Meadows has (for now), a 22 table poker room that may be in legal limbo with state lottery officials. There are also 150 video terminal games that are similar in appearance to slot machines. However the outcome of these machines are based on past horse races.
* Another card room in La Center, The New Phoenix Casino closed in March of 2017.
* The former Cadillac Island casino in Longview, Washington – a small cardroom which changed its name to the UBET Casino in 2016 – closed in 2017 after the owner suffered financial difficulties, according to an article in The Daily News of Longview.
(Photos courtesy of the Ilani Casino and Spirit Mountain Casino Resort)