Elko, Nevada Casinos
Elko, Nevada is home to six casinos: the Stockmen's, Commercial Casino, the Red Lion, The Gold Country Inn and Casino, The Gold Dust West, and Dotty's 35.
The small, isolated town in north east Nevada has about 19,000 residents. Unlike Las Vegas, its economy is more dependent on gold mining than gambling.
At just over 5,000 feet in elevation, Elko does attract casino business from drivers stopping for a rest from the long boring drive on Interstate 80. Other activities include hiking, fishing, ATV and snowmobiling.
The town is also home to the National Cowboy Poetry Gathering, held each January. There are also tours of a nearby gold mine – the largest gold mine in the United States.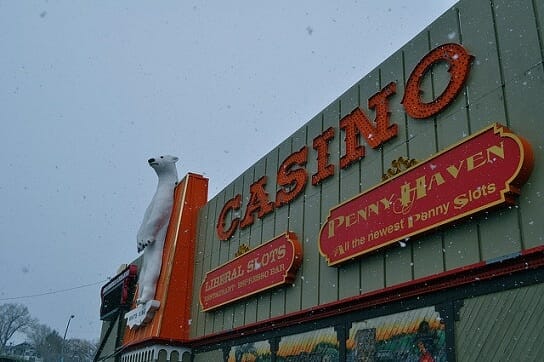 Here's a brief look at the casinos in Elko, NV.
Stockmen's Casino
The Stockmen's is situated downtown, just down the street from the Commercial Casino. Like the Commercial, it has an old west feel to it, both on the interior and façade.
Inside, the 8,000 square foot casino has the usual assortment of slots (150 slot machines to be exact), along with a small selection of table games, including blackjack, craps, roulette and 3 card poker. According to their website, you can trade in your comp points for cash.
As for the hotel, the Stockmen's has partnered with Ramada. There are 54 renovated rooms, along with a coffee shop, and a show room where bands perform on weekend nights.
Commercial Casino
Located on the main drag, Idaho Street, this casino is easily recognizable by the huge white polar bear rising high above the casino entrance. His name is "White King" if you're curious. Inside is the real White King, a 10 foot real, stuffed polar bear that is supposedly the largest in the world.
The Commercial Hotel and Casino was built in 1869. There are no table games, just slot machines, video poker, and an old west vibe. The Commercial is also home to a martini bar and buffet.
I've never stayed at the hotel, and cannot find any information about it, other than some poor reviews.
Red Lion Hotel and Casino
The largest and nicest casino in Elko, the Red Lion is the Wynn of Elko.
Opened in 1983, the casino has 17,000 square feet of gaming space, which includes 350 slot machines. They brag the casino is open "24 hours a day." (Hey, I've been in some small town Nevada casinos that weren't open all the time).
The Red Lion spreads single deck blackjack, Super Fun 21, 3 Card poker, and very low-limit blackjack ($1 recently). (Try finding THAT game on the Strip.)
In addition, they have roulette and craps tables, a William Hill digital sports book, and a small poker room.
Using the Red Lion's Comps Plus+ card will earn you comp points, if you're so inclined.
As for the hotel: there are 222 rooms, and they have been recently refurbished with furnishings like granite in the bathrooms and such. In other words, it's not a dingy dump or anything.
There is also a gift shop, video game arcade for the kids, workout room, and a free airport shuttle.
In addition to a Starbucks, there are two restaurants at the Red Lion: The Aspen Bar and Grill, which is the fancy restaurant, and a typical casino coffee shop called the "Coffee Garden." The bars include the requisite sports-themed bar.
Gold Country Inn and Casino
Across the street from the Red Lion, this hotel/casino is actually called the America's Best Value Inn Gold Country Inn and Casino, but that name doesn't really fit on the free pens.
Either way, the Gold Country Inn has 150 modest rooms, in addition to a small workout facility, business center and swimming pool. Attached is the Gold Country R.V. Park, with 26 spaces offering full hook ups. Like the Red Lion, The Gold Country Inn and Casino offers free airport shuttle service.
The Gold Country has one restaurant on the property, the JR's Bar and Grill, which is sort of a sports bar/restaurant with pool tables.
The casino has 130 slot machines, including the favorites like Wheel of Fortune, and video poker machines. For table games, go across the street to the Red Lion. By the way, the two properties are jointly owned, so you can use your Comps Plus+ card here as well.
Gold Dust West Casino
This plain-looking casino, (it looks like a converted Staples or Office Max), is in the western part of Elko, close to the Elko Regional Airport.
No hotel here; just 350 slot machines, along with table games such as blackjack, craps and 3 card poker. There's also a William Hill sports book, a moderately-priced restaurant, along with Dusty's lounge for drinks.
Dotty's 35 Casino
Just down the street from the God Dust lies Dotty's 35, a very small casino in a strip mall next to a Game Stop.
Dotty's 35 Casino opened in 2013. It has 50 slot machine/video poker machines, along with a bar which also serves a small menu of hamburgers and appetizers and the like.
While not really in Elko, there is another casino ten minutes to the south east of town in Spring Creek, Nevada. It's called the Scoreboard Casino, and it's affiliated with the aforementioned Stockmen's Casino in Elko. The Scoreboard, however, just has slot machines and a small sports book kiosk.
Elko, NV Casino Flights and Packages
A company called "Casino Express" used to shuttle degenerates like me to Elko for one day casino junkets to the Red Lion. (Ours flew from Grand Junction). There were other packages for two night stays, but that's a long time to spend in Elko.
One article reported that the Casino Express flew over 100,000 gamblers into Elko in 1995 alone.
In 2006 however, Casino Express ended their flights, due to a combination of higher fuel costs and fewer passengers.
(By Steve Beauregard. hotos courtesy of Sarah Murray and Flyover Hangover via Flickr).