Encore Boston Harbor Parking Fee, Map & Valet 2023
When there's one casino to serve a metro population of five million people, you know that one casino is going to be packed.
And the new Encore Boston Harbor Resort is one busy casino.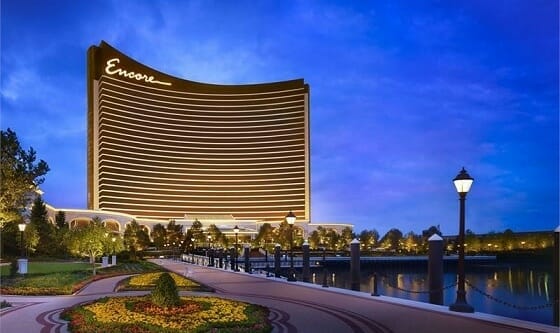 In fact, an estimated 8 million people will visit the casino/hotel each year, according to Wynn Resorts executives. That's about 22,000 people a day.
However there are only 2,900 onsite parking spaces.
As such, the resort has pushed area residents to take one of the numerous shuttles, boats, and coach services the casino offers.
However if you plan on driving to the Encore Boston, you'll be happy to know that parking is complimentary.
Encore Boston Harbor Parking Map
The black "P" shows the entrance to the self-parking garage. The purple star is valet parking, while the brown "P" shows you the overflow, Mystic paid parking lot.
Encore Boston Harbor Parking Fee
Self-parking at the resort is completely free.
This applies to hotel guests, as well as those just visiting. And while the free parking is a nice amenity (and somewhat expected), that wasn't always the case.
The resort opened in June of 2019 with a hefty parking fee, charging guests $22 for up to six hours of parking, and $42 for overnight parking.
They later eliminated the parking fee on weekdays, however the high price to park on weekends still left a bad taste in the mouth of many – even for Bostonians used to pricey parking fees. Thus, in October of 2019, Encore Boston eliminated pay-for-parking completely, and parking is now free, every day of the week.
Directions to Parking at Encore Boston
Once you enter the resort off Broadway, you're on Horizon Way. The entrance to the self-parking is off to your right.
The three-story heated, underground parking garage consists of 2,900 covered spaces. Once you're in and proceed a little bit, your three options consist of:
(1) Taking a left, for the resort elevators.
(2) Going right for the casino elevators.
(3) Staying straight for "more parking."
The free onsite parking garage spaces at Encore Boston Harbor can fill up quickly – particularly on Friday and Saturday nights.
Offsite Parking at Encore Boston Harbor
When that's the case, you can still park across the street from the resort at the Mystic Street lots . It used to cost $20 for up to six hours, and then $40 for 6-24 hours, however now it is free. This parking lot (the address is 31 Mystic Street), has 700 parking spaces.
Alternatively, (and if you don't mind taking the free casino shuttle), you can park at the Encore Boston's Evergreen Parking Lot, 1.7 miles to the north
Here, parking is free for up to six hours. After six hours, it will cost $5 up to 24 hours.
The shuttle goes back and forth from this parking lot to the casino every 30 minutes.
Encore Boston Harbor Shuttle Service
For those unaware, the MBTA (or just "T" to locals), is the area's public transportation system, which includes busses, subways, and light rail.
If using the T, there are free shuttles to the Encore Boston Harbor from both the Wellington Station and Malden Center. These run every 30 minutes, starting at 6 AM and going to 1 AM.
Alternatively, the Encore's Neighborhood Runner buses provide free transportation to the resort from the Chelsea Silver Line station and some other locations in Everett. There is also a Chinatown pick-up and a Quincy Runner.
Updated shuttle schedules, maps, and information direct from the Encore can be found here: Encore Boston Harbor Shuttle
Encore Boston Harbor Valet Parking Fee
Free!
Previously, valet was free only to hotel guests, and non-guests were charged $15, however now valet parking is complimentary to everyone.
The valet parking area is in front of the resort when you take Horizon Way. You'll drive past the self-parking entrance to get here. Prices are as follows:
Unfortunately valet parking users are not immune to long waits on weekends either. Be prepared. (Or be early).
Traffic
You should know ahead of time that not only does the Encore Boston parking garage fill up on weekends (and holidays), but that there's a lot of gridlock around the resort on Broadway.
Numerous people have complained about being stuck in traffic on Broadway and Horizon Way, trying to get to the parking garage for 20 minutes or more. That's not including the commute needed to get to the Encore Boston itself.
Parking Hotline
I cover casinos across the country, and something Encore Boston has that you won't find at any other casino in the country (as far as I'm aware), is the ability to call the resort and get a count of how many parking spaces are available.
The resort has a dedicated phone line you can use to get an updated count of parking space availability.
This number is: (857) 770-4370.
I called this on a recent Friday at noon, and was told there were 832 spaces left – all of which I'm sure were filled within a few hours.
If you call and are told the garage is full, you may save time by heading directly to the Mystic paid parking lot, or by going to the Evergreen parking lot and taking the free shuttle.
Other
For those with electric vehicles, the great website Plugshare.com reports that there are twenty chargers on level B2, and another twenty chargers on B3.
Encore Boston Harbor leases 1,100 parking spaces at the eight story Station Landing Garage, about a half of a mile northwest of the resort. This parking garage is used for employee parking.
Maximum clearance in the garage is 8 feet, 2 inches.
Of the three casinos in Massachusetts, the Encore Boston is the busiest, capturing 60% of the state's casino gaming revenue.
The resort's 27 story hotel tower boasts 671 rooms.
Despite what many feel are Encore Boston Harbor's very high hotel room rates, most recent figures from Wynn Resorts (the property's corporate parent), show that the hotel's nightly occupancy rate hovers around the 70% mark.
(By Steve Beauregard. Photos courtesy of Encore Boston Harbor Resort).