Four Queens Hotel & Casino Parking Fee & Valet 2023
An old-school casino in the heart of Fremont Street in downtown Las Vegas, what the Four Queens lacks in luxury, it makes up for in value.
In fact, the Four Queens is one of the few Vegas hotels that does not charge resort fees. In addition registered hotel guests do not have to pay for parking, so long as they have a player's card. (More on that below).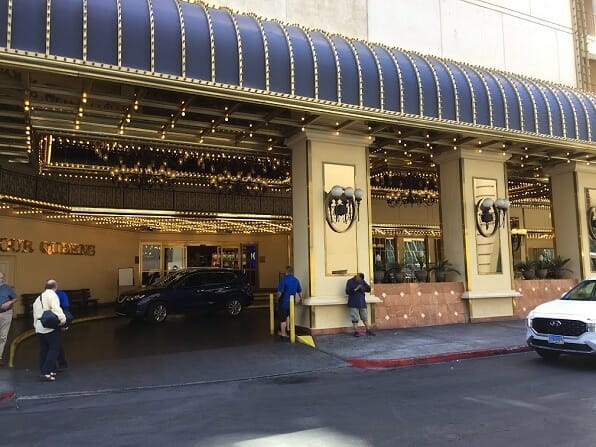 Parking is easily available thanks to a large 6 story parking garage just behind the hotel that has parking for nearly 800 vehicles.
Just note that it isn't necessary the cleanest garage in the world, and – based on numerous Yelp/TripAdvisor reviews – the elevators are often not working.
Four Queens Parking Fee
For registered hotel guests, self-parking at the Four Queens is complimentary, so long as you have the casino's "Royal Player's Card."
I'm not sure if this is enforced, but be sure to show your player's card at the front desk when checking in. I was told by a representative from the Four Queens that otherwise, parking would be $5 per day for hotel guests.
As for non-hotel guests? Self-parking is available hourly at the Four Queens with a maximum $18 daily rate. Rates are as follows:
| | |
| --- | --- |
| 0 to 1 Hour | $3 |
| 1 – 2 Hours | $6 |
| 2 – 4 Hours | $9 |
| 4 – 6 Hours | $12 |
| 6 – 24 Hours | $18 |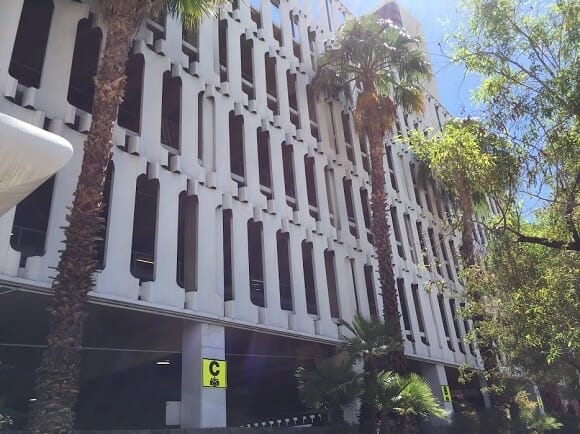 One last note: During special events, (meaning very busy times in Las Vegas, such as July 4th, New Year's Eve, etc.) parking can jump to $30 per day up to $50 per day.
Free Parking at the Four Queens Las Vegas
It is very easy to receive free parking at the Four Queens.
In fact, if you spend any money at all inside the Four Queens, you are likely to have your parking validated.
Those who earn just 5 points on their Royal Player's card get their parking validated, as do those who show their card to a pit boss while playing table games.
Slot players will need to take their card to the Player's Desk for validation.
Even if you choose not to play, those that eat at one of the restaurants inside can have their parking validated by your server (per Elizabeth from Four Queens customer service).
Please note that during special events and busy holidays, validation for parking is not offered.
Valet Parking Fee at the Four Queens Las Vegas Hotel
The Four Queens has an easily accessible valet parking area, right off of 3rd Street.
Per the Four Queens: "There is no charge for valet though you will need to have your valet ticket stamped (validated) or you would be charged when you leave the same as if you self-parked."
Either way, this does not include the customary tip for the valet driver.
Four Queens Hotel & Casino Parking Map
Parking here is accomplished via a large white 1960's era, six-level parking garage attached to the resort.
It sits directly south of the hotel and stretches the entire block length, from 3rd Street to Casino Center Boulevard.
(The "P" shows the entrance into the self-parking garage, while the brown star is the valet parking area)
Entrance into self-parking is off of Carson Avenue, right across the street from the Downtown Las Vegas Events Center concert/entertainment venue.
The first three levels of the garage are reserved for valet parking, while the other three self-parking levels have elevator access down to the hotel.
The valet parking entrance is found on 3rd Street. You'll go North on 3rd Street, off of Carson Avenue.
This is a dead-end street, as it ends before you get to Fremont Street, due to the concert stage on Fremont Street. The valet area will be towards the end on your left.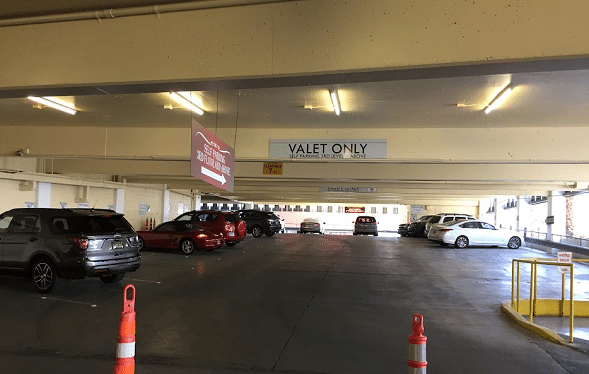 On occasion, when the valet parking area is full, it may be limited to hotel guests and patrons of the casino's famed restaurant, Hugo's Cellar.
(Related: California Hotel & Casino Parking fee).
More about Parking at the Four Queens Casino Resort in Las Vegas
Clearance into the garage is exactly 7 feet.

Should the garage or valet be full, you can find nearby parking across the street at The D Las Vegas parking garage.
In September 2020, five vehicles on the first level of the parking garage caught fire, causing an estimated $500,000 in damage, according to a story by Marvin Clemons in the Las Vegas Review-Journal.
(By Steve Beauregard. Photos copyright gamboool.com)