Gun Lake Casino Buffet: Prices & Hours 2023
The Harvest Buffet at Gun Lake Casino is a very popular dining option for the 3 million gamblers who visit the casino each year.
Located off 131, just 24 miles south of Grand Rapids, and 27 miles north of Kalamazoo, Gun Lakes Casino is currently in the middle of a $300 million dollar expansion, which will add a 15 story hotel tower, and 32,000 square foot Aquadome pool complex.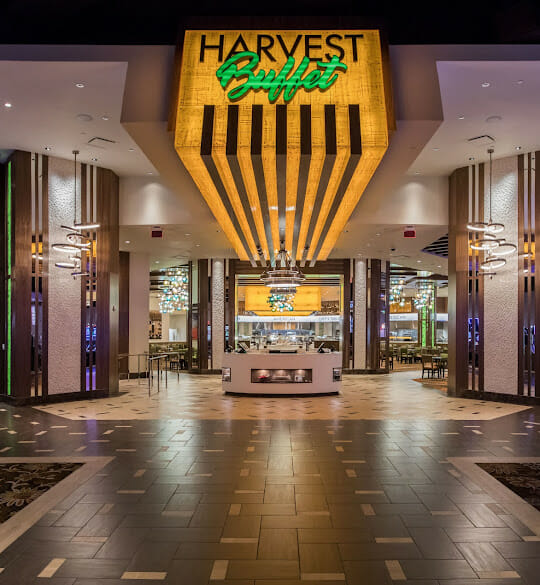 Gun Lake Casino Buffet
The Harvest Buffet, part of a 2017 expansion, boasts 20,000 square feet of space, and offers seating for up to 300 guests. It has a contemporary decor, with jade and yellow accents, beautiful hanging lights, and plenty of comfortable seating, along with nine different food stations.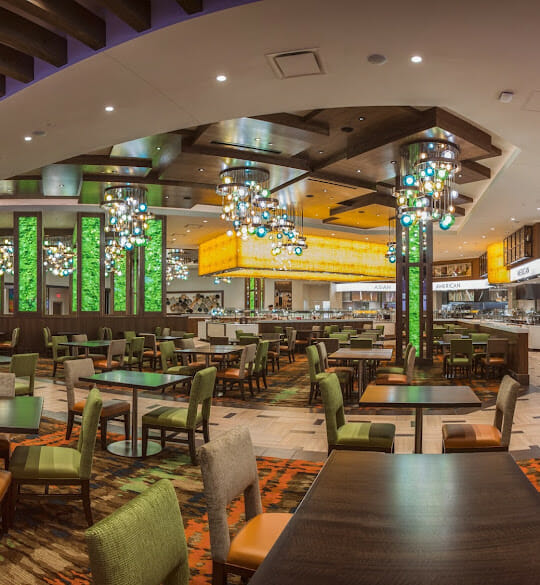 Seating is all first-come, first-serve, and they do not take reservations.
Gun Lake Casino Buffet Hours & Prices
Keep in mind, the Harvest Buffet is only open Thursday, Friday, Saturday and Sundays. Current hours and prices are as follows:
| | | |
| --- | --- | --- |
| Thursday – Sunday | | |
| Lunch | 11:30 AM to 4 PM | $17.99 |
| Dinner | 4 PM to 9 PM | $27.99 |
| | | |
| Monday – Wednesday | Closed | |
These prices do not include the 6% sales tax, nor tip.
Also, during holidays and special occasions, these prices may increase slightly. For example, on Christmas Day 2022, the price increases to $35, but features a special holiday menu. Similarly, the New Year's Eve 2023 buffet has expanded hours (from 11 AM to 11 PM) and runs $35. ($20 for children 11 and under).
If you plan on bringing a lot of people with you, the Harvest Buffet asks that you call them ahead of time for parties of 15 or more. Their number is (269) 792-7777.
Gun Lake Casino Harvest Buffet Children's Prices
Regarding a question that often rises, "Are children allowed at the Gun Lake Casino Buffet?" The answer is, yes, however they must be accompanied by someone over the age of 21 or older.
Kids from 0 to 4 years-old eat free. Children from 5 to 12 pay $12 for each buffet, while those 13 and older pay adult prices.
Gun Lake Casino Buffet Menu
The buffet isn't the largest by any means, but there are enough standards to please nearly any appetite. Their Open Table page states that there are 100 different options. These range from make your own nachos, to ribs, okra, asparagus, green beans, mac n' cheese, prime rib, jalapeno poppers and many more. As of this update, crab legs are not served.
The food serving stations are as follows:
Salad Bar
Asian
American
Chef's Table (includes the carving block)
Mexican
Italy
Pizza
Dessert
The center island is a combination salad bar and dessert section. Dessert options include creme brulee, flan, jell-o, chocolate cupcakes, chocolate chip cookies (and two other flavors), and several varieties of cupcakes.
Drinks include Pepsi products, iced tea, lemonade, coffee, hot tea, milk and chocolate milk.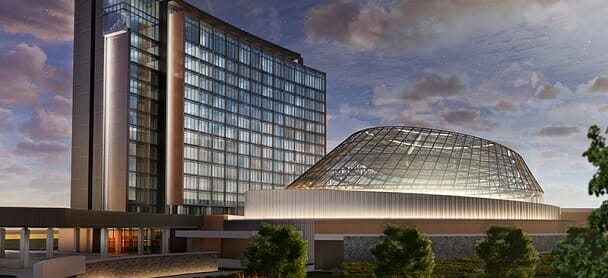 Harvest Buffet at Gun Lake Casino Address, Phone & Website
1123 129th Avenue
Wayland, MI 49348
(269) 792-7777
Website: Gunlakecasino.com
More about Gun Lake Casino
In addition to the Harvest Buffet, dining options at Gun Lake include CBK, (with 45 self-serve draft beers available on their "Beer wall"), the Shkode Chophouse, and the 131 Sportsbar & Lounge.
Opened in 2011, it underwent a $76 million dollar expansion and renovation in 2017.
The current $300 million dollar expansion will add the aforementioned 15-story hotel tower, complete with 252 rooms. The casino/resort expansion will also include a full-service spa, restaurant, and the Aquadome, which is a covered 32,000 tropical oasis, complete with palm trees, a VIP pool, adult-only pool and a family pool. The expansion is expected to be completed in 2025.
As it stands now, Gun Lake Casino boasts 2,700 slot machines, a sportsbook, and about 50 table games, not including the poker room, which re-opened in December of 2022.
(By Steve Beauregard. Photos courtesy of Gun Lake Casino.)