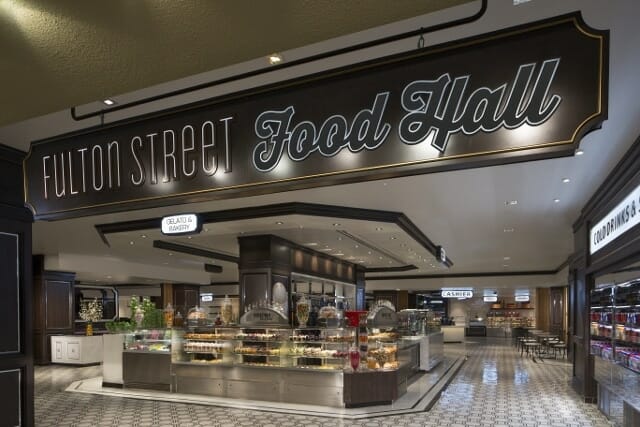 By Steve Beauregard
Perhaps the nicest food court in Las Vegas, the Fulton Street Food Hall at Harrahs Las Vegas offers everything from simple sandwiches to, lasagna, to sushi – all in a sleek and attractive, comfortable dining setting just off the casino floor. Alternatively, you can get your order to go.
The 12,000 square foot space can seat 250 guests. It's about midway back in the casino in the space formerly occupied by Ming's Table Asian-themed restaurant (which was good), and their coffee shop called "The Café." There's a lot of yellow and dark wood in this food court, but it all seems to work well.
The food court has nine different stations. You'll go to which ever station (or stations) you prefer, than pay for the food at a central-cashier stand, sort of like cafeteria style.
In the mornings however, a section of the food court is a traditional, sit-down restaurant. Between 6 a.m. and 11 a.m., you can have table service with an expanded breakfast menu served to you. These include omelets, eggs, (including smoked salmon eggs benedict), a delicious sounding "White chocolate and Raspberry Swirl French Toast" with blueberry basil syrup and lighter, vegetable frittata offerings as well.
Comfort Food Station – The selection here rotates, but you'll often find things like macaroni and cheese, and meatloaf, along with both a three cheese lasagna and meat lasagna.
Sandwich Station – Harrahs boast that the sandwich bread is freshly made there, and there are eight different flavors of the house-made bread to choose from.
They serve up a variety of both hot and cold sandwiches, including 13 different lunch sandwiches, along with four breakfast versions. There are also hot dogs and brats.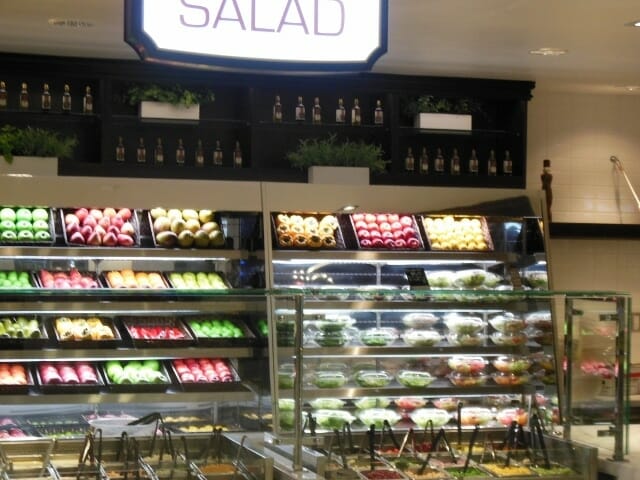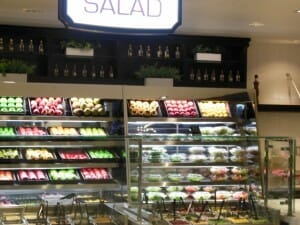 Salad Station – A live action station where they serve up made-to-order salads with a variety of ingredients and toppings (including meats). After hours, when the manned-salad making station is closed, you can still select from many of the pre-made salads.
Pizza Station – This live-action station serves up New York style pizza in 11 inch-diameter pies. You choose from one of seven different types of pizza, then they cook it for you there on the spot.
Sushi Bar – The sushi here is made fresh daily, and made all day. Among your choices are tuna, eel, salmon, crab, shrimp, yellowtail and octopus. Besides traditional cut rolls, you can select nigiri or sashimi.
Noodle Bar – Here you'll find wok-tossed noodles and three different types of friend rice. Menu items include a selection of ramen noodles, miso soup, wonton soup, and roast duck noodle soup.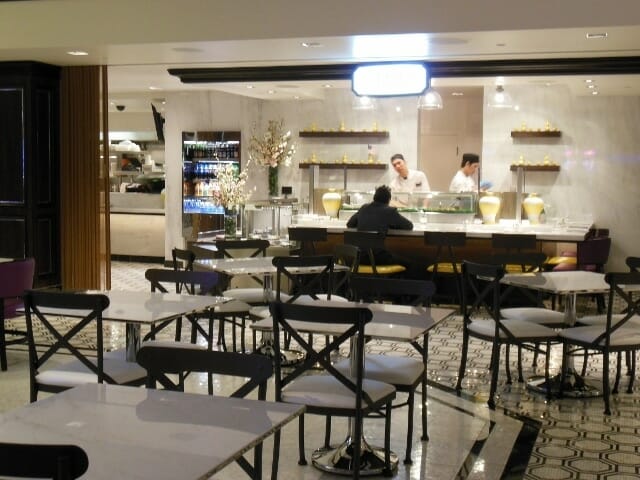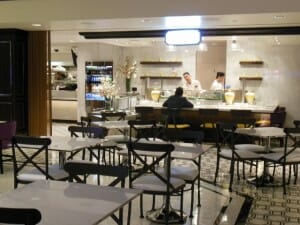 Frozen Yogurt Station – A nice touch, and seems to be a healthier option than ice cream, unless you're like me and smother the yogurt with things like Oreo sprinkles.
Coffee/Bakery/Dessert Station – The 30 plus bakery items here include cinnamon rolls, blueberry muffins, and sweeter treats, such as chocolate chip cookies, cream puffs, a black forest cupcake and tiramisu.
It's here where you can also get your morning cup of coffee to go. They boast of 25 different Lavazza (an Italian import) coffee drinks.
While not in the breakfast category, the bakery section is also home to the gelato station, where you'll be tempted by six different flavor options.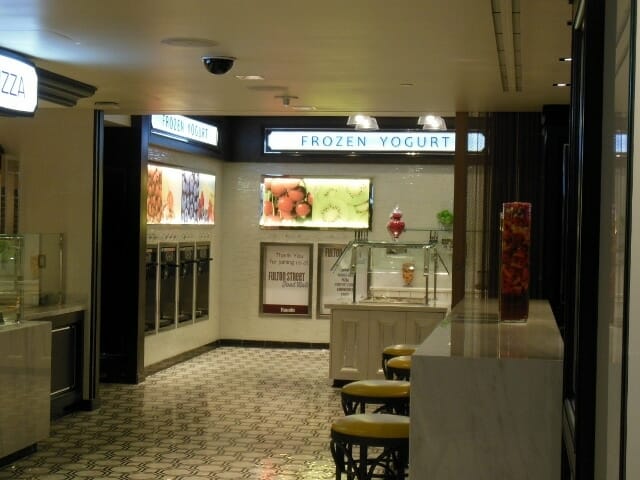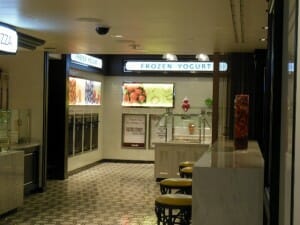 Bar – Then there is the bar station, which is just a regular bar. It doesn't have much atmosphere, but there are 11 large TVs, along with video poker machines at the bar. Their signature morning hangover cure is the "Bakon Mary," which is made of Bakon vodka, Bloody Mary mix and Guinness beer. It's garnished with a strip of bacon.
The Fulton Street Food Hall is open 24 hours a day. (Top photo courtesy of Photo credit: Chase Stevens/Kabik Photo Group. Other photos courtesy of me – hence the poor quality.)