In-N-Out Burger Reno, NV and Sparks – Hours and Locations
They're simple, delicious, and affordable.
They are the world famous In-N-Out Burger, and whether you prefer a regular hamburger, cheeseburger, double or even the enormous 4×4 burger, with four patties, you can get your fix at one of three locations in the Reno and Sparks, Nevada area.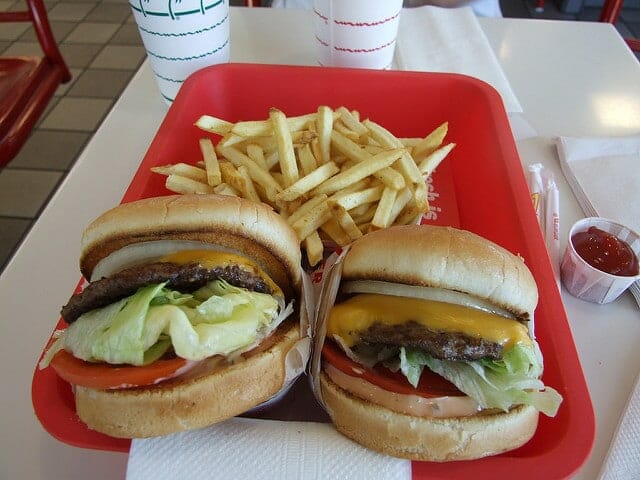 Reno In-N-Out Burger
Despite the numerous locations found in California, or for that matter the 17 In-N-Out Burger Locations in Las Vegas, there are only two In-N-Out Burger locations in Reno.
This older, first restaurant is on the south side of town on S. Virginia Street. It's about 7 miles, or about a 12 to 15 minute drive on Interstate 580, south of the casinos in downtown Reno, such as the Eldorado, Harrah's Reno, Silver Legacy, Circus Circus, etc.
To get to this In and Out Burger from either direction on I-580 (officially called the Martin Luther King Jr. Memorial Highway), just exit at Exit 61 onto S. Virginia Street. You'll see the In-N-Out Burger at the intersection of S. Virginia and Patriot Boulevard. It's across from a Burger King, of all places.
(The black stars mark the three In-N-Out Burgers in the Reno/Sparks area).
Reno In And Out Burger Address
The exact address of this south Reno In-N-Out is as follows:
8215 S. Virginia Street
Reno, NV. 89511
The other, newer restaurant is located west of downtown Reno, just south of I-80. It opened in February of 2022. The 3,800 plus square foot restaurant has indoor seating for 74 guests, and another 40 on the patio.
915 W. 5th Street
Reno, NV 89503
Reno In-Out-Burger Hours
Both of these locations share the same operating hours:
Sunday through Thursday: 10:30 AM to 1 AM
Friday & Saturday: 10:30 AM – 1:30 AM
Sparks, NV In-N-Out Burger
The only In-N-Out Burger in Sparks is located on Pyramid Way, just off of an Interstate 80 exit ramp, at the intersection of Pyramid and C Street.
As with many other In-N-Outs, this location is often busy, and of course it's packed during the lunch hour.
This location is less than a half mile walk, or about ten minutes, from the Nugget Casino Resort.
Address
280 Pyramid Way
Sparks, NV. 89431
Directions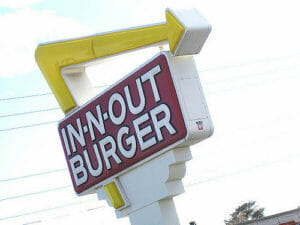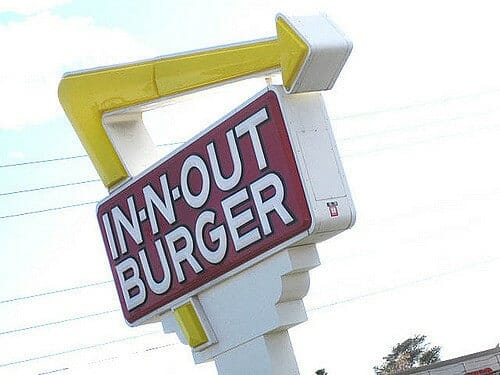 To get to this restaurant, from I-80 going west, simply take exit 18, Pyramid Way, then take a right at the off ramp.
When going east on I-80, you'll also get off at Exit 18, which is just past the concrete walls and Nugget Casino tower on your right.
Once on the off ramp, you'll want to take a left towards Pyramid Way.

Sparks In And Out Burger Hours
The Sparks In-N-Out Burger has the same hours as the franchises in Reno, which are as follows:
Sunday through Thursday: 10:30 a.m. to 1 a.m.
Friday and Saturday: 10:30 a.m. to 1:30 a.m.
The only other In-N-Out franchise in Northern Nevada is one in Carson City.
(Photos courtesy of Tamsin Slater and Jason Lam via Flickr).