Iowa City Casino – Riverside Casino Resort & Others Nearby
The Iowa City metropolitan area is home to over 171,000 people, the University of Iowa, and one nearby casino.
Iowa City's closest casino is the Riverside Casino & Golf Resort, located 13 miles due south of downtown – about a twenty minute drive.

Being somewhat isolated, the resort caters mostly to locals, University of Iowa students, and destination golfers.
While there isn't much else around, that doesn't stop you from getting that little rush of excitement when you pull into the parking lot and get a sight of the casino and hotel tower. Being in the middle of nowhere is perfectly fine with me, when the middle of nowhere has a nice casino resort.
Riverside Casino Iowa City
First off, with over 300,000 square feet of gaming, dining, entertainment and shopping, this is a real casino, with Las Vegas-style slots, table games, and now a sportsbook!
The casino floor is decent sized, at just over 51,000 square feet. Here you'll find 895 slot machines and video poker machines here, including favorites like, Buffalo Gold, Black Diamonds, The Price is Right Plinko, and many others.
(The black star represents the Riverside Casino)
A few machines with progressives often exceed $50,000 jackpots.
By my count, Riverside has 30 live table games, not including the ten-table poker room. These games include a couple of different craps tables, several blackjack games, roulette, a face-up Pai Gow game, EZ Baccarat, Mississippi Stud, and other carnival games.
In addition to the live table games, there is both an electronic craps game, and electronic roulette game. Both have seating for eight players.
When playing games, there is drink service, however please note that alcohol is not free here. Also, you have to be 21 years or older to play here.
Riverside Poker Room
The modest 10 table poker room was filled with locals on my visit, however all were friendly, and I found it to be a fun room. Limit games start at $3/6 Texas hold'em, and there's the usual $1/2 No-limit.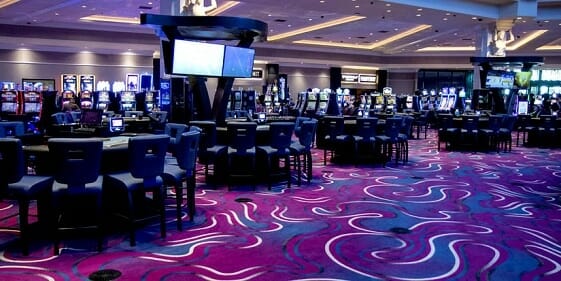 Tournaments are held weekly, and there's even a bad-beat jackpot (for cash games).
Sportsbook
Shortly after sports betting began legal in Iowa, (and after a $10 million renovation of existing casino floor space), the Riverside Casino opened their sports book in August of 2019.
The Elite Sportsbook has been very popular since then. Located in the Draft Day Sports Lounge, you can also register for mobile betting.
Riverside Hotel Resort & Golf Course
Set on 375 acres, the resort has a very pretty setting for a casino.
There are 201 hotel rooms, along with a salon & spa and an indoor/outdoor swimming pool.
Restaurants include Robert's Buffet, Ruthie's Steak & Seafood, the aforementioned sports bar, and a casino café. At the time of this writing, Robert's Buffet still has a particularly affordable price for senior's age 50 on up: $5.99 for breakfast on Mondays and Wednesdays.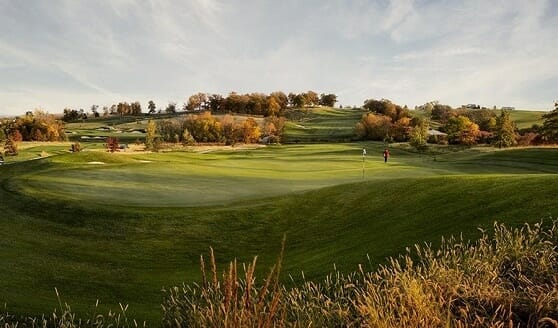 On the entertainment front, the resort's 12,000 square foot "Event Center" hosts some fairly big-name musical acts and bands, along with other events, sports watching parties and the like. You'll find free live music at the Show Lounge just off of the casino floor.
The resort also boasts a couple of shops, a small gym, the virtual reality Top Golf games, and some meeting space.
Golf Course
Designed by Rees Jones, the resort's 18 hole golf course, Blue Top Ridge, is a par 72 course opened in 2009. Its 16th hole is longest hole in all of Iowa – at 665 yards long. And it's a par 3 too. (Just kidding).
Directions
Google Maps and some other mapping systems will show you a couple of two-lane roads leading to the resort.
While there are nominally shorter routes from Iowa City, tourists like me may find it easier just to go on the 4 lane highway, US 218, straight south. You'll get off at exit 80.
Going on this highway 218 makes it very easy to get to the casino, even if it is 1.4 miles longer in distance than taking the backroads.
Once you get off the Exit 80, it's just a 1 ½ mile drive east on highway 22 to the resort. All total, this is a 14.4 mile drive from downtown Iowa City.
Riverside Casino Address, Phone & Website
3184 Hwy 22
Riverside, IA. 52327
Phone: (877) 677-3456
Website: Riversidecasinoandresort.com
Who Owns the Riverside Casino?
Longtime Iowans, the Kehl family, own a majority stake in a company called Elite Casino Resorts LLC, which owns and operates the Riverside Casino and Resort.
The company also owns the Rhythm City Casino in Davenport and the Grand Falls Casino Resort, 13 miles southeast of Sioux Falls, South Dakota.
Other Casinos Near Iowa City
While the Riverside Casino resort is by far the closet, Iowa City is surrounded by casinos. In fact, there are 22 casinos in Iowa. Thus, you'll find – to the north, south, east and west – several different gaming options near Iowa City – albeit at a modest drive.
In addition to the Riverside Casino south of town, there are major casinos to the east in Davenport, to the north in Waterloo, and to the west near Des Moines.
Here are the closest casinos to Iowa City by proximity:
Riverside Casino & Golf Resort – 13 miles south of Iowa City.
Rhythm City Casino Resort – Riverside's sister property, this Elite Casinos-owned resort is located 55 miles to the east in Davenport, IA.
Bally's Quad Cities Casino Hotel (Rock Island, IL) – 58 miles east.
Isle Casino Hotel Bettendorf – 60 miles east.
Meskwaki Bingo Casino Hotel (Tama, IA.) – 76 miles northwest
Isle Casino Hotel Waterloo – 81 miles north.
Prairie Meadows Casino (Altoona) – 105 miles west.
Other
The Riverside Casino opened in August of 2006.
The casino is open 24 hours a day.
According to the Iowa Racing and Gaming Commission, the resort employees 671 people.
Between land acquisition and construction, the entire resort cost $89 million to build.
(By Steve Beauregard. Photos courtesy of Riverside Casino & Golf Resort and Travel Iowa).