Ohio Lottery Second Chance: Drawings & How to Play
Ohioans love their lottery.
According to La Fleur's 2020 World Lottery Almanac, the average Ohioan spends $288 dollars per year on tickets. When you consider this includes people who never play, you realize that those play the lottery, play a lot.
In fact, only nine other areas top the Buckeye State when it comes to the number of lottery tickets purchased. And last year, just over $2 billion dollars in prizes were won.
But even if you didn't win, the Ohio Lottery makes playing their draw and scratch games even more fun with a variety of promotions and second-chance drawings, enabling you to enter losing tickets for another chance to win.
It's very easy to enter these tickets into the system for prizes, which range from a cooler to hundreds of thousands of dollars. All in in, it's certainly worth the little bit of time it takes to enter, given that it doesn't cost anything extra to enter these.
They even have fun promotions you can enter for free, without having to buy any tickets at all. (More on that below).
Ohio Lottery Second Chance Entry
There are two types of Ohio Lottery 2nd Chance Drawings
Points
Special Drawings
1. Points
You can enter every losing Ohio Lottery scratch ticket and draw game to acquire points.
You can then use these points to enter into numerous weekly, monthly, quarterly, and yearly prizes.
Weekly prizes can range from $50 in lottery cash (basically $50 in tickets), to $100 gas gift cards or cards to Red Lobster, to a $250 cash gift card.
Monthly prizes can be anything from a toaster oven, to Reds or Guardians tickets, to a $1,000 cash gift card.
Recent Quarterly prizes have consisted of everything from a FitBit to a cooler to a lawn mower and a 50 inch TV.
Lastly, yearly prizes have consisted of a pair (or more) season tickets to either the Cleveland Browns, Cincinnati Bengals, Reds, Cavs, Guardians, Columbus Blue Jackets and professional soccer teams.
2. Special Drawings
In addition to the drawings using points you've acquired entering losing tickets, there are a few special scratch game tickets that have separate second chance drawings.
In early 2022 for example, any losing $20 scratch-off ticket can be entered into a second chance drawing that included tons of prizes, ranging at the low end of $500 gift cards, all the way up to a sports package that included airfare, hotel and 2 tickets to the World Series, Stanley Cup, NBA Finals and Super Bowl!
In prior years, the Discover Ohio 2nd chance game allowed you to enter any non-winning EZPLAY ticket for prizes that included an $82,000 Airstream camper.
Whether it's a point drawing, or special second chance, you'll enter these losing tickets via the MyLotto Rewards area on the Ohio Lottery's official website.
How to Enter the Ohio Lottery Second Chance Drawings
MyLotto Rewards is the name for the Ohio Lottery's 2nd chance drawings and promotional page.
To begin, you'll have to register for an account on the page here: Ohiolottery.com/MyLotto-Rewards
You'll have to verify your email address with them, but the whole process just takes a couple of minutes.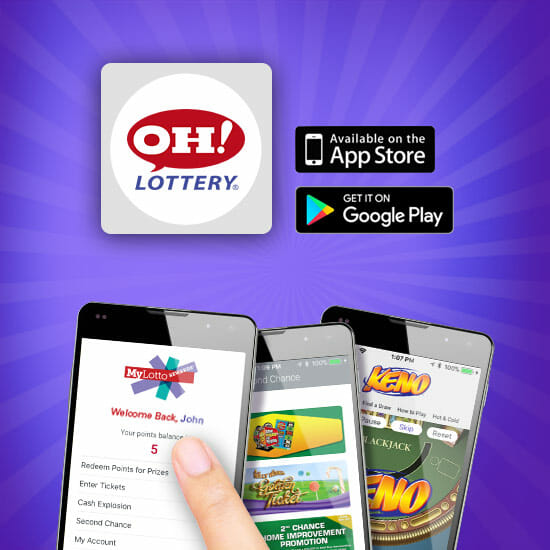 From there you can download the official Ohio Lottery App on your phone (but you don't have to).
You can either manually type in the ticket number (on the back of losing tickets), or scan them with the official app on your phone.
Ohio Lottery Promotions
Not really a second chance game, but Ohio Lottery allows you to enter some contests for free. (But you do have to have a MyLotto Rewards account).
A recent "8-Bit at Bat" giveway, for example, allowed you into a drawing for $50 Lottery Cash or the grand prize of a $5,000 Reds gave package that included tickets, hotel, dinner and $4,000.
All you had to do to enter this was to scan a QR code shown during the 8th inning of any Red or Guardians game.
Ohio Lottery's Cash Explosion
Another sort of second chance game in the Ohio Lottery is found playing their popular Cash Explosion scratchers.
On these $2 scratch games, you have a chance to win cash on the ticket of course, but also by getting three "Entry" words (or one "Entry" word in the bonus area of the Cashword game).
Those with these "Entry" marks on the game can go to the MyLotto Rewards section of the Ohio Lottery website and enter to become one of 8 people who get to appear on their show.
This weekly televised game show (also called "Cash Explosion") is unique feature of the Ohio Lottery (at least in relation to many states).
This high-energy broadcast consists of eight people chosen from the scratch game entries. They appear on TV and play for additional cash in game show format in which they pick numbers on a screen to reveal their winnings.
I believe the minimum everyone will win is $5,000. I watched one show were a man won $300,000.
Conclusions
All in all, the Ohio Lottery has a bevy of prizes awaiting those who are willing to take the few seconds needed to enter a losing ticket in the second chance drawings.
It doesn't cost any extra, and it gives you a chance to turn that loser into a nice prize.
More About the Ohio Lottery and 2nd Chance Drawings
You have to be 18 years or older to enter second chance drawings.
Once you've scanned or manually entered your tickets, you can throw them away, as you won't be required to show them to receive the prize.
There are just under 10,000 different lotto and lottery retailers in Ohio.
The Ohio Lottery is run by the Ohio Lottery Commission, which can be reached here: Ohiolottery.com
The Ohio Lottery began selling tickets in 1974.
There are 370 people employed by the Ohio Lottery.
(By Steve Beauregard. Photos courtesy of the Ohio Lottery)