Omaha, Nebraska Casinos with Map
Did you know there are over 3,000 slot machines within ten minutes of Omaha?
While it may not be a top tourism destination, my wife and I found Omaha to be a fun, friendly city with plenty to do. There's the world's largest indoor desert, a charming downtown with beautiful walking trails and – as big baseball fans – there's my bucket list item of attending the College World Series at the beautiful new TD Ameritrade Park.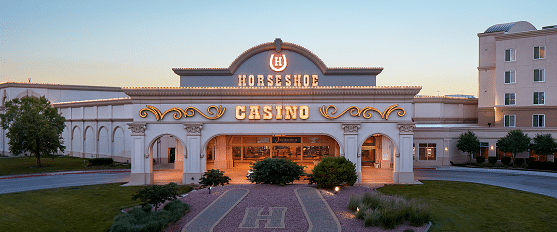 I'm an even bigger fan of gambling than baseball, and in that regard, Omaha serves us well, as there are three casinos within four miles from downtown Omaha.
These three casinos are just across the Missouri River from Omaha, in Council Bluffs, Iowa, as there isn't any legalized casino gambling in the state of Nebraska (but it's coming). It's a ten minute drive or less from Omaha to any of the three nearby casinos.
Two of the casinos are riverboat casinos, (both permanently docked), and two are owned by Caesars Entertainment. All three are spacious, Las Vegas-style casinos with thousands of slot machines and video poker machines, sports books, poker rooms (some), along with real live table games like blackjack, craps, and roulette.
Limits start at $5 for table games, but often jump to $10 during weekend nights and busy times, such as the aforementioned College World Series.
Omaha, NE. Casino Map
Black Star = The Horseshoe
Blue Star = Ameristar Casino
Red Star = Harrah's
The brown star is the Prairie Flower casino – a small Indian casino.
Casinos in Omaha, Nebraska
With what amounts to a casino monopoly near a metro population of roughly a million people, (combined with easy access off a heavily traveled major cross-country interstate), it's easy to see why the casinos near Omaha do so well.
In fact, Council Bluffs is sort of the Las Vegas of Iowa. While it's home to just 3 casinos (or 13% of the casinos in Iowa), these three make up roughly 28% of the state's commercial gaming revenue, per figures from the Iowa Racing and Gaming Commission.
All of the casinos offer plenty of dining and entertainment options, hotel rooms, and free parking. You do have to be 21 years or older to gamble here.
Here's a look at the three casinos by Omaha.
Ameristar Casino Hotel Council Bluffs
The largest casino riverboat in Iowa, the Ameristar is the second most popular casino in Council Bluffs, behind the Horseshoe.

A pretty, sunlit, spacious glassed atrium welcomes you to the resort, where you'll find the Amerisports Bar and Double Down Dogs hot dog stand. Other food options can be found at the fast-casual 2200 Market.
If you qualify with enough play, you'll be given access to the free drinks and food at Club 38. Ameristar's player's card is the myChoice, and it has five levels. Folks at the top three levels: Owners Club, Elite and Preferred, get access to Club 38.
The 160 room hotel has an indoor pool and 8,000 square feet of meeting space. Alternatively, you could stay at the Holiday Inn or Hampton Suites next door and walk.
Casino
On the gaming front, the Ameristar has 1,525 slot machines and 26 table games on multiple levels of the riverboat.
As with the other two casinos in the region, these are what I call "real" table games, with actual dice and a real roulette ball. In other words, not the electronic versions of these games. The craps game offers 10x odds.
They also offer some of the fun carnival games I try to avoid, (but usually can't), like Cajun Stud, Flop Poker, and High Card Flush.
The sportsbook, with 50 TVs and numerous betting kiosks and terminals, is located in the Amerisports Bar. It does not have a poker room
There's free parking at the multi-story parking garage, and you should note that it's quite a walk from the garage, through the atrium to the casino.
Address, Phone & Website
2200 River Road
Council Bluffs, IA. 51501
(712) 328-8888
Website: Ameristar Council Bluffs
Harrah's Council Bluffs
The smallest of Omaha's three casinos, at just 21,405 of casino floor space, Harrah's Council Bluffs is a riverboat casino that is part of Caesars Entertainment's chain of casino properties.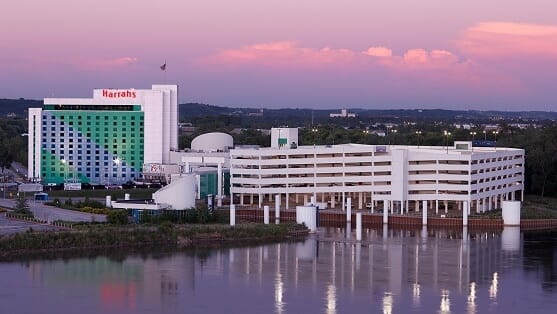 It may not be the biggest, but Harrah's still has 523 slot machines/video poker games, and 23 table games, including blackjack, and craps, Emperor's Challenge (a Pai Gow poker variant), and Three Card Poker, among others.
The craps games has fire bets, and the ATS (all tall/all small) bet. At the sportsbook, you'll find 16 tvs, and electronic versions of roulette and blackjack to occupy your time in-between quarters.
Harrah's 251 hotel rooms makes it the biggest casino/hotel in Council Bluffs. For eats, there's meat and views from the 12th floor at the 360 Steakhouse, and faster food at Slice Pizzeria and the Stir Cove Backstage Grill.
Address, Phone & Website
One Harrahs Boulevard
Council Bluffs, IA. 51501
(712) 329-6000
Website: Harrah's Council Bluffs
Horseshoe Council Bluffs
Its large fan-shaped sign visible from I-80, The Horseshoe is another Caesars Entertainment property and the most upscale of the three casinos here.
Based on gaming revenue, it's also the busiest casino in Council Bluffs, and the 2nd busiest in Iowa.
This is helped by the casino's abundance of live table games, including poker. Sure it has an impressive 1,371 slot machines, but its whopping 68 table games (including poker), are more than the two other area casinos combined.
The Horseshoe's craps game has 100x odds. They also have crapless craps and an 8 seat bubble craps machine, which I like to play when I feel like betting the "Don't."
You can find the penny and nickel slots here of course, along with a high limit room – with high-limit blackjack and slot machines with minimums I cannot afford.
The elegant 18 table poker room, on the other hand, spreads all of the usual games (including a $4/8 limit game). It hosts daily tournaments, (starting at $50 buy-ins), but is perhaps more known for its WSOP Circuit Event tourneys.
On the 60,000 square foot casino floor, you'll find free pop dispensers and coffee machines for players. They don't have free alcohol service.
Betting on games or horse races can be found at The Caesars Sportsbook.
Restaurants here including Jack Binion's Steakhouse, (named after the casino executive and son of the colorful founder of the Horseshoe Las Vegas, Benny Binion), the JB Café, and the Whiskey Roadhouse.
While the Horseshoe Council Bluffs is not a resort, it does have an attached hotel – the Hilton Garden Inn. There's also a Country Inn & Suites and Springhill Suites by Marriott within easy walking distance. Also within walking distance across the street is the Mid-America Center – home to everything from concerts to rodeos to conventions.
There's plenty of free covered parking here, and I've read where Caesars Rewards player card holders who've reached Diamond or Seven Stars even get gated parking.
Address, Phone & Website
2701 23rd Ave
Council Bluffs, IA. 51501
(712) 323-2500
Website: Horseshoe Council Bluffs
Harrah's/Horseshoe Shuttle
For those of you like me who like to casino hop when your luck runs bad, there is a complimentary shuttle that runs between the Horseshoe Casino and Harrah's.
Service runs every thirty minutes.
More about Council Bluffs Casinos
There is a 4th casino near Omaha, which is still standing after battling several legal challenges.
The Prairie Flower Casino is an Indian casino 3 miles north of downtown Omaha. It has a few hundred slots. Iowa and Nebraska sued, arguing the casino is not legally allowed to operate.
Nebraska voters have approved legislation that would allow for casinos to be incorporated at the state's six racing tracks, including at Horseman's Park, in the southwest Omaha area. If all goes well, ground-breaking is expected to take place this year (2022).
All total, there are 3,429 slot machines/video poker machines and 117 table games in the three Council Bluffs casinos.
(By Steve Beauregard. Photos courtesy of Caesars Entertainment, VisitOmaha.com, and the Council Bluffs Visitors and Convention Bureau).