PA Lottery Second Chance Drawing
Pennsylvania's lottery is a popular one, with over $350 million worth of tickets sold.
Each month.
The vast majority of people will throw their losing tickets into the trash, however you'll increase your chances of scoring a prize by entering that loser into one of the numerous second chance drawings available.
Second-Chance drawings are offered for select scratch-off games, Draw games, and Fast Play games. (Fast Play games are like the instant scratch-off games, without the scratching). Each year there are between 10 and 17 different second-chance promotions. And within each promotion, there are numerous prizes given away.
Prizes awarded range from some you may not really be excited about (2 tickets to a lacrosse game), up to ones you'll definitely take, ($100,000 cash).
Pennsylvania Lottery 2nd Chance Lottery
The majority of PA Lottery second chance drawings are for scratch-off tickets.
This makes sense, considering scratch-off tickets are the most popular games, accounting for 2/3rds of all sales, according to the Commonwealth's Department of Revenue.
These scratcher tickets range in price from $1 to $30. By my count, there are 49 different scratch-off ticket games available. Prizes on the original games range from another free ticket, up to $3 million dollars.
However not all of the 49 scratch-off games offer second-chance drawings. These promotions change all of the time, however it's typical for there to be 2nd chance drawings for just a handful of games. Sometimes it is just one scratch off game available.
How to Enter the Pennsylvania Lottery Second Chance Drawing
First off, to enter a losing ticket into a second chance drawing, you must register for a VIP Players Club account at Pennsylvania's official state lottery website here: Palottery.state.pa.us
It's free to register, and you'll have to provide your address and some personal data.
My understanding is that anyone registered with the VIP Club is eligible to win one of the many giveaways the PA Lottery often awards – even if you do not enter a losing ticket.
These giveaways are usually tickets to events. They're almost always either two or four tickets per prize, and range from seats to Pittsburgh Steelers games to Wilkes-Barre/Scranton Peguins minor league hockey games, to Temple Owls football games, to John Mayer or Dierks Bentley concert tickets to soccer, NASCAR tickets and everything in-between.
A recent Philadelphia Phillies giveaway was particularly cool (to me anyways), as the winner received four tickets in a suite, a jersey, free food and drinks and a meet-and-greet with a former player.
Entering Non-Winning Tickets
The big money prizes however, are only for those who enter losing tickets.
All entries must be entered either manually online at the lottery website, or through the Second Chance App. There is no mail-in option. To enter a losing ticket manually, you'll go to the PA Lottery's website, and log into your VIP Player's Club account.
From there, you will manually type in the 12 digit number located at the bottom front of the ticket. Using the app however, is much faster and easier.
PA Lottery Second Chance Scanner
The app can be downloaded from the Apple App store and on Android devices as well.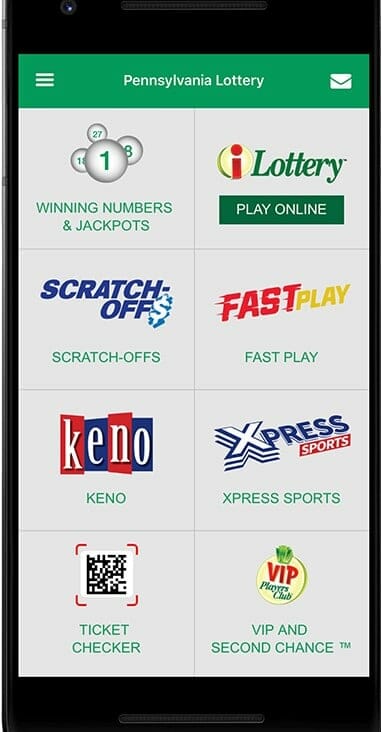 According to the official lottery homepage, you may also text the word, "APP" to 66835 to download the app.
The app turns your phone into a PA Lottery 2nd chance scanner.
Once you have the app, you can use the "Ticket Checker" bar code to scan your ticket, and it will tell you if you won. If the ticket is a loser, and the game you're playing has a 2nd chance drawing, you can enter it into the second-chance drawing right then and there.
After you've successfully entered the losing ticket, you can throw it away, as the state doesn't require you to show it to collect a 2nd chance prize.
Entries
For scratch-off and Fast Play tickets, the number of entries into the drawing is proportional to the dollar amount of the ticket.
In other words, a $2 scratch-off ticket gives you two entries, a $5 scratcher gets you five entries, etc.
Draw Game 2nd Chance Prizes
And while scratch-off tickets and Fast Play have most of the 2nd chance drawings, there are also frequent 2nd chance drawings for Draw Games. (Draw games are the Match 2, Keno, Mega Millions, type of games). The difference here is that you can enter winning draw games into the second chance drawing.
The 2022 "Raining Riches" second chance drawing, for example, allows you to enter any non-winning Pick 2, Pick 3, Pick 4, Pick 5, Cash 5, Match 6, Cash4Life, Treasure Hunt, PowerBall, Mega Millions, and even Keno tickets into a drawing that awards one person $100,000. Two people get $50K each, there are five $10K winners, and 10 different $5K winners.
A past year's draw game 2nd chance drawing gave away 20 different trips to New York, complete with airfare for 2, hotel, transportation, $1,000 spending money, excursions and more.
In 2021's Big Game Promotion, you could enter any non-winning ticket PICK ticket, Keno, Lotto, Powerball ticket, etc, into a second-chance drawing that gave away ten Super Bowl packages (with tickets).
PA Lottery Second Chance Prizes
More than most states, the Pennsylvania lottery gives away a huge variety of prizes in their second chance drawings.
While some states tend to bundle their 2nd chance prizes into one or two huge packages (Colorado has a $3 million 2nd chance prize), the Keystone State spreads the love out with many, many smaller prizes.
Whether the 2nd chance drawing is for a scratch off, draw or Fast Play, there is typically one major prize. This prize can be $10,000 to $100,000.
Numerous Cash Prizes
2019's Holly Jolly Second Chance game, for example, gave away $100K to one winner, and $50,000 to four different people as well. Other prizes included, $10K given out to five winners, and $5K awarded to ten winners.
In other words, twenty people who played this game and lost, ended up winning at least $5,000 by playing the second chance game.
2022's Wizard of Odds games allowed you to enter any losing $10 scratcher or $20 Fast Play ticket. There were two separate second-chance drawings: one just for losing scratchers, and one just for losing Fast Play tickets. Each drawing gave away $100 in online play money to fifty different players. Ten players received $5,000, and one player from each drawing got $50K.
While you may not be able to quit your job and retire on a private island with these prizes, the numerous multi-thousand dollar prizes awarded definitely make it worth the few seconds it takes to scan a losing ticket onto the app – especially since it's free to enter the 2nd chance drawings.
In addition, my research has shown that participation rates into 2nd chance drawings are usually very low, making your chances of winning these better than your odds of winning a big prize on the original game. I don't have exact statistics for Pennsylvania, however research I've conducted for a couple of states has showed that less than 15% of all eligible tickets were entered into second chance drawings.
In addition to the aforementioned trips, and tickets to sporting events and concerts, the state awards $100 in iLottery bonus money for every second chance drawing game I've seen. (iLottery is the state's online lottery game, so this is basically the equivalent of free play.)
In fact, for each second chance scratch off and Fast Play game, it's common for there to be fifty different $100 iLottery bonus winners.
Previous Pennsylvania Lottery 2nd Chance Games
Below are games that have had second chance opportunities. In addition, there are numerous giveaways to VIP Players members that including basketball, baseball, football and Pocono 325 NASCAR tickets.
2021 PA Lottery Second Chance Games
North Pole Payout
Everlasting Million
Haunted House
The Big Game
Powerball First Millionaire of the Year
Sunny Money
Monopoly
Bloomin' Bucks
End of the Rainbow
Love Potion
2020 PA Lottery Second Chance Games
$100,000 Wish List
Count de Money
Eagles scratchers and iLottery
Steelers scratchers and iLottery
Powerball First Millionaire of the Year
BBQ Bucks
Skee-Ball
Springtacular
James Bond Lottery Challenge
Go for the Green
Lucky in Love
2019 PA Lottery 2nd Chance Games
In addition to the second chance games below, there were also ticket giveways for basketball, hockey games, and football games, along with race tickets and concert seats.
Holly Jolly * Howl-O-Ween * Dick Clark's New Year's Rockin' Eve * Grumpy Cat * The Wizard of Oz * Summer Splash * Fast Frenzy * Spring Fling * O'Lucky Day
Pennsylvania Lottery Tidbits
Pennsylvania's lottery began in March of 1972. The first tickets sold cost just fifty cents.
The PA Lottery sells over $4.5 billion worth of tickets a year.
According to latest figures from the Commonwealth of Pennsylvania' s Department of Revenue, 66.39% of all lottery sales are scratch-off tickets. Draw tickets are the second most popular, with roughly 30.28% of all sales. Mega Millions and Powerball tickets combine to account for roughly 10% of all the state's lottery sales.
Special state-themed scratchers over the years have included Philadelphia Eagles and Pittsburgh Steelers tickets, and a Hershey's Chocoate-themed $2 and $5 scratch off tickets.
Just over 25% of lottery proceeds go "benefits programs." This money, (over a billion dollars a year) goes entirely towards programs aimed to help the state's senior citizens. These include property tax and rent rebates, funding of senior centers, transportation, etc.
You must be 18 year old or older to play PA Lottery games and the second chance drawing.
According to an article in the Centre Daily Times, an Altoona man has won big scratch-off prizes, four different times. All four were prizes of $100,000 or more.
(By Steve Beauregard. Photos courtesy of the Commonwealth of Pennsylvania).