Updated July 2nd, 2021
(Editor's note: The AYCE Buffet remains closed, as is the Palms Hotel and Casino itself. When plans for a re-opening are announced, we'll update this article accordingly.)
The newest buffet in Las Vegas is getting called "one of the best." And that's especially true when it comes to its value.
The former Bistro Buffet at the Palms underwent a $6 million remodeling and opened in December of 2017 as the A.Y.C.E. Buffet. It stands for "All You Can Eat."
Despite the very affordable pricing, the buffet has a clean, upscale décor that invites you to linger and try everything in what the Palms calls, "an open food hall setting."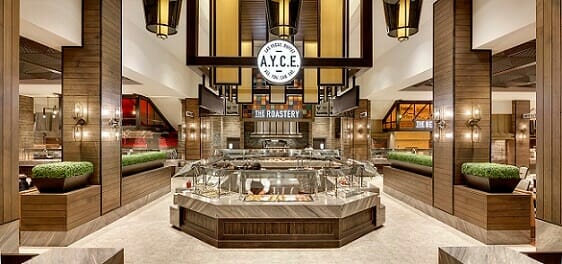 A.Y.C.E is full of items you won't find elsewhere, like a spicy buffalo mac'n'cheese, or the jackfruit enchiladas.
Something else you won't find everywhere are the USB ports under the booths, allowing you to charge your phone while you eat.
All told, there are seven stations, which are covered a little more in detail later below.
Palms A.Y.C.E. Buffet Price & Hours
As with some other Las Vegas buffets, those with a player's card will pay less than those without.
Palms Casino is part of the Stations Casino family of resorts, and as such, you'll use their BoardingPass card at this buffet. If you don't have a BoardingPass, be sure to sign up for one (they're free) before you go to the buffet as you'll receive the discount even if you haven't put a nickel into a machine.
For simplicity's sake, the prices below are for everyone with a BoardingPass at the basic level (the red card called "Preferred.") If you don't sign up for a card, you'll pay $4 to $5 more than the prices shown below.
Players who have racked up a lot of points and have reached "Gold" level (or higher) will pay $2 to $6 less than the prices shown here.
Breakfast
Monday to Friday: 8 AM to 11 AM – $10.99
Brunch
Saturday & Sunday: 8 AM to 4 PM – $19.99
Lunch
Monday to Friday: 11 AM to 4 PM – $13.99
Dinner
Monday – Saturday: 4 PM to 9 PM – $19.99
The buffet is closed on Sunday nights. Also, these are normal prices, and they will go up on holiday weekends.
Lastly, these prices do not include the Clark County sales tax of 8.25%, meaning a normal non-holiday dinner for 2 will cost you a reasonable $43.28 after tax, (but before tip).
A.Y.C.E. Palms Buffet Kid's Prices
First off, children 3 and under eat free, and kids 11 on up pay full adult prices.
Kids between the ages of 3 to 10 pay the following:
Breakfast: $8.99
Lunch: $11.99
Dinner: $17.99 (all days)
Brunch: $17.99
Palms Casino Resort A.Y.C.E. Buffet Menu
As mentioned above, there are seven different food stations at A.Y.C.E. In a twist, you won't find your usual "Asian" station or "Mexican" station.
Instead, the different stations are based on how the dish is prepared. These stations are called The Greenery, The Hearth, The Roastery, World Pan, Smoke & Fire, Revival & Sweet & Light.
The chef in charge of all of the restaurants at the Palms comes well received from his previous gig at Stations-sister property Red Rock Casino Resort. With a new buffet, and a well-regarded chef, there may be numerous changes to the menu, meaning some of the items shown below may not be there during your visit.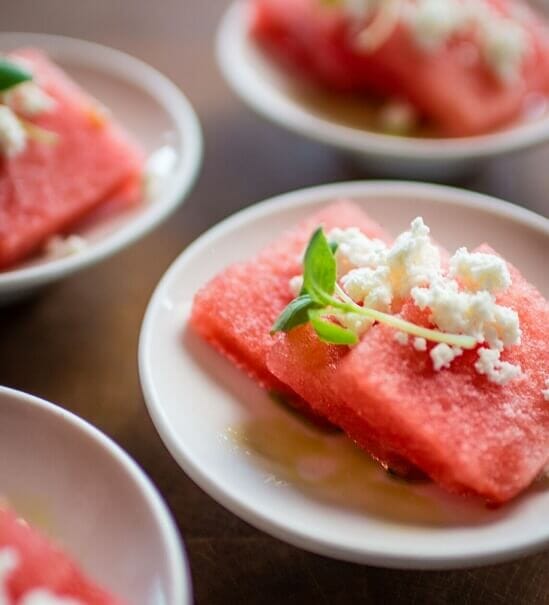 The buffet may change for holidays and special occassions as well, as it did for a week in March/April when there was a special Passover menu. Hopefully however, most or all of the items we've inventoried below will be what you'll find during a typical visit.
Breakfast
Of course you'll find the requisite made-to-order omelet station (with 12 different toppings or ingredients), along with bagels with Four different cream cheeses, including a smoked salmon cream cheese.
There are egg dishes, French toast, pancakes, hashbrowns, bacon, sausage, etc, along with Country fried steak, biscuits & gravy, oatmeal and Cream of Wheat.
On the sweeter side, you'll see cinnamon rolls, and sticky buns with caramel sauce. Other Pastries included mini cream puffs and chocolate croissants.
More non-traditional breakfast buffet dishes include a smoked brisket eggs benedict, Apple raisin walnut salad, breakfast potato salad, and Johnny cakes (a pancake with corn meal), with a fire roasted jalapeno syrup.
At a recent brunch, I saw breakfast quesadillas, however I'm not sure these are all available during normal breakfast buffets however.
The healthy options include fresh pressed juices, a watermelon salad, a variety of fruit options, and even a crispy "bacon" made from eggplant.
Saturday and Sunday Brunch admission comes with unlimited champagne.
As for the seven food stations, here's a quick rundown of each one:
The Greenery
In addition to the traditional buffet salad bar (albeit with more gourmet options, such as artichokes and pesto mozzarella), the pre-made salad options include a watermelon citrus salad, olive salad, roasted eggplant salad, presto pasta salad, and a loaded potato salad.
There are also breads, a pre-made wedge salad, and individual servings of shrimp cocktail.
The Hearth
Dominated by the large brick oven, dishes in this section include: New England clam boil (individually served), French Onion soup (individually served), Spicy Buffalo Mac'n'Cheese, and pizza of course.
There's also Stromboli, (both meat and vegetarian), lasagna, red curry mussels, roasted asparagus, and a couple of different varieties of elote, including a spicy Cheetos elote. (Elote is grilled Mexican street corn).
The Roastery
A.Y.C.E's carving area has ham, turkey and roast beef.
Vegetarians may not usually stop by the carving station, but that would be a mistake here, as A.Y.C.E. has a roasted cauliflower steak with curry sauce that doesn't look too bad.
You'll also find Salt & Pepper Chicken Wings, Korean short ribs, carne asada with tortillas and more.
World Pan
You'll find dishes across the globe here, from the Moroccan Lamb dish (served in individual dishes), to Chicken Gumbo with steamed rice on the side.
Other menu items here include general tso chicken, Singapore noodles, Chinese chicken salad, Mongolian beef, pork panang curry, and two different poke bowl options: salmon or tuna.
A cold ramen noodle station provides you a selection of 13 different toppings, such as cilantro, bamboo shoots, bean sprouts, and the like.
A crowd favorite is the walnut shrimp, and I believe it is only served at the dinner buffet.
Other dishes at this station include pot stickers, spring rolls, egg fu yung, and a duck cassoulet.
Smoke & Fire
As you'd imagine, this is for your carnivores. The brisket is well received and there is chipotle lime chicken, barbecue ribs, a fire smoked ratatouille, blackened catfish, hushpuppies and smoked turkey wings.
Revival
The Palms has gone out of their way to provide the conscious eater with plenty of healthier options.
This Revival section is all vegetarian dishes, and includes vegan stuffed peppers, Five-bean vegetable chili, spinach & artichoke dip (with pita bread), black bean bolognese, jack fruit chilaquiles, pita chips with hummus and/or baba ganoush, cauliflower and quinoa grits, and a rainbow chard hash.
Sweet & Light
A.Y.C.E.'s dessert area is the first buffet I've seen to have a made-to-order cookie ice cream sandwich station.
Here you choose the "bread" of the sandwich, (i.e. chocolate chip cookie, sugar cookie, peanut butter cookie or oatmeal raisin cookie), then pick among ten different ice cream/gelato flavors.
In addition to the usual favorites, (vanilla, strawberry, etc.,) I saw a cappuccino flavor, spumoni, and a stracciatella gelato. After that, the cookie sandwich chef will add your choice of a topping, such as sprinkles, M&Ms, etc.
Other selections here include lemon meringue squares, coffee mousse, peanut butter mousse, a cheesecake parfait, apple cobbler, cinnamon roll bread pudding, macaroons (in pistachio, coconut, vanilla, lemon and more), opera cake, carrot cake and the like.
Non-traditional desserts include vegan brownies and vegan coconut cookies. In addition, there is a decent selection of sugar-free desserts as well.
Other
Going against the Las Vegas Strip buffet trend, waiters or waitresses bring drinks to you, rather than the self-serve drink stations you often see at Las Vegas buffets these days.
Between their affordable pricing, quality of dishes, and variety of non-traditional offerings, the A.Y.C.E. Buffet at the Palms has quickly established itself as one of the better buffets in Las Vegas.
(By Steve Beauregard. Top photo courtesy of the Stations Casino's media blog. Second photo courtesy of Sam Abrams via Station's Casino).