Paradise Buffet at Fremont Casino 2023
Updated January, 2023
(Editor's note: The Paradise Buffet remains closed, and not sure if it will re-open. However we will update this article if and when plans for the buffer re-opening are announced.)
Right smack dab in the middle of all the action in downtown Las Vegas, the Fremont Hotel & Casino is perfect for the low roller looking for an affordable option.
That's especially true for its buffet.
In fact, The Fremont Hotel & Casino's Paradise Buffet is one of, if not THE lowest price buffets in Las Vegas.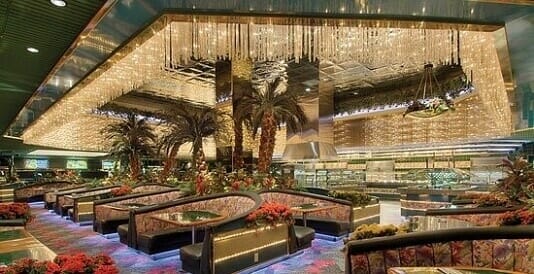 This old school buffet, with its faux palm trees and 70's era casino lighting, offers a weekday breakfast buffet for just $9.99, for example. That bargain price hearkens back to days when Las Vegas casinos offered incredible meal deals to bring in potential gamblers.
In addition to the Paradise Buffet, there is a Paradise Café located behind the buffet, however it is an order-off-of-the-menu restaurant with prices different from what's shown here below.
Fremont Casino's Paradise Buffet Prices & Hours
While the Fremont's breakfast and lunch prices stay consistent, dinner prices vary depending on the night, as there are different specialties each evening.
Please note: The prices below are for those of you who either don't have a BConnected player's card, or who are at the lowest level (Ruby).
Those of you who have a B Connected players card at the Sapphire, Emerald, Onyx or Titanium levels pay $1 less than the prices shown below:
Breakfast – $9.99 Monday – Friday: 7 AM to 10:30 AM
Champagne Brunch – $14.99 Saturday & Sunday: 7 AM to 3 PM
Lunch – $10.99 Monday – Friday: 11 AM to 3 PM
Dinner
Sunday, Monday (Prime Rib Nights): 4 PM to 10 PM – $16.99
Tuesday (Seafood night): 4 PM to 10 PM – $26.99
Wednesday (Steak night): 4 PM to 10 PM – $17.99
Thursday (Prime Rib night): 4 PM to 10 PM – $16.99
Friday (Seafood night): 4 PM to 11 PM – $26.99
Saturday (Steak Night): 4 PM to 11 PM – $17.99
The B Connected cards are free of course, and can be used to get rewards at any of the ten Las Vegas Boyd Gaming properties, which include the Fremont, California Hotel & Casino, Sam's Town, and Main Street Station, among others.
Also, these prices do not include tax and tip. In Las Vegas, the tax you'll pay on a buffet meal is 8.38%. Therefore a dinner for two people on Saturday night (at $17.99 per person) will cost a total of $38.94 after tax (but before tip).
Kids Prices
At Fremont's buffet, kids 3 and under eat free. Kids between 4 to ten years used to pay one dollar less than the prices above, but now the Fremont's website shows the kids 4-10 prices the same as adults. That may be a misprint however. What we do know for sure is that kids eleven years and older pay full price.
Large Groups
One last note, while I haven't experienced it personally, (and it doesn't state it on the Fremont website), my understanding is that parties of 10 or more are charged $1 more per person for breakfast and lunch buffets, and $2 more per person for dinner.
Paradise Buffet at the Fremont Casino Menu Items
During breakfast and brunch you'll find a made-to-order omelet station along with French toast, Belgium waffles, pancakes, eggs, bacon, sticky buns, biscuits and gravy, fruits and pastries (including donuts). There's nothing too notable, other than the very affordable pricing.
The weekend brunch includes unlimited champagne.
As for other meals, each night buffet is a different theme at the Paradise Buffet, and pricing is adjusted accordingly, as you saw from the prices above.
Seafood nights (Tuesdays and Fridays) will have all you can eat crab legs, along with and shrimp, oysters, mussels, crawfish, clams and clam chowder.
You'll find different islands, such as your typical salad bar with the usual toppings and sides and pre-made salads, potato, pasta salads and a Caesar salad. There are a couple of rotating soup options.
(Related: Fremont Street Casinos List)
Stations
In addition to the salad bar station, stations include an "All-American," a southwest section and both Chinese and Italian themes. There is a carving station with roast beef and ham in addition to prime rib on the selected nights.
There's a make-your-own deli sandwich area (with turkey, roast beef and ham), along with hot dog and hamburger stations.
Overall, you'll find everything from pizza to mashed potatoes, manicotti, pasta with your choice of marinara or clam sauce, a vegetable medley, spaghetti, chicken angelo, fried chicken, a "catch of the day," chicken curry, a sweet potato & marshmallow dish, enchiladas, make your own tacos and fajitas, with chicken, beef or steak, and even jambalaya.
They also have fresh sushi made every night. I believe there are three varieties to choose from
Their dessert area is full of the typical array of various individual plates of pies, cakes (including a delicious carrot cake), cookies and cupcakes and of course, a soft-serve ice cream machine (with chocolate and vanilla) and six different toppings.
Unlike many of the Strip buffets, drinks here at not self-serve. You'll order them from your waitperson.
Paradise Buffet at Fremont Hotel Phone Number
(702) 385-6226
The Fremont Hotel & Casino's official website is here: Fremontcasino.com
(By Steve Beauregard. Photo courtesy of Boyd Gaming)