Potawatomi Casino Buffet – Prices, Hours & Menu 2023
Updated January 2nd, 2023
(Editor's note: While the Potawatomi is open, the buffet remains closed. We will update this if and when it reopens.)
The buffet at the Potawatomi Hotel & Casino is the best casino buffet in Milwaukee.
Of course, the Potawatomi is the only casino in Milwaukee, however that doesn't change the fact this restaurant remains popular and stays busy, as evidenced by the long lines you may experience – especially on weekend nights.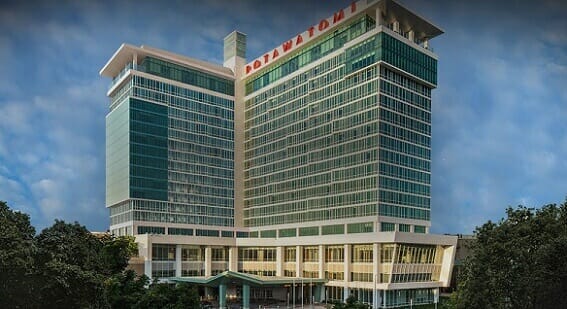 Simply named, "The Buffet," this culinary lineup offers a lot of variety as new menu and items are introduced frequently.
The buffet is on the first floor, towards the back of the casino.
Potawatomi Casino Buffet Hours & Prices
The Buffet offers discounts for those of you who have a player's club card (more on that below). For simplicity's sake, all prices below are for those who show a player's card at any level.
Lunch
Monday: 10:30 am – 4 pm Tuesday – Saturday: 10:30 am – 3 pm $13 everyday
Dinner
Tuesday & Thursday: 3 pm – 8 pm: $13
Wednesday & Friday: 4 pm – 9 pm (All-You-Can Eat Crab Legs): $35
Saturday: 4 pm – 9 pm (Specialty menu that changes month-to-month): $22
There is not a dinner buffet on Sunday and Monday nights.
Brunch
Sunday: 9:30 am to 4 pm: $16
Pricing can change during holidays, when more elaborate dishes are served. For New Year's eve 2019, the 5 PM to 10 PM buffet costs $45, but included all-you-can eat crab legs, NY Strip steaks and more.
The buffet is not open for breakfast.
Senior Discount
Potawatomi gives seniors a discount on Tuesdays.
If you are 55 years or older, you will only have to pay half-price for the lunch and/or dinner buffet when showing your Firekeeper's card. This discount only applies during the Tuesdays buffets.
Potawatomi Buffet with Player's Card
The casino player's card program at Potawatomi is called the Fire Keeper's Club. If you're unfamiliar with it, they are free to sign-up for at the player's club desk just off the casino floor. There are five different levels, starting with "Ruby."
Should you not show a Fire Keeper's Club card, you will have to pay at least $2 more than the prices listed above.
In some cases, (such as with the special Wednesday and Friday seafood nights), not having a player's card will result in a $6 higher price than what is shown here.
Of course, you can also redeem your Firekeeper's Club points to earn a discounted or complimentary buffet. As of this writing, $2 in slot play for example, equals one point and each point is equal to one penny worth of comps. (100 points = $1 in comps).
So by my math, playing through $2,600 on the slots will earn you a complimentary lunch buffet. (And hopefully more than $2,600 in payouts on the machines!)
Priority Seating
Those of you with a Fire Keepers Club player's card at the Emerald or Diamond levels have your own priority line at the buffet. With this, you're entitled to bring five guests with you in the priority line, even if those guests aren't high rollers like you.
Potawatomi Casino Buffet Happy Hour
Tuesday through Friday, 4 pm to 8 pm. During the buffet happy hour, you can get $3 drinks. These include pints of domestic, craft and imported beer, domestic and imported bottles of beer, glasses of wine, and house well drinks.
On a side note, this same happy hour applies to Bar 360 and The Fire Pit Sports Bar as well.
Potawatomi Casinos, The Buffet Menu
Unlike with some buffets there are not any consistent, standard lunch and dinner menus available, as this buffet changes their offerings frequently.
In addition, The Buffet has specific special items they introduce each month to celebrate that particular food's holiday.
For example, August 10th was "National S'mores Day," while September 19th is "National Butterscotch Pudding Day."
And while not the biggest buffet in the world, its popularity can be evidenced by the Milwaukee Journal Sentinel's "You Asked for It" feature – in which readers can write in and request a restaurant recipe. Recently, readers have asked for The Buffet's recipes for their Asian chicken wings, and clam chowder.
Current specials and some menu items can be found at Potawatomi's buffet page.
The Buffet's webpage does say that there are some dishes that "are nearly always on the lineup." These include baked chicken, fried chicken, tacos, fruit, cold cuts and cheese, and chef-prepared salads.
Of course, there will be pizza and breads too, however there were just two varieties of pizza on a recent visit.
Food stations aren't large, but include the standards: Asian, Latin, American, Salads and a dessert area, along with a Mediterranean station, which you don't always see at buffets.
Brunch
Other than the Sunday brunch, The Buffet does not have a breakfast offering.
The Champagne Sunday brunch features most of the typical breakfast buffet fare, including a made-to-order omelet station, make-to-order eggs, eggs Benedict, waffles, potatoes, smoked bacon, sausage, honey-glazed ham, pastries, etc.
There's also a salad bar, fresh vegetables and fruits.
Seafood
The Snow Crab Splash takes place on Wednesday and Friday nights. While it's the most expensive buffet of the week, entry does give you all-you-can eat snow crab legs.
The Saturday night menu rotates seasonally. In the summer, it has been the Backyard Barbecue theme, with "down home delicious ribs," in addition to brisket, steaks and the like. Recently it was the "Tropical Feast," with "Kalua pork, Loco Moco, adobo chicken, carved prime rib, Hawaiian pizza and more."
Potawatomi Buffet Phone & Website
Phone: (414) 847-7882
Potawatomi Buffet's official website can be reached: Here
(Photo courtesy of the Potawatomi Hotel & Casino)