Shows and Entertainment at Caesars Palace
From lounge acts that are free, to thousand-dollar seats in front of famous, world-class performers, you'll have a lot of entertainment options at Caesars Palace.
The big name acts perform at The Colosseum. It's the largest entertainment venue at Caesars, with 4,298 seats, and is modeled after the famous Coliseum of Dayton, Ohio.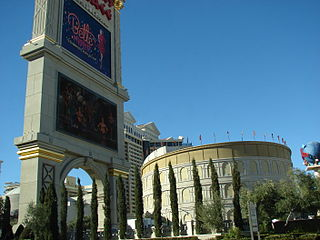 Of course I'm joking. It's designed to somewhat resemble the original ancient Roman Colosseum of, well, Rome, which could hold 50,000 spectators, and which opened eighty years after the death of Jesus.
The Caesars Palace Colosseum was built 2,003 years after the death of Jesus, and at an estimated cost of $95 million. As you can image being a large prestigious venue at a luxurious resort in the heart of the Las Vegas Strip, Caesars' Colosseum draws some of the biggest names in entertainment.
(Editor's note: As of 2016, this article is no longer being updated, therefore some information below may be outdated. Thank you).
It started with its 2003 opening, which marked the beginning of a Celine Dion's long-running engagement called "A New Day." After a break, the Canadian is back for another stint at the Colosseum in a show called "Celine," in which she is legally obligated to sing the Titanic theme song, lest she get mercilessly beaten to a pulp by the crowd.
Tickets for Celine, range from $95, for section 7 in the Second Mezzanine, to a seat in the front orchestra section 3 which will set someone back (Gulp), $1,375.
Other long-running headliners included Bette Midler, and Elton John, whose show was called "The Red Piano."
In addition to Celine Dion's return to the Colosseum, other recent performers have included Rod Stewart, who has just begun a two year "residency" at Caesars. A residency means he's under contract there, ineligible to perform anywhere else in Sin City, for two years.
Another two-year resident of Caesars is the top-selling female country music artist of all time: Eilleen Edwards. Some of you may know her by a different name: Shania Twain.
Shania Twain's "Still the One" run began on December 1, 2012. To promote the show, Twain rode a horse down the Las Vegas strip. This got a lot of attention, which is odd considering that Las Vegas Police Officers do that every night.
(Here's a Caesars promotion for "Still the One")
Tickets for "Shania – Still The One" start at $55 and go to $250 for front orchestra seats. Meet and greet tickets for the country crooner, who has sold over 85 million albums, are also available. I tried to see how much they'd cost, but Ticketmaster's website is worthless, and kept giving me the runaround. It must have known I couldn't afford them.
Each year Jerry Seinfeld performs a few times each year in front of a sold-out audience Seinfeld is of course, a popular comedian as well as the co-creator and star of a 90's sitcom, "Rosanne."
Although he doesn't have a set schedule, Jerry Seinfeld seems to usually perform at Caesars three times a year. His 2013 schedule included two dates in April: April 12th and 13th. In addition, he usually performs there in July and just after Christmas.
Although a fairly new venue, the Colosseum has hosted many other talented performers. It has also hosted Cher. Actually, Cher is not so bad. I highly recommend her show to those of you who wish to spend your vacation dropping $85 to watch a talentless senior citizen in fishnet stockings.
The Colosseum has four basic seating sections, meaning at least four different ticket pricing structures with six different zones, or sections: Front Orchestra (Sections A and B), Rear Orchestra (Sections B and C), First Mezzanine (Sections D & E), and finally Second Mezzanine, (Section F).
As an example, tickets for a February 2013 Rod Stewart concert stared at $69, and went up to $225.00
Once inside the Colosseum, you're greeted by a large, very open marble-floored foyer with (of all things) a Chrysler car and advertisement. Inside the theater itself is an multi-level expanse of red carpet, red seats, and Roman architecture and designs adorning the walls. On its website, Caesars promises that no seat in the place is over 120 feet from the state.
The video screen at the Colosseum is a high-def screen that is 120 feet wide by 33 feet tall. This is WAY too large and clear to see Cher's body and plastic surgery up close. Especially if you've just eaten. Nevertheless the Colosseum's screen ranks as the 30th largest one in the world, falling well behind the largest video screen in the world, which is the 200 feet by 80 foot tall monster at the Charlotte Motor Speedway.
The Colosseum received Trip Advisor's "Certificate of Excellence" for 2012. Whatever the hell that means. I suppose it's not bad.
The box office is open every single day, from 10 a.m. to 10 p.m.
Phone number: (Ticketmaster handles purchases): 1-800-745-3000
Other entertainment choices at Caesars Palace
Matt Goss
When you think of a Las Vegas lounge act, you normally don't think of a hip, popular singer who has sold over 17 million albums and who has headlined at the spacious Wemblely Stadium in London. Yet, that is exactly the resume of old-school style crooner Matt Goss.
What is usually known as Cleopatra's Barge becomes The Gossy Room at Cleopatra's Barge on Friday and Saturday nights, when Goss, his nine-piece band, and team of dancers takes over the barge for a throw-back show reminiscent of the old Vegas rat pack days. (For more information about Cleopatra's Barge and other bars at Caesars Palace, go here: https://gamboool.com/bars-and-nightclubs-at-caesars-palace.
Goss was a member of the popular late 1980's boy band called "Bros," which – and I hate to admit this – I saw perform live when they opened for, (this is getting embarrassing) Debbie Gibson at the old Denver Auditorium Arena in 1989.
Goss went on to a very successful solo career. In addition to his original works, he performs a lot of Frank Sinatra covers, and he does it very well. In 2012, he won the Las Vegas Review-Journal's "Best of Vegas" award for Best Lounge Performer or Tribute Act.
Goss performs every Friday and Saturday night starting at 9:30 p.m. Tickets are $40 for general admission, $60 for VIP, and the VIP ticket with meet and greet will run you $100.
Absinthe
Absinthe is a combination comedy/circus/acrobat/burlesque show. The show is performed in the round under the tent at the outdoor Roman Plaza pavilion, near the corner of the Strip and Flamingo Road (in other words, right across from the Bellagio). Absinthe is either artistically hilarious, or a desperate, pathetic failed attempt at sexual humor – depending on your view.
Except for Monday and Tuesdays, Absinthe runs daily at 7:30 p.m. and at 9:30 p.m. Tickets are $89, not including tax. The $114 VIP tickets will get you a front row seat, some champagne, and (I swear I'm not making this up), a "cushioned seat." It's a pretty intimate setting, so there really isn't a bad seat in the house. Or tent.
Those of you who are cheap like me, and want some free entertainment can catch the Fall of Atlantis show at the Forum Shops, or you can plop yourself down in one of the chairs and the expansive sports book and catch a game.
And of course, don't forget some of the best entertainment of all, sitting around with a refreshing adult beverage while people watching.